Emotiva XPS-1 High Performance Phono Preamp Preview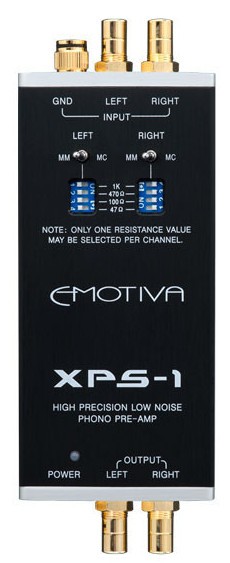 Emotiva XPS-1 High Performance Phono Preamp
Summary
Combines superb analog sound quality with excellent technical performance.
Precise equalization to the standard RIAA curve (within +/- 0.25 dB).
Support for both Moving Magnet (MM) and Moving Coil (MC) cartridges.
User selectable termination impedance for Moving Coil cartridges.
Exceptional signal-to-noise ratio and very low distortion.
Sophisticated multi-stage power supply for superior noise performance.
All metal case for ruggedness and excellent immunity from noise and interference.
Convenient form factor for placement close to the turntable.
Gold plated solid brass input connectors, output connectors, and ground terminal.
Ideal for adding high-quality phono inputs to any stereo preamp or pre/pro.
Small and economical enough 
that you can use one for each turntable.
Executive Overview
Emotiva loves some letters of the alphabet more than others. If I had to guess, their favorite letter is 'X' followed closely by 'S' and 'P'. A quick perusal of their model numbers supported my theory. In fact, when I saw the press release about the new XPS-1, I thought, "Hey, don't they already have one of those?"
No, in fact, they don't. What they do have is the XSP-1 Differential Reference Preamp. Try not to get the two confused.
The XPS-1 is an in-line, high-quality, phono pre-amp. This device sits between your record player and your receiver (or pre-amp, though not the XSP-1 as it has a phono pre-amp built in). If you have a turntable, or remember your dad's from back in the day, you might remember that some can't be plugged in like any old piece of gear. Instead, some have a grounding wire. If your receiver or pre-amp doesn't have this grounding screw, you may experience humming in your system (60Hz ground loop for us here in the States).
Also, turntables come in two flavors - moving magnet and moving coil. Phono inputs or pre-amps need to have not only a selector-switch for the different type of cartridge but also an input selector control for the moving coil variety. Not all have these controls, but the better ones do. Of course, Emotiva has included all of these controls on the XPS-1. 
Left: XPS-1 inputs; Right: XPS-1 controls 
Taking a quick look as the XPS-1 and it is clear how it is meant to be used - between your turntable and your receiver/pre-amp. There are RCA-style inputs and outputs, a grounding screw, a couple of controls, and a port for power. The inputs and outputs are all high-quality and gold-plated, the XPS-1 sports Emotiva's distinctive industrial design, and the controls are clearly marked. Of course, with Emotiva, sound quality is king, and they've used high-quality components throughout the signal path for accurate RIAA equalization, extremely low noise for even low-output cartridges, and vanishingly low distortion. Special attention was paid to the low-noise power supplies; both the external highly regulated AC supply and the individual switching supplies within the XPS-1.

The guts of the XPS-1 
The XPS-1 doesn't break the bank. At $149, it's clear Emotiva wants to give you a compelling reason not to have to upgrade your receiver just because you want to experiment with vinyl. Of course, at that price, you're not going to expect more than a single input, and there are some oddities of the design. The left and right impedance and MM/MC controls are unique, which makes no sense. There has never been, in the history of vinyl, a reason to have your left and right settings different for MM/MC or impedance. This seems to be a workaround for some sort of off-the-shelf (albeit high-quality off-the-shelf) components rather than a conscious decision on Emotiva's part to provide you with a specialized control that you'd actually use.
Conclusion
If you have a record player you can't use because your receiver lacks a phono input, Emotiva is trying to give you a compelling reason not to upgrade. The Emotiva XPS-1 is a high-quality, in-line phono pre-amp for the bargain price of $149. With high quality, if likely off-the-shelf, components, attention to RIAA equalization, low noise floor, and vanishing distortion, the XPS-1 will be everything you need to integrate your turntable into your system.
For more information, please visit www.emotiva.com.

Confused about what AV Gear to buy or how to set it up? Join our Exclusive Audioholics E-Book Membership Program!
Recent Forum Posts:
Henry Hunt posts on May 07, 2016 09:08
The reason for separate left and right gain/load settings is to maintain the dual mono topography of the XPS-1.
I've tried dozens of inexpensive (under $500) phono preamps and the xPS-1 is one of the two best under $200 units I've heard, the other being the Hagerman Bugle 2.
tcarcio posts on October 06, 2015 10:31
Just an update. I found a Technics SL-3350 in mint condition on CL and it sounds great. It only has a low end AT cartridge and stylus but I like it much better than the AT LP60. I can update the Cart/stylus in the future so I think it will only get better.
tcarcio posts on August 28, 2015 14:34
3db, post: 1094397, member: 3560
Here are some links to solid entry level turntables that are solid performers:

http://uturnaudio.com/

http://www.project-audio.com/main.php?info=turntables

Here's a site that sells many different make and models of turntables.

http://www.needledoctor.com/Online-Store/Turntables


I want to add that I would stay away from turntables offering USB out. My reason for this is that a given price point, more of the money is put on the table essentials like tonearm, plinth, platter, bearings than having to share those costs with some onboard analog to digital converters.
Thanks, I appreciate the links and the help. Uturn audio is right in my back yard…
3db posts on August 28, 2015 09:17
tcarcio posts on August 27, 2015 17:33
Makes sense. I do have the pre amp in the TT bypassed so I know that isn't the problem. I guess I should start saving for a better turntable.
Post Reply