Emotiva Audio XSP-1 Differential Reference Preamp Preview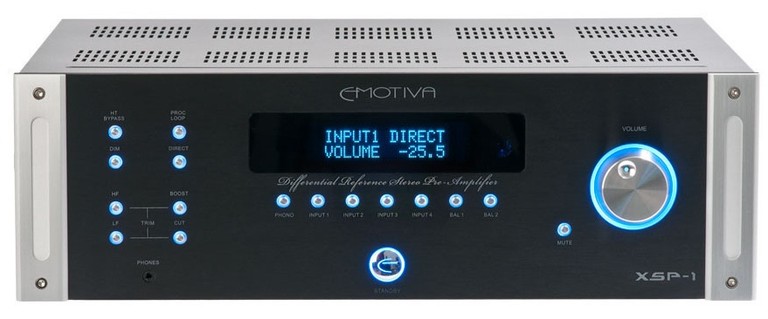 Emotiva Audio XSP-1 Differential Reference Preamp
Summary
Inputs:

Line level: 2 pairs balanced; 4 pairs unbalanced

Home theater (line level, left, right, sub): 1 set balanced; 1 set unbalanced

Processor loop (line level): 1 pair unbalanced

Input impedance, line level: 50k ohms

Phono (MM or MC): 1 pair unbalanced

Outputs:

Main: 1 pair balanced; 1 pair unbalanced

(Main outputs may be configured as flat or high-pass; high-pass is adjustable from 50 Hz to 250 Hz)

Subwoofer (left, right, summed): 1 set balanced; 1 set unbalanced

(Subwoofer outputs may be configured as flat or low-pass; low-pass is adjustable from 50 Hz to 250 Hz)

Processor loop (line level): 1 pair unbalanced

Minimum recommended load impedance: 600 ohms

Trigger:

Trigger input and output: 1 each

IR input and output: 1 each

Gain structure:

Nominal output level: 0 dBV (1 V)

Nominal gain (with Volume set to "0"): 1

Maximum gain: +12 dB

High-Frequency and Low-Frequency Trims:

HF trim (settings): -3 dB, -2 dB, -1 dB, Flat, +1 dB, +2 dB, +3 dB @ 12 kHz

HF trim (inflection point): 4 kHz

LF trim (settings): -3 dB, -2 dB, -1 dB, Flat, +1 dB, +2 dB, +3 dB @ 50 Hz

LF trim (inflection point): 200 Hz

Bass Management:

Crossover slopes (high-pass and low-pass): 12 dB / octave

Crossover frequency (high-pass and low-pass): User configurable, 50 Hz to 250 Hz

Balanced Input to Balanced Output

S/N (signal-to-noise ratio, A-weighted, ref +6 dBV): > 117 dB

Frequency response: 20 Hz to 20 kHz +/- 0.02 dB

THD + N (harmonic distortion plus noise, @ 1 kHz): < 0.0004%

IMD (intermodulation distortion, SMPTE method, 60 Hz/7 kHz): < 0.001%

Crosstalk (measured at +6 dBF, 10 kHz): < 100 dB

Unbalanced Input to Unbalanced Output

S/N (signal-to-noise ratio, A-weighted, ref +6 dBV): > 113 dB

Frequency response: 20 Hz to 20 kHz +/- 0.015 dB

THD + N (harmonic distortion plus noise, @ 1 kHz): < 0.0006%

IMD (intermodulation distortion, SMPTE method, 60 Hz/7 kHz): < 0.001%

Crosstalk (measured at +6 dBF, 10 kHz): < 102 dB

Balanced Input to Unbalanced Output

S/N (signal-to-noise ratio, A-weighted, ref +6 dBV): > 114 dB

Frequency response: 20 Hz to 20 kHz +/- 0.015 dB

THD + N (harmonic distortion plus noise, @ 1 kHz): < 0.0005%

IMD (intermodulation distortion, SMPTE method, 60 Hz/7 kHz): < 0.0015%

Crosstalk (measured at +6 dBF, 10 kHz): < 105 dB

Unbalanced Input to Balanced Output

S/N (signal-to-noise ratio, A-weighted, ref +6 dBV): > 115 dB

Frequency response: 20 Hz to 20 kHz +/- 0.017 dB

THD + N (harmonic distortion plus noise, @ 1 kHz): < 0.0003%

IMD (intermodulation distortion, SMPTE method, 60 Hz/7 kHz): < 0.007%

Crosstalk (measured at +6 dBF, 10 kHz): < 100 dB

Phono (Moving Coil; phono in to balanced out)

Gain (1 kHz, Volume at 0): approximately 60 dB

Input impedance (user selectable): 47 ohms, 100 ohms, 470 ohms, 1k ohm

S/N (signal-to-noise ratio, A-weighted, ref 1.0 mV in): > 79 dB

Frequency response (referenced to standard RIAA curve): 20 Hz to 20 kHz +/- 0.35 dB

THD (total harmonic distortion, ref 1.0 mV): < 0.008%

IMD (intermodulation distortion, SMPTE method: < 0.15 %

Crosstalk: < 65 dB

Phono (Moving Magnet; phono in to balanced out)

Gain (1 kHz, Volume at 0): approximately 40 dB

Input impedance: 47k Ohms

S/N (signal-to-noise ratio, A-weighted, ref 10.0 mV in, A-weighted): > 96 dB

Frequency response (referenced to standard RIAA curve): 20 Hz to 20 kHz +/- 0.3 dB

THD (total harmonic distortion, ref 10 mV): < 0.001%

IMD (intermodulation distortion, SMPTE method: < 0.05%

Crosstalk: < 80 dB
Executive Overview
Instead of bringing balance to the Force, Emotiva Audio has brought balance to a stereo preamp. With a two year development time, the XSP-1 has everything the discerning audiophile expects in a preamp except for the high pricetag. At under $900, the Emotiva XSP-1 is practically an impulse buy for the sort of buyer that would be interested in the signal purity the XSP-1 promises.
To start with, the XSP-1 has a completely analogue signal path that is fully differential from input to output. Differential circuits are more complex and costly to build but they offer a huge advantage in lowering noise and distortion.  The Telecom world wouldn't exist without balanced circuits as they are essential for transmitting very small signals across vast distances.  State of the art in amplification is always fully differential from input to output and Emotiva recognizes what so many so called "high end" companies don't.
Audioholics Official Emotiva XSP-1 Video Review
Emotiva has even upgraded the level control with instrumentation-grade relays with silver clad contacts. The level is set via a high performance, high, voltage, digitally controlled analogue resistor ladder network with .25dB resolution. Most other audiophile-grade products will have more than 2dB of channel tracking error at some points which Emotiva eliminates.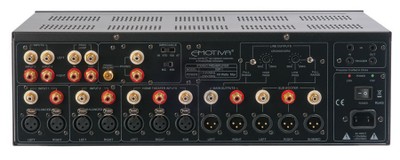 The XSP-1 has two sets of the balanced (XLR) line inputs and one set of balanced outputs. It also has four sets of unbalanced (RCA) inputs and a single output. There is the required phono input for vinyl lovers with MM/MC capability and adjustable input impedance for MC. Most interestingly is that the XSP-1 features dual subwoofer outputs which can be routed stereo or summed. Crossover duties are kept in the analogue domain with separate high pass controls for your mains and low pass for your sub(s). Bass management can also be completely bypassed.  This gives you very precise control over how your sub and mains interact so that you can take the most advantage of their individual strengths. Usually, you set the crossover at a point and high and low pass filters are set by the device. Emotiva has recognized that people looking for a fully balanced product probably have speakers that don't fall into easy presets.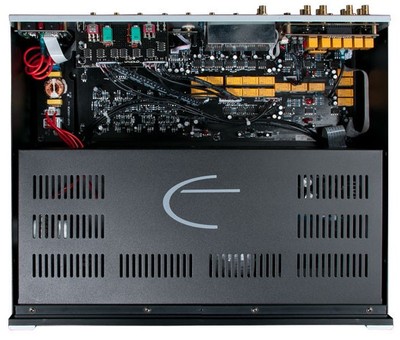 The Emotiva XSP-1 has a few other niceties. most notably, you can integrate the XPS-1 into a home theater system allowing you to use it as a high end two-channel preamp or bypassing it being "ht bypass" mode so it runs transparently between your A/V processor and power amplifier.
There is a high current headphone amplifier on board with its own volume control. There are trigger and IR inputs and outputs for easy integration into a universal remote system. An external processor loop is included as well. If the XSP-1 is used in the same room as a home theater system (using the same speakers), there is a home theater bypass mode (and individual main/sub inputs - both balanced and unbalanced) so that you can use both without switching cables.
Conclusion
As you'd expect from Emotiva, they've put together a very solid offering in the XSP-1 Differential Reference Preamp. What you won't expect is the $900 price tag for a fully balanced stereo preamp with top of the line construction and parts. With every single aspect of the XSP-1 well planned and thought out, we can think of nothing they forgot.
From its fully differential construction, .25dB resolution on the volume control, home theater bypass mode, stereo subwoofer support with defeatable analogue bass management, user configurable high pass and low pass filters to the full featured phono input and true external processor loop, everything is here.  At this price, we can't think of any serious audiophile that wouldn't be interested in the XSP-1.  It'ss a unique product in this market and a gem for any audiophile that wants great performance and versatility often lacking in most alternatives.
For more information, please visit www.emotiva.com.

Confused about what AV Gear to buy or how to set it up? Join our Exclusive Audioholics E-Book Membership Program!
See also:
Recent Forum Posts:
ematthews posts on January 26, 2016 12:53
Hey Audioguy123. I know this is old but I was curious as to why your bass management didn't work on your XSP-1.
audioguy123 posts on February 23, 2013 10:44
I just received this product and the bass management does not work. Once the bass management switches on the rear are set, the measured response is identical regardless of the crossover frequency selected. That applies to both the mains and the subs. I have sent an inquiry to them (with plots to prove my point) to see what gives. Hopefully my unit is just malfunctioning.
milt1999 posts on December 15, 2012 23:51
HY Bypass

It really doesn't make it "unusable" just unusable for you I guess.
Try the Parasound Halo P7 @ $1999.00.
Good luck to ya!
gene posts on November 03, 2012 11:21
christopherb210, post: 919617
The XSP-1 has provision for 2 subwoofers with bass management for normal listening but it only has one subwoofer input for home theater bypass operation. So it seems to me they forgot to have 2 subwoofer inputs. This makes the home theater bypass function unusable if you wish to have both of your subwoofers connected to the XSP-1. Your only choice is to send the subwoofer output output from the XSP-1 and your home theater receiver to your subwoofers separately, if your subwoofer has 2 inputs. If it doesn't, a 2 into 1 switch would be required. If you have both of your subwoofers connected to the XSP-1(L and R outputs), you still cannot use the home theater bypass feature for one of them by connecting to the one subwoofer input from your home theater receiver, as the left and right outputs on the XSP-1 are attenuated by 3 db each.That's a deal breaker for me, as the whole reason I'm looking for an analog preamp is for home theater bypass operation. 2 subwoofer outputs with only one subwoofer input makes no sense
interesting. I missed that but will inquiry. thanks.
christopherb210 posts on November 03, 2012 11:13
Things they forgot

The XSP-1 has provision for 2 subwoofers with bass management for normal listening but it only has one subwoofer input for home theater bypass operation. So it seems to me they forgot to have 2 subwoofer inputs. This makes the home theater bypass function unusable if you wish to have both of your subwoofers connected to the XSP-1. Your only choice is to send the subwoofer output output from the XSP-1 and your home theater receiver to your subwoofers separately, if your subwoofer has 2 inputs. If it doesn't, a 2 into 1 switch would be required. If you have both of your subwoofers connected to the XSP-1(L and R outputs), you still cannot use the home theater bypass feature for one of them by connecting to the one subwoofer input from your home theater receiver, as the left and right outputs on the XSP-1 are attenuated by 3 db each.That's a deal breaker for me, as the whole reason I'm looking for an analog preamp is for home theater bypass operation. 2 subwoofer outputs with only one subwoofer input makes no sense
Post Reply