Emotiva XSP-1 Preamp Review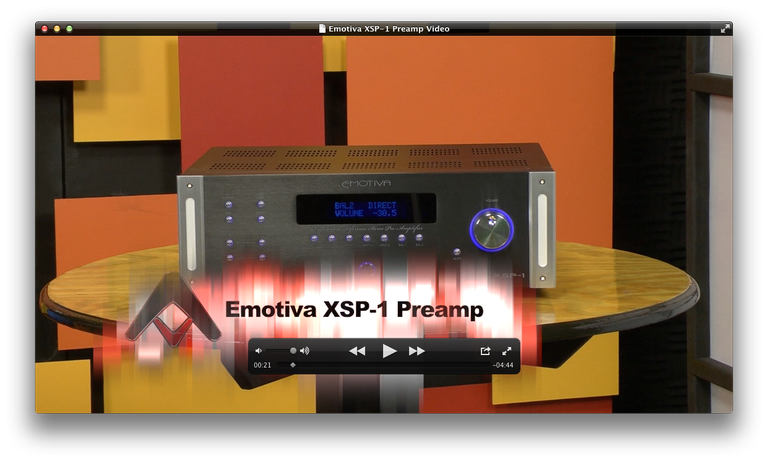 Emotiva XSP-1 Preamp
Summary
Inputs:


Line level: 2 pairs balanced; 4 pairs unbalanced
Home theater (line level, left, right, sub): 1 set balanced; 1 set unbalanced
Processor loop (line level): 1 pair unbalanced
Input impedance, line level: 50k ohms
Phono (MM or MC): 1 pair unbalanced

Outputs:


Main: 1 pair balanced; 1 pair unbalanced
(Main outputs may be configured as flat or high-pass; high-pass is adjustable from 50 Hz to 250 Hz)
Subwoofer (left, right, summed): 1 set balanced; 1 set unbalanced
(Subwoofer outputs may be configured as flat or low-pass; low-pass is adjustable from 50 Hz to 250 Hz)
Processor loop (line level): 1 pair unbalanced
Minimum recommended load impedance: 600 ohms

Trigger:


Trigger input and output: 1 each
IR input and output: 1 each

Gain structure:


Nominal output level: 0 dBV (1 V)
Nominal gain (with Volume set to "0"): 1
Maximum gain: +12 dB

High-Frequency and Low-Frequency Trims:


HF trim (settings): -3 dB, -2 dB, -1 dB, Flat, +1 dB, +2 dB, +3 dB @ 12 kHz
HF trim (inflection point): 4 kHz
LF trim (settings): -3 dB, -2 dB, -1 dB, Flat, +1 dB, +2 dB, +3 dB @ 50 Hz
LF trim (inflection point): 200 Hz

Bass Management:


Crossover slopes (high-pass and low-pass): 12 dB / octave
Crossover frequency (high-pass and low-pass): User configurable, 50 Hz to 250 Hz

Balanced Input to Balanced Output


S/N (signal-to-noise ratio, A-weighted, ref +6 dBV): > 117 dB
Frequency response: 20 Hz to 20 kHz +/- 0.02 dB
THD + N (harmonic distortion plus noise, @ 1 kHz): < 0.0004%
IMD (intermodulation distortion, SMPTE method, 60 Hz/7 kHz): < 0.001%
Crosstalk (measured at +6 dBF, 10 kHz): < 100 dB

Unbalanced Input to Unbalanced Output


S/N (signal-to-noise ratio, A-weighted, ref +6 dBV): > 113 dB
Frequency response: 20 Hz to 20 kHz +/- 0.015 dB
THD + N (harmonic distortion plus noise, @ 1 kHz): < 0.0006%
IMD (intermodulation distortion, SMPTE method, 60 Hz/7 kHz): < 0.001%
Crosstalk (measured at +6 dBF, 10 kHz): < 102 dB

Balanced Input to Unbalanced Output


S/N (signal-to-noise ratio, A-weighted, ref +6 dBV): > 114 dB
Frequency response: 20 Hz to 20 kHz +/- 0.015 dB
THD + N (harmonic distortion plus noise, @ 1 kHz): < 0.0005%
IMD (intermodulation distortion, SMPTE method, 60 Hz/7 kHz): < 0.0015%
Crosstalk (measured at +6 dBF, 10 kHz): < 105 dB

Unbalanced Input to Balanced Output


S/N (signal-to-noise ratio, A-weighted, ref +6 dBV): > 115 dB
Frequency response: 20 Hz to 20 kHz +/- 0.017 dB
THD + N (harmonic distortion plus noise, @ 1 kHz): < 0.0003%
IMD (intermodulation distortion, SMPTE method, 60 Hz/7 kHz): < 0.007%
Crosstalk (measured at +6 dBF, 10 kHz): < 100 dB

Phono (Moving Coil; phono in to balanced out)


Gain (1 kHz, Volume at 0): approximately 60 dB
Input impedance (user selectable): 47 ohms, 100 ohms, 470 ohms, 1k ohm
S/N (signal-to-noise ratio, A-weighted, ref 1.0 mV in): > 79 dB
Frequency response (referenced to standard RIAA curve): 20 Hz to 20 kHz +/- 0.35 dB
THD (total harmonic distortion, ref 1.0 mV): < 0.008%
IMD (intermodulation distortion, SMPTE method: < 0.15 %
Crosstalk: < 65 dB

Phono (Moving Magnet; phono in to balanced out)


Gain (1 kHz, Volume at 0): approximately 40 dB
Input impedance: 47k Ohms
S/N (signal-to-noise ratio, A-weighted, ref 10.0 mV in, A-weighted): > 96 dB
Frequency response (referenced to standard RIAA curve): 20 Hz to 20 kHz +/- 0.3 dB
THD (total harmonic distortion, ref 10 mV): < 0.001%
IMD (intermodulation distortion, SMPTE method: < 0.05%
Crosstalk: < 80 dB

Power Requirements:


115 VAC or 230 VAC +/- 10% @ 50 / 60 Hz (automatically detected and switched).
Power consumption (On): 32 watts
Power consumption (Standby): <1 watt
Executive Overview
Emotiva brought something new to the world of stereo preamps this year. It's the XSP-1, a fully differential balanced stereo preamp. To our knowledge, this is the only product like it in the market at this price point. In fact, there are preamps in the $3-$5000 price range that aren't nearly this sophisticated. Fully differential means that the preamp literally has a separate analogue circuit for the positive and negative connections from the balanced XLR inputs to the XLR outputs. Differential circuits offer a big advantage in that they greatly reduce both noise and distortion.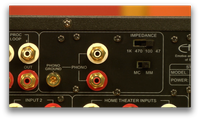 At less than $900 it's an amazing  product just based on the signal flow itself...but that's just the first feature. Let's look at the connections...The XSP-1 has two sets of balanced (XLR) line inputs and one set of balanced outputs. Those inputs will take up to 6V so there's tons of headroom. It also has four sets of unbalanced (RCA) inputs and a stereo RCA output. If you spin vinyl, you'll appreciate that Emotiva included a high-end phono preamp with both moving magnet and moving coil settings and even adjustable input impedance for the MC mode. And we won't rehash it here, but check out Emotiva's website and you'll find over 120 pages of Audio Precision tests and measurements—Emotiva is being extremely transparent about this preamp. For headphone lovers, there is a high current headphone amplifier on board with its own volume control. In fact, the digitally-controlled analogue volume remembers settings independently for both the headphone and main outputs.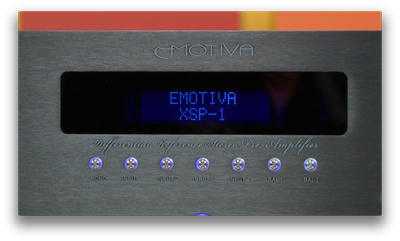 And the XSP-1 has something else that's very unique: dual stereo subwoofer outputs with full bass management. These can be routed stereo or summed. This is great for when you want to control bass management to a pair of stereo speakers in conjunction with a pair of stereo subs, or even if you have a full range system that you'd like more control over with respect to how the low frequencies are crossed over to the bass drivers.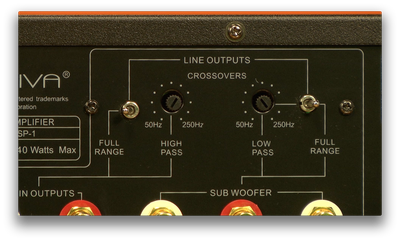 Crossover duties are kept in the analogue domain with separate high pass controls for your mains and low pass for your sub(s). Bass management can also be completely bypassed.  This gives you very precise control over how your sub and mains interact so that you can take the most advantage of their individual strengths. Usually, you set the crossover at a point and high and low pass filters are set by the device. Emotiva has recognized that people looking for a fully balanced product probably have speakers that don't fall into easy presets.
The stereo sub outs are not so much for home theater because the XSP-1 only has a mono subwoofer input. But there is also a home theater bypass mode. Ok, basically, you can run the XSP-1 inline so that it receives the outputs from an AV receiver and allows you to bypass all processing and volume controls to allow complete pass-through when you decide to listen to surround. In this way you can do what a lot of people are doing these days, which is to multipurpose a high end two channel room that also lets you do surround sound for home theater.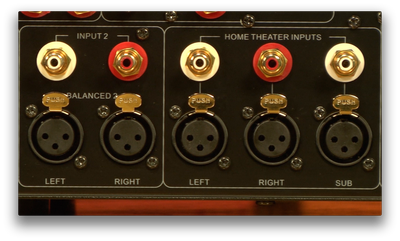 There are trigger and IR inputs and outputs for easy integration into a universal remote system. An external processor loop is included as well.
Listening Tests
The system I auditioned on included a pair of Legacy Focus SE tower speakers powered by a pair of 500W Emotiva XPA-1 Differential Reference monoblock amplifiers. So not only was I reviewing a fully differential  preamp, the whole system was fully differential. Everything was connected using two pairs of Kimber 8VS cables which I ran in a bi-wire configuration...mostly because I had to...the positive and negative terminals on the XPA-1's are a full 13" apart!
I started with Peter Frampton's "Show Me the Way" from his Frampton's Comes Alive album because... Well, it's Peter Frampton! His live guitar spoke from the Legacys like he was playing in my living room and I could close my eyes and hear the semi-wide drums just behind, with it's ride bell ringing and the subdued snare keeping pace with the undulating bass guitar. The XSP-1 did nothing to get in the way of how I am used to hearing this track portrayed on this system.
I also listened to "Time" from Pink Floyd's Dark Side of the Moon album. If Peter Frampton's drums were panned semi-wide, then this track had them coming from opposing sides of the room. The staccato electric guitar and beautifully layered backing vocals only served to prove that the XSP-1 wasn't going to stumble over sustained reverb or truncate the top end shimmer of cymbal crashes. There was no audible compression, no discernible distortion. You could really just lose yourself in the music.
I also popped in an AIX Records disc, Mozart, played by the Old City String Quartet with Corey Klein and Ruokai Chen. The track I started with was "Molto Allegro". Bryan Lee's fast-paced violin work placed him perfect in the mix and I found that the mix engineer had actually panned the group in accordance with the video imagery also available on this disc. When I closed my eyes, the quartet was exactly where they should be. The cello providing the rich, throaty platform on top of which the viola and twin violins figuratively danced (off-screen: well it would be awkward if they literally danced!)
I also wanted to see how it would do with more compressed music, and since I can't stand most modern over compressed tracks, I compromised and went with Pearl Jam's "Release" from their Ten album. Then I realized that's one of the crappiest recorded albums ever made so I moved on
Conclusion
As you'd expect from Emotiva, they've put together a very solid offering in the XSP-1 Differential Reference Preamp. What you won't expect is the $900 price tag for a fully balanced stereo preamp with top of the line construction and parts. With every single aspect of the XSP-1 well planned and thought out, we can think of nothing they forgot.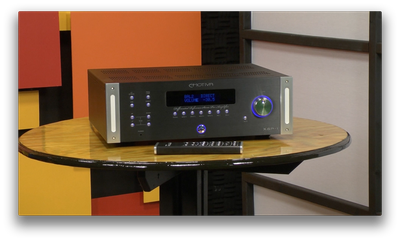 From its fully differential construction, .25dB resolution on the volume control, home theater bypass mode, stereo subwoofer support with defeatable analogue bass management, user configurable high pass and low pass filters to the full featured phono input and true external processor loop, everything is here.  At this price, we can't think of any serious audiophile that wouldn't be interested in the XSP-1.  It's a unique product in this market and a gem for any audiophile that wants great performance and versatility often lacking in most alternatives.
What's your take on multipurpose audio rooms? With the XSP-1 you can have your home theater cake and eat two-channel too... So is that appealing to you? Let us know in the comments and subscribe to our channel youtube.com/audioholicslive to let us know we should keep making these videos and quit our day jobs...Cause it's tempting...so tempting... And like us at Facebook.com/Audioholics. For the most up to the minute reviews and news, follow us on Twitter: AudioholicsLive.

Confused about what AV Gear to buy or how to set it up? Join our Exclusive Audioholics E-Book Membership Program!
Recent Forum Posts:
majorloser posts on February 23, 2013 21:15
mtrycrafts, post: 953532
A preamp shouldn't be power hungry
XPR-1's are 1000 watt mono block amps
mtrycrafts posts on February 23, 2013 16:45
majorloser, post: 952100
That should be interesting. You got enough power in your house to spare?
A preamp shouldn't be power hungry
majorloser posts on February 23, 2013 15:00
sharkman, post: 952123
Any word on the XMC?
I wouldn't hold your breath. They held the UMC-1 from reviewer even after it was released. I personally think they are scared to release it right now. They have such good business with the amps and don't need the controversy.
sharkman posts on February 17, 2013 16:38
gene, post: 952094
Tell me about it. It's becoming a full time job trying to cover all their new stuff. I've got some XPR-1's in for review right now!
Really! So how many Emotiva products are you slated to review this year(that might tell us how many more they are releasing)? Any word on the XMC?
majorloser posts on February 17, 2013 14:48
gene, post: 952094
I've got some XPR-1's in for review right now!
That should be interesting. You got enough power in your house to spare?
Post Reply