THX Media Director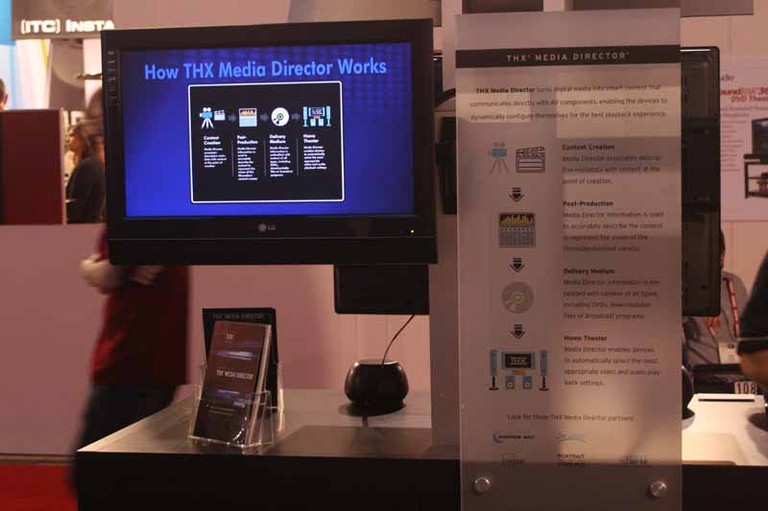 THX Media Director
Summary
Product Name:

Media Director

Manufacturer:

THX

Review Date:

January 08, 2008 12:32

First Impression:

Pretty Cool
Executive Overview
THX Ltd. today introduced THX Media Director, formerly codenamed "Blackbird," to simplify home theater set-up and operation. THX Media Director will enable movies, music and other digital media to communicate picture and sound settings directly to consumer electronics devices, dynamically configuring them for the best playback experience. THX named four initial launch partners: Anchor Bay, Lyngdorf Audio, Portrait Displays, and Sequoyan Media Technology (SMT).
THX Media Director turns movies, music or video games into "smart content" that can communicate information about AV settings directly to home entertainment products. The technology lets consumers tap into and maximize proprietary product features and modes, helping electronics manufacturers keep their signature look and sound, while simplifying product use. A simplified user experience will also help manufacturers and retailers drive customer satisfaction, and potentially decrease reliance on customer support.
THX Media Director self-configures home entertainment products based on metadata descriptors embedded on DVDs, CDs and downloads. This metadata can describe audio and video characteristics of digital content, including the appropriate surround sound formats and post processing modes for playback on AV receivers, and video aspect ratios, color temperature, brightness and sharpness for playback on HDTVs and DVD players. THX Media Director metadata is communicated to playback devices via an HDMI connection, which delivers the content and its descriptors, and enables the device to automatically select the appropriate playback settings on each device.
Each of the four initial THX Media Director partners will play an integral role in building the Media Director ecosystem.
Anchor Bay – Anchor Bay designs and manufactures advanced digital semiconductor and
system-level solutions for next-generation digital television and high-definition digital video products. Anchor Bay's DVDO iScan VP50PRO video processor will be one of the first HD video products to support THX Media Director.
Lyngdorf Audio – Lyngdorf Audio manufactures and designs high-end amplifiers, loudspeakers, digital preamplifiers, room processors and AD converters. The Lyngdorf D-1 Home Theater Processor will be the first audio product to feature THX Media Director.
Portrait Displays – Portrait Displays develops software for leading display companies. Portrait
Displays' TV Tune technology will aid in decoding THX Media Director metadata, triggering HDTVs to automatically adjust brightness, sharpness, aspect ratio and other video settings.
Sequoyan Media Technology (SMT) – SMT develops professional-grade software and hardware solutions that enhance the quality control procedures for leading DVD authoring facilities around the world. THX has partnered with SMT to develop an external authoring tool to provide the postproduction community with a means to insert and verify THX Media Director metadata during the authoring of DVD, HD-DVD and Blu-ray discs.
THX is currently developing a download service that will enable networked home theater systems to retrieve "smart content" descriptors via Internet connections. This will help consumers enjoy the benefits of Media Director with legacy content and existing entertainment libraries. For more information, visit www.thx.com.
Unless otherwise indicated, this is a preview article for the featured product. A formal review may or may not follow in the future.
Confused about what AV Gear to buy or how to set it up? Join our Exclusive Audioholics E-Book Membership Program!