Sanus BFV157 AV Stand Preview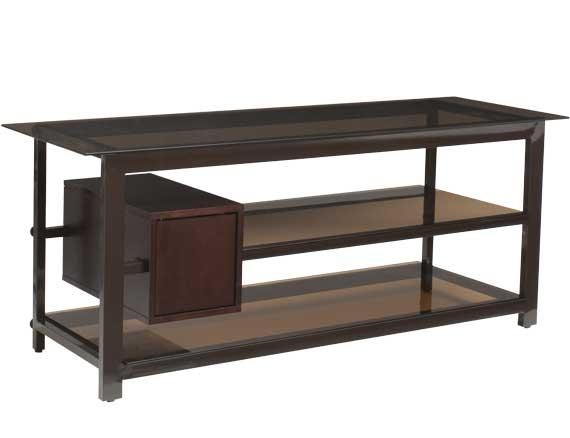 Sanus BFV157 AV Stand
Summary
| | |
| --- | --- |
| Product Width: | 57.10" / 145.03 cm |
| Product Height: | 22.80" / 57.91 cm |
| Product Depth: | 19.70" / 50.04 cm |
| Product Weight Capacity: | 130.00 lb / 59.09 kg |
| Top Shelf Width: | 57.10" / 145.034 cm |
| Top Shelf Depth: | 19.70" / 50.038 cm |
| Top Shelf Capacity: | 130.00 lb / 59.09 kg |
| Middle Shelf Width: | 36.00" / 91.44 cm |
| Middle Shelf Depth: | 15.94" / 40.4876 cm |
| Middle Shelf Capacity: | 50.00 lb / 22.73 kg |
| Bottom Shelf Width: | 36.00" / 91.44 cm |
| Bottom Shelf Depth: | 15.94" / 40.4876 cm |
| Bottom Shelf Capacity: | 75.00 lb / 34.09 kg |
Executive Overview
There is one task in all of AV that we hate - shopping for furniture. Sure, take us to a specialty store and we'll get lost staring at and listening to all the different offerings but you'll never find us over in the furniture nook. And if you do, you'll take one look at the price and you'll think, "No, I think we'll pay our mortgage this year instead of that plexiglass monstrosity." That's right, there are two types of AV furniture - those you can afford, and those that are more like works of modern art that take teams of three to transport and set up.
Sanus sells the former.
We've had good experiences with Sanus offerings in the past. This is because they are a company that knows how AV gear works and what users need. They need access, they need flexibility, and they need shelves that can hold receivers. The hardest part of shopping for AV furniture is the potential for making a mistake. You not only have to factor in the size of your gear, but the distance the connectors come off the back. You have to think about gear you might buy in the future. You have to think about whether or not you need to get behind it on a regular basis, whether you want doors on it, and if you'll require storage. There is a lot to think about. And then, in the end, the spouse has veto power so you may find the perfect piece of furniture for your system that "just isn't the right color."
Infuriating and frustrating.
Sanus has many offerings but their latest in the BFV157. This is a retro piece that has a lot of aesthetic and functional appeal. While it only comes in a brown color called Coffee, the open design and mid-century styling should appeal to a wide range of potential consumers. The BFV157 has a number of features that Audioholics will care about. It has an integrated wire management system. The feet are adjustable for easy leveling. The open design means you don't have to worry about how wide your gear is and the open back means if the connectors hang off a bit, you won't have to worry about closing the front doors (there aren't any).
The integrated storage box on the left side of the unit is great for a small selection of DVDs or all the remotes you don't use anymore ever since you upgraded to a universal solution. The selves are all glass and can hold at least 50 pounds worth of gear (the center shelf can hold 50, the bottom 75, and the top 130). The top shelf can easily hold most flat panels and can be used with the EML701 Flat-Panel Anti-Tip Strap. The entire unit is 57.1" wide, 22.8" high, and 19.7" deep but, again, with the open plan, you have a lot more flexibility. 
We think that the minimalist design should appeal to a lot of spouses and the brown color should set it apart from the traditionally black AV furniture offerings. With more and more speaker manufacturers realizing that they need to build large center to keep pace with their tower offerings, the open design should be a welcome sight. The only thing missing, we think, is compatibility with some of the other Sanus add-ons like caster wheels. The shelves, as well, are fairly short at only 7.94" tall - a tight fit for many receivers and larger amps. 
Conclusion
At $330, the Sanus BFV157 isn't the a cheap piece of AV furniture but it does have a lot going for it. With an open design allowing for maximum flexibility in gear placement and size, the ability to hold up to a 60" display, and integrated storage, the BFV150 should appeal to the AV crowd. At the same time, the mid-century, minimalistic aesthetic is sure to win over many spouses. This is a win-win for the furniture company.
For more information, please visit www.sanus.com.

Confused about what AV Gear to buy or how to set it up? Join our Exclusive Audioholics E-Book Membership Program!
Recent Forum Posts:
Heabibind posts on February 23, 2012 14:38
Ïðîäàì òåëåôî

sellyourmobile ru]ãäå ïðîäàòü òåëåôîí â õàðüêîâå
TheWarrior posts on February 09, 2012 01:10
Cool little rack. Nice and convenient.

But, if anyone has two weeks and a couple power tools thats about what my red oak cabinet cost me!
ChrisL9472 posts on February 08, 2012 18:31
agarwalro, post: 863468
Where are the wires ?


Better yet, where are the components???
ChrisL9472 posts on February 08, 2012 18:30
I have Sanus' Euro vertical audio rack and horizontal A/V rack, and I like them, but I don't like this. It looks like the typical "furniture" racks found at Walmart, Target, etc., except more expensive.

I believe serious A/V racks should be devoid of glass, which dirties easily not to mention is breakable. The types with glass doors can also suffocate components.

This is clearly aimed at the non-enthusiast, not worthy of an Audioholic.
agarwalro posts on February 08, 2012 16:10
Where are the wires ?


Post Reply