Energizer Zinc Air Batteries Makes Smaller Electronics Possible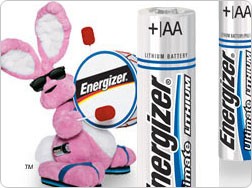 Summary
Product Name:

Zinc Air Batteries

Manufacturer:

Energizer

Review Date:

January 08, 2009 10:05

First Impression:

Mildly Interesting
Executive Overview
Battery maker Energizer showed off their new battery that will power the next-generation of smaller and thinner personal electronics devices. Called Zinc Air Prismatic, the new type of battery will allow device manufacturers to build smaller devices. Energizer promises high energy density, as much as three times more than conventional alkaline or lithium ion batteries of the same size.

Zinc Air batteries, often associated with hearing aids and electric cars, are electro-chemical batteries powered by the oxidation of zinc with oxygen from the air. These batteries are generally inexpensive to produce and have high densities. Energizer has worked with unnamed device manufacturers over the course of several years to develop the new type of battery. The company has been mum about any other specifics about the new technology or the types of devices it will be initially used in. It seems obvious to us that handheld devices such as cellphones and digital audio players will benefit from the new technology but it is unclear if the technology will be adapted to other uses such as laptops.

The problem here is that Zinc Air batteries are generally non-rechargeable. If Energizer plans on using them in handheld devices, it may be limited to things such as cameras. Of course, if they can overcome this limitation we might see widespread adoption.

For more information, please visit energizer.com.

Unless otherwise indicated, this is a preview article for the featured product. A formal review may or may not follow in the future.
Like This? Check out our other
AV News
!
Audioholics posts on January 08, 2009 10:22
Battery technology is weird, though I think we'll se some breakthroughs in the next couple years, mostly in lithium polymer.
GlocksRock posts on January 08, 2009 10:09
So with all this new technology, can they make standard alkaline AA batteries last longer? I'm guessing they probably could, but then that would reduce their profit margin, so they don't do it.
Post Reply
Confused about what AV Gear to buy or how to set it up? Join our Exclusive Audioholics E-Book Membership Program!