Pioneer STEEZ Dancing BoomBox Preview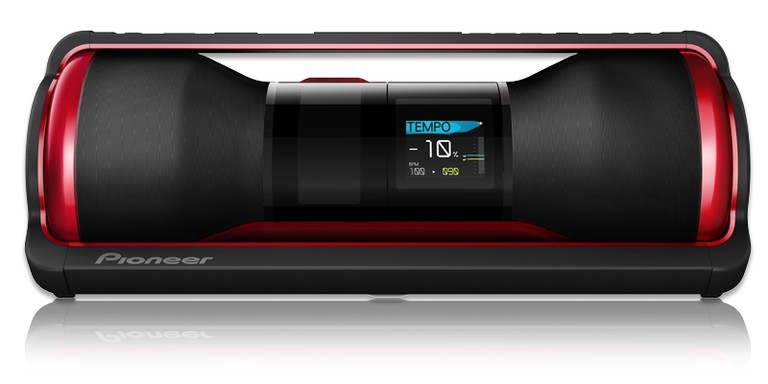 Pioneer STEEZ Crew
Summary
Crew STZ-D10Z-R
| | |
| --- | --- |
| Memory Capacity | 4 GB |
| RMS Power Output | 10 W + 10 W + 20 W (Subwoofer) (8 Ω) |
| Display | QVGA 3.5" LCD |
| Speaker Unit | 26 mm (Tweeter) x 2, 80 mm (Full Range) x 2, 135 mm (Subwoofer) x 1 |
| Frequency Response | 50 Hz to 20 kHz |
| Auto Battle Mode | Normal/Circle |
| Additional Modes | MIX play DJ MIX, TEMPO Control, 8-Beat Skip and Dance Cue, Rhythm Sequence |
| Dance Sound | Low, Mid, High |
| Playback Music File | MP3, WMA, AAC, WAV |
| Dimensions (W x H x D Inches) | 24.88 x 9.65 x 8.7 |
| Weight (lbs) | 16.31 |
| Inputs | Sealed iPhone/iPod Enclosure/Dock, 3.5mm Mic, 3.5mm Aux, USB, Mini USB |
| Outputs | 3.5mm Headphone |
Duo STZ-D10T-G

| | |
| --- | --- |
| Memory Capacity | 4 GB |
| RMS Power Output | 2.5 W + 2.5 W (4 Ω) |
| Display | QVGA 2.4" LCD |
| Speaker Unit | 40 mm (Full Range) x 2 |
| Frequency Response | 100 Hz to 20 kHz |
| Auto Battle Mode | Normal/Circle |
| Additional Modes | MIX play DJ MIX, TEMPO Control, 8-Beat Skip and Dance Cue, Rhythm Sequence |
| Dance Sound | Low, Mid, High |
| Playback Music File | MP3, WMA, AAC, WAV |
| Dimensions (W x H x D Inches) | 14.17 x 4.45 x 4.25 |
| Weight (lbs) | 2.64 |
| Inputs | Sealed iPhone/iPod Enclosure/Dock, USB, Mini USB |
| Outputs | 3.5mm Headphone |
Solo STZ-D10S-L
| | |
| --- | --- |
| Memory Capacity | 4 GB |
| RMS Power Output | 2.5 W + 2.5 W (4 Ω) |
| Display | QVGA 2.4" LCD |
| Speaker Unit | 40 mm (Full Range) x 2 |
| Frequency Response | 100 Hz to 20 kHz |
| Auto Battle Mode | Normal |
| Additional Modes | MIX play DJ MIX, TEMPO Control, 8-Beat Skip and Dance Cue, Rhythm Sequence |
| Dance Sound | Yes |
| Playback Music File | MP3, WMA, AAC, WAV |
| Dimensions (W x H x D Inches) | 12.56 x 3.5 x 3.7 |
| Weight (lbs) | 1.76 |
| Inputs | iPhone/iPod Dock, USB, Mini USB, 3.5mm Aux |
| Outputs | 3.5mm Headphone |
Executive Overview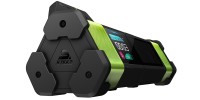 Sometimes products are such obvious grabs at current public fads that we can almost picture the boardrooms. In walks a group of engineers to face "the big bosses." The engineers are nervous; they've never been called before. Rumors are flying. Did they do something wrong? They don't think so. They are some of the youngest engineers on staff so they are the least paid. They thought they had job security but...in this economic climate, who knows? They swallow, collectively, then push their designated spokesman through the door first.
They enter the huge boardroom that has carpet thicker than their hair and a table larger than their apartment. The room smells faintly of old cigarette smoke and more recent cigar. Three of the most powerful members of the Pioneer corporation sit on the far side of the table. The engineers are motioned over. It is a long, hot walk. They feel like they are shrinking, melting as they approach what they are sure is a firing squad. Each one starts rolling over the "what they'll tell the spouse" conversation and where they might apply for jobs. Each has a mental image of flipping burgers.
Big Boss 1: Right. You're here. Sit.
They sit.
Big Boss 2: You want anything? Water?
They shake their heads.
Big Boss 3: Fine. To it then. We assume you watch TV. And that YouTube thing.
They nod their heads uncertainly. A few steal confused glances at each other.
Big Boss 1: My granddaughter loves this dancing show. What's it called?
After 15 seconds of silence, the engineers realize it was an actual question.
Engineer Spokesperson: Um...So You Think You Can Dance?
Big Boss 2: What?
Engineer Spokesperson: What?
Big Boss 1: Doesn't matter. Whatever it is called. My granddaughter loves it. Says it's all the groovy thing the kids are doing. Crunking or some crap.
Engineer Spokesperson: Krump.
Big Boss 2: What?
Engineer Spokesperson: Krumping. It's called Krumping. A style of dance.
Big Boss 3: Don't get smart kid. Whatever it's called, we want to get it.
Engineer Spokesperson: Um...you want to 'get' Krump.
Big Boss 3: Yep.
The engineers look at each other for a few moments, unsure how to respond. One leans in and whispers something to the group. They look back at their colleague, roll their eyes, and shake their heads vigorously.
Engineer Spokesperson: Well, sir, we're not exactly sure how you can 'get' Krump.
Big Boss 3: We need a product. A targeted product. Something that will appeal to these crunkers. That will speak to them.
Engineer Spokesperson: Ooookay.
Big Boss 1: With an iPod dock.
Big Boss 2: Yeah, definitely an iPod dock. Those things are all the rage now, right?
Engineer Spokesperson: Well, something that connected wirelessly might be a bit more...
Big Boss 3: And lots of different colors. Bright colors.
Big Boss 1: Good idea! My granddaughter loves crayons!
Engineer Spokesperson: Ummm....
Big Boss 3: That is all.
Engineer Spokesperson: Uh.. what?
Big Boss 2: Make sure you have some sort of prototype by the end of the week. And get those Internet guys to work on a webiste. Something with a bunch of people dancing.
The engineers collectively open their mouths to protest, think better of it, and leave before any more 'requests' can be thrown their way.
________________________
If this exchange seems unlikely to you, we dare you to explain the new Pioneer STEEZ BoomBox line. Comprised of three models - the Solo, Duo, and Crew, the entire line is designed with the "serious" dancer in mind. These serious dancers need iPod/iPhone connectivity, lots of options to modify the track being played, and a dedicated "Dance Battle Mode." You heard it right, true-believers, you can "bring it" whenever you want. You know, when someone disses your mad popping skills.
The three STEEZ offerings (the Urban Dictionary says that 'steeze' is a mixture of style and ease - apparently something Pioneer is trying to co-opt) cost $499 for the big Crew, $349 for the much smaller Duo, and $299 for the Solo. Each of the units feature an iPod dock of some kind with the Crew and Duo having a sealed enclosure to keep your iDevice safe when the music moves you so hard you accidentally kick over your BoomBox. All of the units have 4 gigs of internal memory as well, so you might not even need your iDevice.
Both of the smaller units feature two 40mm drivers (1.5") that are "full range" and produce a frequency response down to 100Hz (supposedly). The real benefits to the larger Duo over the Solo is the slightly larger size, the sealed iPod/iPhone enclosure, and additional battle and dance modes (more on these later). The largest of the range, the Crew, has a full compliment of drivers including two 26mm (1.75") tweeters, two 80mm (3.15") "full range" drivers and a single 135mm (5.3") "subwoofer". All this adds up to a frequency response down to 50Hz which, if we were actually on the market for one of these, would be impressive if true. What should be more impressive to potential customers is how loud these can play. While Pioneer didn't list this spec, we'd guess it would be something "serious" dancers would want to know if they are planning on having dance-offs or whatever.
Also an issue will be battery life. While all can be plugged into mains power, they are also battery driven. We see the benefit of being able to switch batteries if they die in the middle of a Beat Street style break-dance-off battle versus having to plug the unit in to recharge it. Both of the smallest, the Solo and the Duo, run on six AA batteries. The largest, the Crew, takes a whopping ten D batteries! We're not sure if the specs above include that additional battery weight though we doubt it.
Now, on to the different music modes. The big selling point for "serious" dancers looks to be the controls. With all of the models, you have access to:
Tempo Control - All three music systems let users change the tempo of the music without changing the pitch. Song tracks can play at slower or faster speeds, enabling dancers to follow along with the pace of the music without distorting the song's characteristics.
8-Beat Skip - Users can skip forward and back by eight counts with a push of a button.
Dance Cue - Eliminating the need to find a particular point in a track, users can set cue points to make playback begin at a desired spot in a piece of music extremely fast and easy.
Auto DJ Mode - Each player offers non-stop music mix playback based on the genre. An entire music library is automatically categorized and grouped creating a mix based on the style of dance picked by the user.
Dance Boost - The Dance Boost feature emphasizes specific instruments in a track such as the hi-hat and bass drum to make the beats more pronounced and easier to hear. This is ideal for training or teaching when used at low volume levels or in noisy (outdoor) environments.
Remote Control - Each player also comes with an ultra-thin credit card sized wireless remote that eliminates the need for users to run back and forth to the player.
There is also the famed "Battle Mode". Using the Auto Battle Mode, users will be treated to an automatically generated battle sequence complete with countdown timer and the player's LCD screen and voice and tone prompts to signal when 10 seconds of music is left before switching to the next user.
If you think we are being a bit unfair with the new STEEZ offerings from Pioneer, look at this picture: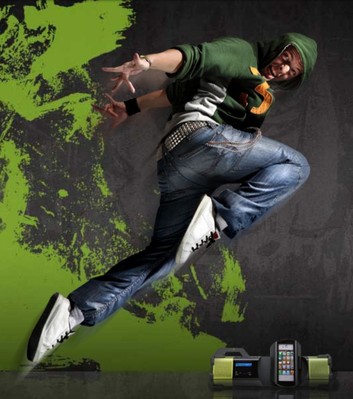 That is directly from the website, and there are more where that came from. Now, forget the fact that this kid is about as 'street' as my grandmother. Forget that he is in a full on Spiderman pose. Forget the photoshopped speed trails coming off his shoe. Forget the ridiculous hoodie, the silly expression, and the pants that are both tight and falling off. Forget all that and focus on the player. That's the Duo. Described as "for intermediate dancers in twos or threes", does anyone really dance this hard, this angry, with his friends? Come on.
Oh, and here's there is this girl: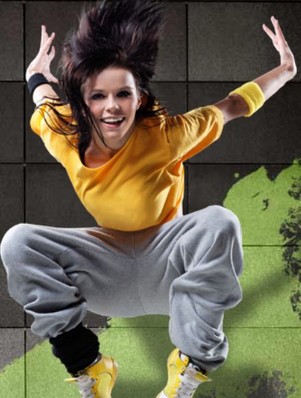 We're not even sure what to do with that.
Conclusion
The real issue we have with the new Pioneer STEEZ line is not that it is targeted for a demographic that looks to be smaller than the Audiophile crowd: we're worried that the "serious" dancer isn't going to put out a minimum of $300 up to $500 for one of these units. Yes, they have useful features for dancers such as the ability to change the tempo, set cue points, 8-beat skips, and battle modes. Sure, they may lure a few wannabe dancers with parents with pockets, but how many? Plus, isn't Daddy's first question going to be, "What do you mean your BoomBox doesn't have a radio?" The integrated sealed iPod/iPhone enclosure on the larger Crew and Duo are well thought out features that make a lot of sense and the internal 4 gig memory means you can likely store your favorite dance tracks and save your dock for your opponent's iPod. We're sure we'll see one of these in an upcoming season of one of the myriad of dance shows. The question is whether we'll see one in anyone's home.
For more information, please visit www.pioneerelectronics.com.

Confused about what AV Gear to buy or how to set it up? Join our Exclusive Audioholics E-Book Membership Program!
Recent Forum Posts: