RHA MA750 In-Ear Headphones Review
RHA MA750 In-Ear Headphones Review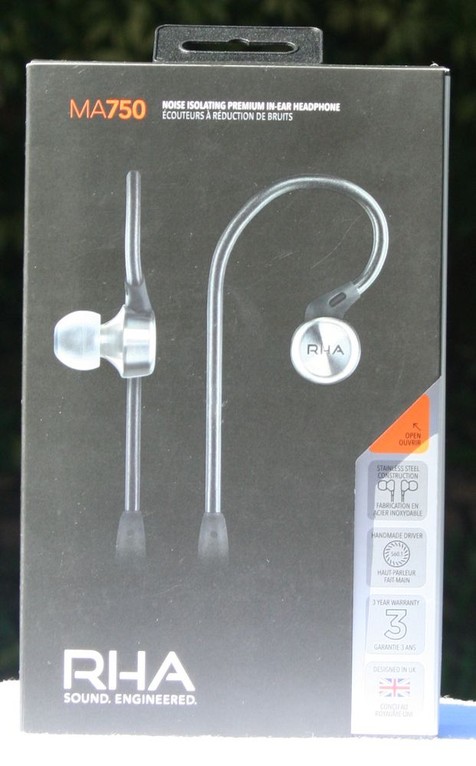 RHA MA750
Drivers: 560.1 Dynamic
Frequency range: 16-22,000Hz
Impedance: 16ohms
Sensitivity: 100dB
Rated/max power: 1/5mW
Weight: 35g
Cable: 1.35m, reinforced, OFC
Connections: 3.5mm, gold plated
6 pairs, dual density ear tips - S x2 / M x2 / L x2
2 pairs, double flange ear tips - S x1 / M x1
2 pairs, memory foam ear tips - universal fit
Stainless steel ear tip holder
Premium carry case
Clothing clip
Pros
Lots of bass
Every ear tip you could possibly need
Light but sturdy
Over ear loops keep well in place
Cons
Over ear loops not glasses friendly
Carrying case basically pointless
Occasional top-end harshness
RHA MA750 Introduction
If you want to get me talking, other than plying me full of beer, you could ask about one of two things - subwoofers or headphones. Sure, I can talk about displays but do you know who at a party asks me about my TV recommendations? Everyone. Literally. It's so boring. I usually ask what they just bought and then tell them that it is a good one. Even if it isn't. Because, frankly, I don't care. You want someone to validate your purchase? Go to the manufacturer's forum and post. Believe me, you'll find all the validation you'll ever want.
But subwoofers and headphones? Those are things I can get passionate about. Subs are something most people don't get because they really have never heard one. Oh, they've heard them at the movie theaters but that's a magical place where bass is born. You can't possibly experience that amount of bass at home, right?
As far as they are concerned, the movie theaters are the Hogwarts of bass.
Headphones, on the other hand, are things that people have experienced. You'd be hard pressed to find someone that hasn't used an earbud or an on-ear headphone in their lifetime. If you are my age, you've experienced them since walkmans. No, not discmans - walkmans. Cassettes baby. Kicking it old school. I remember how awful those headphones were. Nothing but a thin layer of foam over a plastic frame. The driver sounded like it had an aluminum cone. Aluminum Foil cone that is. All hiss and distortion.
But, back then, it was all we had. We didn't know any better. Plus I was I kid and barely had money for my Sonic Youth cassettes. I certainly wasn't considering upgrading my headphones.
Now we have iDevices. And most of them come with some sort of earbud. As much as I love to bag on them for being terrible (because they really, really are), the fact is that people are using them. If the people I see running or at the grocery store are indication, they are using them in vast numbers. While that makes me sad, at least we have a point of commonality. When I talk about subs with people, they look at me like I had lapsed into Klingon. 
RHA MA750 First Impressions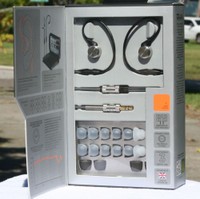 People believe that you can only use in-ear headphones for exercise. Of course, that isn't true. In my interview with V-MODA's Val Kolton, he revealed that he regularly wore his Crossfade M-100s when running. But I'm not going to argue the point. In-ear monitors are great for exercising. There are many things people might want in an in-ear monitor and those features are mutually exclusive. If they are running outside, they may want something that lets in a lot of external noise. If they are using them for critical listening, they will want a tight fit so that they can get the highest sound quality. Those two people are buying completely different headphones.
The RHA MA750s come in two flavors- the MA750 and the MA750i. The 'i' indicates in-line controls. I was sent the straight 750s and, honestly, I was glad. I'm a bit sick of in-line controls but I know many that prefer them. For those that do, the MA750i are a $10 premium over the straight MA750. Not a bad deal in my opinion.
RHA has upped the ante with the 750 line. They are still sticking with their signature inverted trumpet bell design but they've upgraded the construction to 303F grade stainless steel. They've also included their brand new and handmade RHA 560.1 driver. This driver is unique to the MA750s and boasts (if their measurements on their page can be believed) the flattest response out of all their drivers. RHA headphone construction, especially their in-ear monitors, has always been top-notch but they've really taken it to the next level with the MA750s.
The most unique change to the RHA line is the new tip holder. This looks like a leather cigarette case. Inside there is a small pocket on one side and a couple of straps on the other. What are the straps for? To hold the stainless steel tip holder of course. RHA stressed that while the case can be used for the tips, it was really intended for the headphones. Being the same shape as the tip carrier, I'm sure I'm not the only one that thought it was for the tips.
No More Complaining About Fit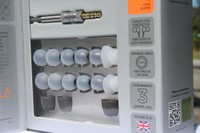 If I had to make a bet, I'd put money that there was a discussion at RHA about silicone tips. People are always complaining about fit with in-ear headphones and someone at RHA posed the question, "But how much to these tips really cost?" The answer was probably close to nothing so they decided to make sure people had all the tips they needed. And then they built a special case and holder for them. Does it have a point? Not really. How many people actively change out their tips on a regular basis? Not many. Most people figure out what works for them and promptly lose the rest. Cases are usually for the headphones. While there is a pocket for the headphones (or you can just shove them in there), it doesn't feel like it was designed to hold the MA750s. While the carrying case is nice for the tips, it really doesn't make much sense for the headphones. I would have preferred a second case designed specifically for the headphones.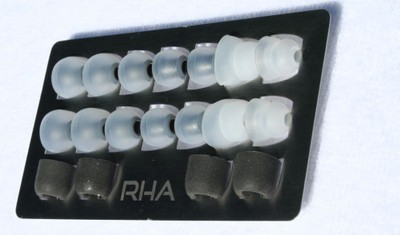 RHA wanted to make sure you had all the tip options you'd ever need. They included two pairs of small, medium, and large silicone tips along with two pairs of universal memory foam tips. They also included a single pair of double flanged tips in small and medium. Overkill? It sure is. But guess what? I finally, after reviewing dozens of headphones, found a pair that actually fit me.
It was the double flanged tip that made the difference.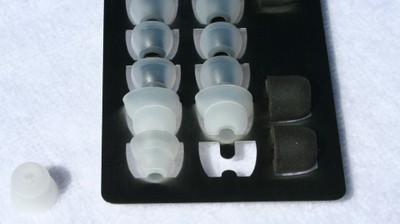 Because I'm a rational human and try to be logical at all times, whenever I'd try on different in-ear headphones, I'd switch both tips out at the same time. Small not working? Bump up to medium. But with so many tips available, I realized that I could mix and match them. Why this hadn't occurred to me before is a mystery. So I found that my right ear was definitely a small but the left ear wasn't fitting properly. So I bumped up to a medium that that wasn't working either. I then tried the small double flange tip and it fit like a dream. I then switched the right tip to the double flange but that didn't fit as well in that ear. So I've got double flange on the left, single on the right. And for the first time, I'm not having to re-insert my headphones every few minutes.
But I still don't have a use for that carrying case full of tips.

See also:
Confused about what AV Gear to buy or how to set it up? Join our Exclusive Audioholics E-Book Membership Program!
Recent Forum Posts:
IEMPatel posts on May 01, 2015 09:19
Great Review and RHA is really making progress so far as an attention-to-detail company with magnificent sound audio production. From humble beginnings in Scotland, they are slowly becoming more and more world renowned!
man4pak04 posts on April 30, 2015 02:08
According to the company, one of the most important aspects of the X2 is the Layered Motion Control (LMC) drivers which feature a multi-layered polymer diaphragm that encases a layer of damping gel. They say that these layers form a flexible boundary and – together with the gel – absorbs and dampens any exaggerated frequencies, resulting in a smooth and flatter frequency response. Check out the following features and specifications for details and don't forget to share your impressions.


_____________________
ANAIM
GrandizerJump posts on March 04, 2015 23:51
Hi, love the review. I recently had a chance to hear these at a store. Looking at these (RHA 750i) or the B&W C5. The C5s are a bit more than I would like to spend but not unreasonable. I mainly use them on the go and at work while listening to hip hop, rock and some dance music. Just wondering if you could point out some of the differences between the two that could help me make up my mind on which set to spend money on. Have a feeling either will work be great but rather make an informed decision.

Thanks.
Post Reply