Samsung New Display Technology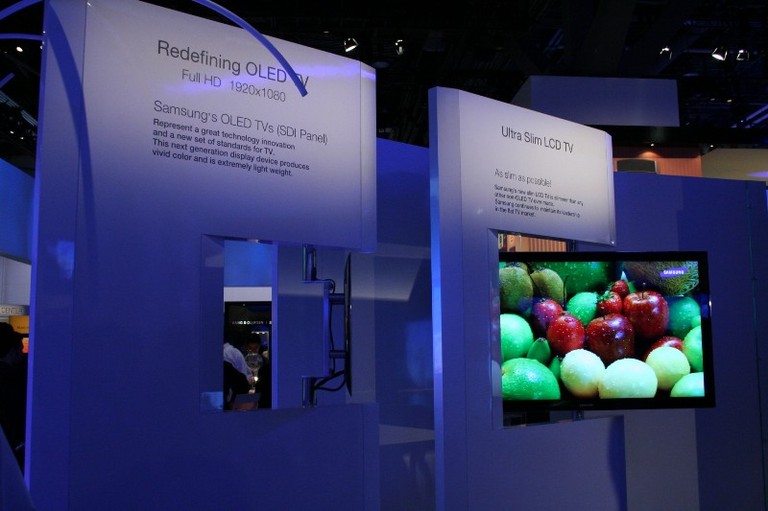 Ultra-Slim LCD and OLED Displays
Summary
Product Name:

Display Tech

Manufacturer:

Samsung

Review Date:

January 14, 2008 15:21

First Impression:

Pretty Cool
Executive Overview
Samsung had a large display in the center of their CES 2008 booth showing off some of the technology that we may (or may not) see in the future. The lineup at the Samsung booth included two (14.1" and 31") organic light-emitting diode (OLED) TVs in addition to an ultra-slim 52" LCD TV, quadruple full-HD LCD TV, and a 3D ready plasma display.

The chic, ultra-slim OLED TVs employ AM OLED panels developed by Samsung SDI, a Samsung affiliate dedicated to display production. The finished products weigh some 40 percent less than other LCD TVs of the same size while boasting a contrast ratio of 1 million to one, color gamut of 107% and brightness of 550nit. Samsung will supposedly begin commercial production of mid- to large-sized OLED TVs around 2010.
Also on display at the Samsung booth was a 52" LCD TV that is slimmer than any other non-OLED TV ever made. It has 50,000:1 contrast ratio and 550nit brightness. Mass production of this model is scheduled to begin in 2009.
Samsung also unveiled their "Quadruple full-high definition" (QFHD), which refers to a resolution of 3,840 pixels by 2,160 pixels, which is four times greater than that for a typical high-definition display. Samsung will unveil the world's largest (82") QFHD LCD TV to date.
Samsung introducted a 57" LCD monitor (model: 570DXN) that can recognize a user's motions even when the user is a short distance away from the monitor. The monitor takes advantage of a 3D motion sensing solution developed by interactive media company Reactrix Systems. Samsung plans to commercialize this monitor in 2008 and will target it for commercial advertising applications.
Samsung has developed the first 3Dready, flat-panel HDTVs on the market with the Series 4 plasma HDTV. Both the Series 4 and Series 5 models come packaged in a lustrous, piano-black exterior, and feature first class components and advanced features typical of premium models. Built-in entertainment modes automatically optimize image and audio quality to the content being viewed—a must-have for the avid gamer, sports fan or movie buff. Further enhancing the Series' viewing experience is the FilterBright anti-glare technology, which produces deeper blacks and an increased contrast ratio for overall superior picture. A variety of multimedia devices can be easily connected and used through 3 HDMI inputs, one of which conveniently located on the side of the sets. Extending that connectivity even further, Samsung has also included a USB2.0 port for 5 series, making it simple to view contents directly from digital devices such as cameras, MP3 players, and thumb drives. In addition, the enhanced HDMI-CEC TV remote enables consumers to easily control multiple devices connected via the HDMI port. The Series 4 Plasma HDTV will be available in March in both 42-inches and 50-inches model sizes (Model numbers PN42A450P and PN50A450P). The Series 5 plasma HDTV will be available in March in both 50-inches and 58-inches (Model numbers PN50A550P and PN58A550P). Like other 3D displays we've seen, this one uses glasses to a somewhat headache inducing affect.

While we don't expect to see all of this technology hit the consumer market, it was nice to have it all in one place where we could check it out in detail. 3D still seems years away from a viable solution (for everything but a limited selection of games) and there is ample evidence that OLED will never come down in price enough to be a serious contender against LCDs. For more information, please visit. www.samsung.com.

Unless otherwise indicated, this is a preview article for the featured product. A formal review may or may not follow in the future.
Confused about what AV Gear to buy or how to set it up? Join our Exclusive Audioholics E-Book Membership Program!