Denon AVR-X3000 and AVR-X4000 IN-Command Receivers Preview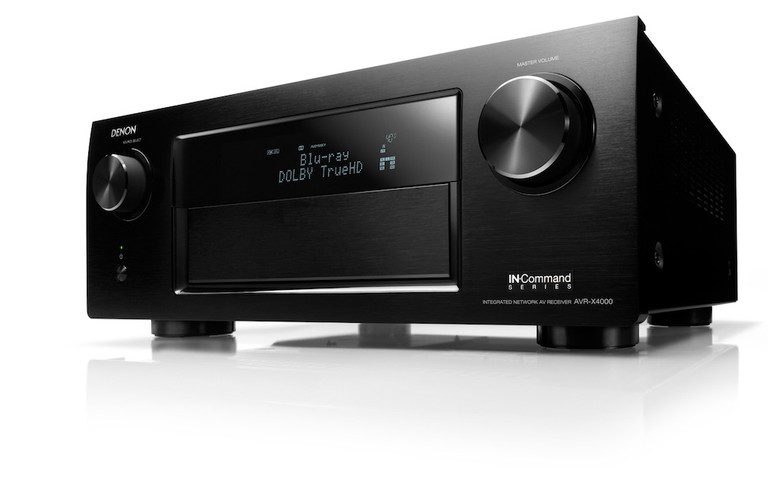 Denon AVR -X4000
Summary
AVR-X3000
State-of-the-art Denon Solutions for Maximizing Content Quality
• Fully discrete, identical quality and power for all 7 channels (105 W x 7 ch)
• Audyssey DSX and DTS Neo:X for front height or front wide effects channels for a more immersive surround experience
• 1080P & 4K Ultra HD (3840 x 2160) upconversion
• Analog to HDMI video conversion lets you run just one HDMI cable to your HDTV
• Audyssey MultEQ XT® automatically sets the speakers to suit the room's listening environment and the speakers' characteristics
• Audyssey Dynamic EQ® improves surround effects at lower volume levels
• Audyssey Dynamic Volume® stabilizes volume levels for consistent sound
• Digitally transmitted play function for iPod® and iPhone® (via USB) for best sound quality • High-performance 192kHz/24-bit D/A converters for all channels
• Denon's proprietary Compressed Audio Restorer, to restore sound quality from compressed music sources such as MP3 tracks
Connectivity
• Multi-room audio lets you enjoy 5.1 sound with separate stereo audio in a 2nd room • Networking with AirPlay®, Pandora®, Spotify & SiriusXM Internet Radio
• Convenient front panel HDMI input for connecting a camcorder or game console
• 7 HDMI inputs (1 on the front panel)
• 2 HDMI outputs (1 for multi-room video)
• Supports HDMI with 4K Ultra HD (3840x2160), 3D, Audio Return Channel, Deep Color, x.v.Color, Auto Lipsync and HDMI CEC (Consumer Electronics Control)
• Multi-room audio (2 zones, 2 sources)
• Power amplifier assign function, for versatility in using the AVR-X3000 for different purposes
- 5.1 channel + Front height speakers (FHL + FHR) - 5.1 channel + Front wide speakers (FWL + FWR) - 5.1 channel + Zone 2 stereo speakers
- 5.1 channel + Bi-amp front main (L/R) speakers
- 5.1 channel + Front B speakers
• Convenient front USB input for quick and easy connection of your portable device
Ease-of-Use
• InstaPrevue Technology, provides live picture-in-picture preview of of connected active HDMI sources
• Supports new "Denon Remote App" to simplify operation by Android & iOS tablet/smartphone • New, easy-to-connect speaker terminals in a horizontal layout
• Comes with color-coded labels to easily identify the correct speaker cables
• New Setup Assistant with rich GUI (Graphical User Interface) with easy-to- follow setup instructions • Comes with simple, easy-to-use remote controller
• Auto power off
• Front panel display features easy-to-read characters
Others
• Audyssey Installer Pro Ready
• Lower power consumption at standby 0.1 W
• Supports web control functions via your PC's web browser
• Remote control input and output (IR)
• AMX, Control4, Crestron, RTI, Savant, URC third party control support • RS-232C serial I/O control interface
• Trigger output (150 mA)
Dimensions
• Size: 17 3/32" x 6 67/64" x 14 59/64" (434 x 167 x 379 mm)
• Weight: 23 lbs 9 oz, 10.7 kg
AVR-X4000
State-of-the-art Denon Solutions for Maximizing Content Quality
• Fully discrete, identical quality and power for all 7 channels (125 W x 7 ch)
• 9.2 channel enhanced surround processing with Audyssey DSX and DTS Neo:X • Dynamic Discrete Surround Circuit, D.D.S.C.-HD
- AL24 Processing Plus, to dramatically enhance the music listening experience
• Denon Link HD for the best sounding jitter-free connection to our DBT-3313UDCI Blu-ray disc player • Hybrid PLL Jitter reducer for the most accurate digital audio playback
• 1080P & 4K Ultra HD (3840x2160) upconversion
• Analog to HDMI video conversion lets you run just one HDMI cable to your HDTV
• Audyssey MultEQ® XT32 and Audyssey Sub EQ HT Dual subwoofer EQ processing for optimum room acoustic calibration and subwoofer balancing
• Audyssey Dynamic EQ® improves surround effects at lower volume levels
• Audyssey Dynamic Volume® stabilizes volume levels for consistent sound
• Audyssey LFC solves the problem of low frequency sounds disturbing people in adjacent rooms • High-performance 192kHz/24-bit D/A converters for all channels
Connectivity
• Multi-room audio lets you enjoy 5.1 sound with separate stereo audio in a 2nd or 3rd room • Multi-room audio (3 zones 3 sources)
• Networking with AirPlay®, Pandora®, Spotify & SiriusXM Internet Radio
• HD Radio tuner built-in
• Convenient front panel HDMI input for connecting a camcorder or game console • 7 HDMI inputs (1 on the front panel)
• 3 HDMI outputs
- 2 outputs for main room video (such as a projector and a flat screen TV)
- 1 output for multi-room video in a second room with the same or a different source
• Supports HDMI with 4K Ultra HD (3840x2160), 3D, Audio Return Channel,
Deep Color, x.v.Color, Auto Lipsync and HDMI CEC (Consumer Electronics Control)
• Power amplifier assign function provides tremendous system configuration possibilities - 5.1 channel + Front height speakers (FHL + FHR)
- 5.1 channel + Front wide speakers (FWL + FWR)
- 5.1 channel + Zone 2 stereo speakers
- 5.1 channel + Zone 3 stereo speakers
- 5.1 channel + Bi-amp front main (L/R) speakers
- 5.1 channel + Front B speakers
- 7.1 channel + 2 channel pre-outs for additional stereo amplifier and speakers
• Convenient front USB input for quick and easy connection of your portable device
Ease-of-Use
• InstaPrevue Technology, provides live picture-in-picture preview of connected HDMI sources
• Supports new "Denon Remote App" to simplify operation by Android & iOS tablet/smartphone • New, easy-to-connect speaker terminals in a horizontal layout
• Comes with color-coded labels to easily identify the correct speaker cables
• New Setup Assistant with rich GUI (Graphical User Interface) with easy-to-follow setup instructions • Comes with simple, easy-to-use remote controller
• Auto power off
• Front panel display features easy-to-read characters with two alpha-numeric rows
Others
• Audyssey Installer Pro Ready
• Lower power consumption at standby 0.1 W
• Supports web control functions via your PC's web browser
• Remote control input and output (IR)
• AMX, Control4, Crestron, RTI, Savant, URC third party control support • RS-232C serial I/O control interface
• Trigger output x 2 (150 mA MAX)
Dimensions
• Size: 17 3/32" x 6 67/64" x 14 59/64" (434 x 167 x 379 mm)
• Weight: 27 lbs 20 oz, 12.3 kg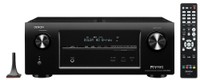 When we reported on the new, budget IN-Command receivers, we really only had one thought on our minds, "Wow, these are pretty cool! I wonder what they'll do with the higher-priced versions?" Well, we have to wonder no longer. Along with the $499 AVR-X1000 and the $699 AVR-X2000, Denon has announced the $999 AVR-X3000 and the $1299 AVR-X4000. These models, while nowhere near as expensive as receivers can get, are generally targeted at the buyer who wants to do more than just power their speakers and route the video to their brand new display. This is a buyer that cares about sound and features and is willing to pay for the right solution.
The AVR-X3000 comes in at a buck under a grand. It's just a touch over 23.5 pounds and sports 105 watts per channel. With seven channels of discrete amplification the AVR-X3000 is ready for larger home theaters and those with more demanding speakers.

The AVR-X3000 has seven HDMI inputs (one on the front) and two HDMI outputs (ARC, 3D, and 4k compatible). One of the HDMI outputs is labeled "Zone 2" and can be used to send audio and video to a second zone, but doesn't support ARC. One the features we are most excited about is the ability to play audio from HDMI inputs in zone 2. Normally, you would have to connect HDMI for use in the the main zone and analog cables for zone 2.
There are quite a few more non-HDMI connections on the back of the AVR-X3000 than it's little brother, the AVR-X2000. You get two component video, three composite video, two optical audio, two coaxial audio, and five analog audio inputs. For the first time in the IN-Command line we find a trigger output for use with an external amplifier. There is also an additional subwoofer output, making the AVR-X3000 a 7.2 receiver.
The AVR-X3000 features InstaPreview for fast switching between HDMI inputs. It will upcovert and scale all your inputs to HDMI and up to 4k resolution. While it still has the same Audyssey MultEQ XT found in the AVR-X1000, it now has Audyssey's DSX technology for height and width channels as well as DTS Neo:X. There are no pre-outs for this so you'll have to route the surround back channels for these additional channels.
Like the rest of the IN-Command line, the AVR-X3000 has 192kHz/24-bit D/A converters for all channels, is AirPlay compatible, can connect digitally to your iDevice via the front USB port, and has a host of streaming features. The new GUI features a Setup Assistant to ease new users into configuring their receivers. The AVR-X3000 is Audyssey Installer Pro ready and supports PC control over your web browser. It can also be controlled by Denon's Remote App and can stream Pandora, Sirius XM, vTuner, and Spotify.
The AVR-X4000 is the highest priced of the new "X" series IN-Command receivers at $1299. It weighs in at over 27 pounds, which is nearly 4 pounds heavier than the X3000. This 7.2 receiver features 125 watts per channel. The AVR-X4000 has an extra zone of audio (up to three) with three (count'em) HDMI outputs. Yep. Three.

The back of the AVR-X4000 looks a lot more like the receivers of old. While there are still seven HDMI inputs, there are now three outputs. The HDMI connections are, like the X3000, ARC, 3D, and 4K compatible. One of the three outputs is labeled Zone 2 but now there are two monitor outputs. This is helpful if you have multiple screens showing the same content or if you have a main and a secondary source of video (some people use a projector for night viewing and a flat panel for daytime viewing). Outputs for composite and component video have made a reappearance. The composite is most likely just a backup but both composite and component can be sent to Zone 2 for a full second zone.
The number of speaker terminals has increased dramatically. While the AVR-X3000 had just enough for the speakers it could power (seven), the AVR-X4000 has eleven pairs. This allows for multiple configurations depending on your needs. In particular, it is nice to be able to power a full 7.2 most of the time but then switch to power a second (or third) zone of audio for special occasions.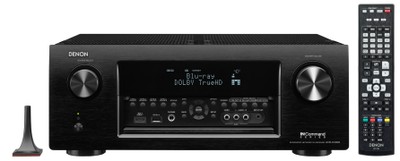 For the first time in the IN-Command line we find full 7.2 outputs for adding external amplification as well as pre-outs for front height, front width, and Zones 2 and 3. The AVR-X4000 is capable of a 9.2 system with an external amp for your additional speakers. This is also the first receiver with a phono input complete with a ground. The front has a faceplate which covers a number of controls and the addition of a fourth composite video and sixth stereo analogue input. The iDevice compatible USB port is still on the face as is a headphone input and the seventh HDMI port.
The AVR-X4000 features the latest in Audyssey room correction with their MultEQ XT32 with Sub EQ HT dual subwoofer adjustments.  The dual subwoofer outputs feature independent level control and delay.  Audyssey takes care of level and delay separately then applies a single correction curve to the summed response of both subs.  This is exactly how it should be done and we're glad all of the new Denon AVR's featuring Audyssey XT32 dual subwoofer outputs will be functioning this way.  In fact, many receivers with MultEQ XT32 don't have the Sub EQ. This is a huge plus for the Denon offering. Like the rest of the IN-Command line, the X4000 has networking features such as Windows 8 and AirPlay compatibility. It can be controlled via Denon's Remote App.
Conclusion
With receivers this powerful, it is nearly impossible to list all their features in such a short article (lucky for you that we have a full review of the AVR-X4000 in the works finished!). The takeaway you might get from this is that the new IN-Command receivers are both feature packed and flexible. The difference form the X2000 to the X3000, other than $300 in price and a few watts, is that the AVR-X3000 will be nearly everything you'll need to power your home theater. The AVR-X4000 will will do all that plus power either your bedroom or secondary system, and route audio signals to a third area. When you are at this level of buying, it pays to make a list of what you need. If these receivers can't do it, it likely can't be done. At least, not at these price points.
For more information, please visit www.denon.com.

Unless otherwise indicated, this is a preview article for the featured product. A formal review may or may not follow in the future.