Denon AVR-X1000 and AVR-X2000 IN-Command Receivers Preview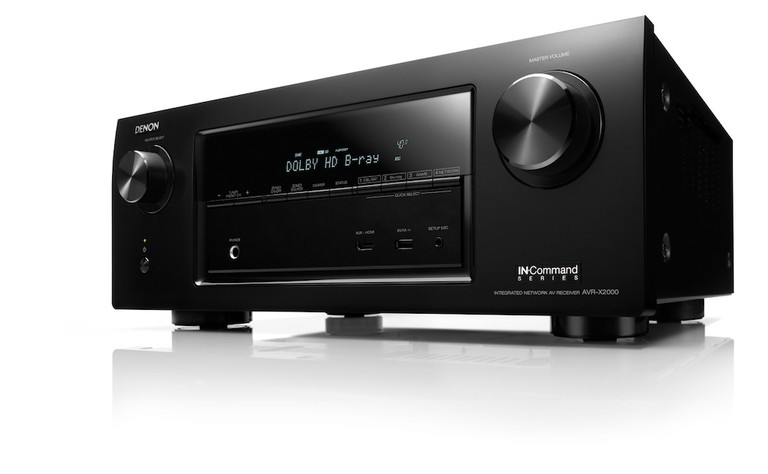 Denon AVR-X2000
Summary
AVR-X1000
State-of-the-art Denon Solutions for Maximizing Content Quality
• Fully discrete, identical quality and power for all 5 channels (80 W x 5 ch)
• Audyssey MultEQ XT® automatically sets the speakers to suit the room's listening environment and the speakers' characteristics
• Audyssey Dynamic EQ® improves surround effects at lower volume levels
• Audyssey Dynamic Volume®stabilizes volume levels for consistent sound
• Digitally transmitted play function for iPod and iPhone (via USB) for best sound quality
• Supports 1080P and 3D video pass-through
• High-performance 192 kHz/24-bit D/A converters for all channels
• Denon's proprietary Compressed Audio Restorer, to restore sound quality from compressed music sources such as MP3 tracks
• Pure Direct function
Connectivity
• Networking with AirPlay, Pandora, Spotify & SiriusXM Internet Radio
• Convenient front panel HDMI input for connecting a camcorder or game console
• 6 HDMI inputs (1 on front panel) - 1 HDMI output
• Supports HDMI with 3D, Audio Return Channel, Deep Color, "x.v.Color", Auto Lipsync and HDMI CEC (Consumer Electronics Control) function
• Multi-room audio (2 zones, 2 sources) when you connect a stereo amp and stereo speakers • Convenient front panel USB input lets you connect your favorite portable device
Ease-of-Use
• Supports new "Denon Remote App" to simplify operation by Android & iOS tablet/smartphone • New, easy-to-connect speaker terminals in a horizontal layout
• Comes with color-coded labels to easily identify the correct speaker cables
• New Setup Assistant with enhanced GUI, providing easy-to-follow setup instructions
• Comes with simple, easy-to-use remote controller
• Auto power off
• Front panel display features easy-to-read characters
• Less chassis depth for easier installation in tight spaces, such as a TV cabinet
Others
• Audio Delay function
• Lower power consumption at standby 0.1 W
• Supports web control functions via your PC's web browser
• Remote control input (IR)
• AMX, Control4, Crestron, RTI, Savant, URC third party control support
Inputs
HDMI (incl. Front 1) 6

Video (composite) 2

Analog audio 2

Digital audio (optical) 1

Digital audio (coaxial) 1
Outputs
HDMI monitor 1

Video (composite) monitor 1

Audio preout (Zone2 L/R) 1

Audio preout (subwoofer) 1

Phones 1
Other Connections
Network (Ethernet) 1

USB 1 FM tuner antenna 1

AM tuner antenna 1

Setup mic jack 1

Remote Control (in)
Power amplifier specs
Front L/R: 80 W + 80 W (8 Ω/ohms, 20 Hz - 20 kHz, THD 0.08 %); 120 W + 120 W (6 Ω/ohms, 1 kHz, THD 0.7%)

Center: 80 W (8 Ω/ohms, 20 Hz - 20 kHz, THD 0.08 %); 120 W (6 Ω/ohms, 1 kHz, THD 0.7%)
Surrounds: 80 W + 80 W (8 Ω/ohms, 20 Hz - 20 kHz, THD 0.08 %); 120 W + 12080 W (6 Ω/ohms, 1 kHz, THD 0.7%)
Preamplifier section
Input sensitivity/impedance 200 mV / 47 kΩ/kohms
Frequency response 10 Hz ~100 kHz —+1, –3 dB (DIRECT mode)
S/N Ratio 98 dB (IHF-A weighted, DIRECT mode)
FM section Tuning frequency range 87.5 - 107.9 MHz
AM section Tuning frequency range 520 - 1710 kHz
General
Power supply AC 120 V , 60 Hz
Power consumption 390 W (Standby 0.1 W, CEC standby 0.5 W)
Dimensions (W x H x D) 17 3/32" x 5 15/16" x 12 63/64" (434 x 151 x 330 mm)
Weight 18 lbs 1 oz, 8.2 kg
AVR-X2000
State-of-the-art Denon Solutions for Maximizing Content Quality
• Fully discrete, identical quality and power for all 7 channels (95 W x 7 ch)
• 1080P & 4K Ultra HD (3840x2160) upconversion
• Analog to HDMI video conversion lets you run just one HDMI cable to your HDTV
• Audyssey MultEQ XT® automatically sets the speakers to suit the room's listening environment and the speakers' characteristics
• Audyssey Dynamic EQ® improves surround effects at lower volume levels
• Audyssey Dynamic Volume® stabilizes volume levels for consistent sound
• Digitally transmitted play function for iPod® and iPhone® (via USB) for best sound quality
• High-performance 192kHz/24-bit D/A converters for all channels
• Denon's proprietary Compressed Audio Restorer, to restore sound quality from compressed music sources such as MP3 tracks
Connectivity
• Multi-room audio lets you enjoy 5.1 sound with separate stereo audio in a 2nd room • Networking with AirPlay®, Pandora®, Spotify & SiriusXM Internet Radio
• Convenient front panel HDMI input for connecting a camcorder or game console
• 7 HDMI inputs (1 on the front panel) - 1 HDMI output
• Supports HDMI with 4K Ultra HD (3840x2160), 3D, Audio Return Channel,
Deep Color, "x.v.Color", Auto Lipsync and HDMI CEC (Consumer Electronics Control) • Multi-room audio (2 zones, 2 sources)
• Power amplifier assign function, for versatility in using the AVR-X2000 for different purposes - 5.1 channel + Front height speakers (FHL + FHR)
- 5.1 channel + Zone 2 stereo speakers
- 5.1 channel + Bi-amp front main (L/R) speakers
- 5.1 channel + Front B speakers
• Convenient front USB input for quick and easy connection of your portable device
Ease-of-Use
• Supports new "Denon Remote App" to simplify operation by Android & iOS tablet/smartphone • New, easy-to-connect speaker terminals in a horizontal layout
• Comes with color-coded labels to easily identify the correct speaker cables
• New Setup Assistant with rich GUI (Graphical User Interface) with easy-to-follow setup instructions • Comes with simple, easy-to-use remote controller
• Auto power off
• Front panel display features easy-to-read characters
• Less chassis depth for easier installation in tight spaces, such as a TV cabinet
Others
• Audio Delay function
• Lower power consumption at standby 0.1 W
• Supports web control functions via your PC's web browser
• Remote control input and output (IR)
• AMX, Control4, Crestron, RTI, Savant, URC third party control support • RS-232C serial I/O control interface
Inputs
HDMI (incl. Front 1) 7

Video (component) 1

Video (composite) 2

Analog audio 4

Digital audio (optical) 1
Digital audio (coaxial) 1
Outputs
HDMI monitor 1

Audio preout (L/R) 1

Audio preout (subwoofer) 1

Phones 1
Other Connections
Network (Ethernet) 1

USB 1

FM tuner antenna 1

AM tuner antenna 1

Setup mic jack 1

Remote Control (in/out) 1/1

RS-232C 1
Rated output
Front L/R: 95 W + 95 W (8 Ω/ohms, 20 Hz - 20 kHz, THD 0.08 %) 125 W + 125 W (6 Ω/ohms, 1 kHz, THD 0.7%)
Center 95 W (8 Ω/ohms, 20 Hz - 20 kHz, THD 0.08 %) 125 W (6 Ω/ohms, 1 kHz, THD 0.7%)
Surround L/R: 95 W + 95 W (8 Ω/ohms, 20 Hz - 20 kHz, THD 0.08 %) 125 W + 125 W (6 Ω/ohms, 1 kHz, THD 0.7%)
Surround Back L/R: 95 W + 95 W (8 Ω/ohms, 20 Hz - 20 kHz, THD 0.08 %) 125 W + 125 W (6 Ω/ohms, 1 kHz, THD 0.7%)
Preamplifier section
Input sensitivity/impedance 200 mV / 47 kΩ/kohms
Frequency response 10 Hz ~100 kHz —+1, –3 dB (DIRECT mode)
S/N Ratio 100 dB (IHF-A weighted, DIRECT mode)
FM section Tuning frequency range 87.5 - 107.9 MHz
AM section Tuning frequency range 520 - 1710 kHz
General
Power supply AC 120 V, 60 Hz
Power consumption 500 W (Standby 0.1 W, CEC standby 0.5 W)
Dimensions (W x H x D): 7 3/32" x 6 67/64" x 12 63/64" (434 x 167 x 330 mm)

Weight 20 lbs 15 oz, 9.5 kg
Executive Overview

Every once in a while, model numbers seem to get out of control and a manufacturer says, "Alright, lets just start over." Denon seems to have gotten to that point with their IN-Command receivers. This line from Denon has had heaps of praise thrown at them and for good reason. They are commandos in the ever escalating war of number of features for the lowest price. This reboot of the IN-Command line features the popular "X" in the model number. And everyone knows that adding and X to anything makes it higher tech. Luckily, Denon doesn't have to rely on the consumers' perception of X to convince them to buy. The feature set and price of the new X receivers will do that for them.
The least expensive in the new IN-Command line is the AVR-X1000. This 5.1 receiver sports 80 watts per channel and is rated as low as 6 ohms. It weighs in at a touch over 18 pounds, has six HDMI inputs, one output, and a ton of networking options.

The back of the AVR-X1000 is fairly spartan but it has most of what you'll need. There are five HDMI inputs on the back and one output. The sixth HDMI input is on the front. The output is ARC enabled (Audio Return Channel) and can pass through 3D, 1080p, and HDMI CEC. There are two composite video inputs and one output. There are also two RCA-style stereo analog audio inputs, one of each type (coaxial and optical) digital audio inputs, and an Ethernet port for networking. Interestingly, Denon has included pre-outs not only for the subwoofer but for a Zone 2. This is a move that many manufacturers are starting to make. $500 used to get you a 7.1 receiver where the surround back channels could be used to power a second zone. An amplified zone 2 is starting to be phased out of this price point in favor of more HDMI inputs and network features. The speaker terminals (five pairs of 5-way binding posts) are conveniently color coded and arranged in a line rather than stacked, both of which will ease setup.
The front of the AVR-X1000 has, along with the HDMI input, a headphone output, 3.5 input for the setup mic, and USB port. This USB port can be used to access data from a flash drive or from your iDevice. When connecting an iDevice, the Denon AVR-X1000 will bypass the iDevice's internal DACs in favor of its own. This is a good thing because Denon has included 192 kHz/24-bit D/A converters for all channels.
When connected to your home network, the Denon AVR-X1000 can be controlled via Denon's Remote App. You can also stream Pandora, Spotify, and Sirius XM, and it's Apple AirPlay compatible for wirelessly connecting to your iDevice. Denon has included Audyssey's MultEQ XT with the X1000, which is quite the coup considering the price point. You're going to have a hard time finding a more popular room setup solution at this price point. Denon has also included an upgraded GUI with a setup assistant for the novice buyer (at this price point, a smart inclusion and probably pays for itself in reduced customer service calls).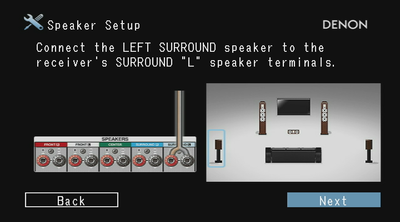 The AVR-X2000 costs $200 more than the X1000. Building on the feature-rich base of the X1000, the AVR-X2000 starts by bumping up the power to 95 watts per channel and adds two more channels of amplification. Denon has added an extra HDMI input to the rear for a total of seven. At nearly 21 pounds, the X2000 is considerably beefier than the AVR-X1000.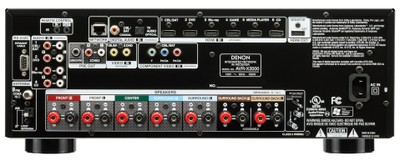 The rear of the AVR-X2000 is considerably busier than the AVR-X1000. Aside from the extra HDMI input, there's a component video input, but the composite video output has gone the way of the dodo. For experienced readers, they've already figured out that the AVR-X2000 has video upconversion from analog to HDMI. In addition, Denon has included scaling to 1080p or 4k. Two additional analogue audio inputs (up to four) are also included.
You will also find two more pairs of speaker connections for use with the surround back channels. If you decide not to use a full 7.1 system and opt for a 5.1 main system, those additional amps can be used to power Zone 2 (there are still pre-outs), bi-amp your main speakers, or as front height channels (there is no mention of Audyssey DSX so we believe this is through the Dolby ProLogic IIz solution.
Custom installers will be happy to see an RS-232 port on the back for control as well as an IR in and out (there was only an IR in on the X1000). AMX, Control4, Crestron, RTI, Savant, URC third party control support are standard with the AVR-X2000.
Networking remains mostly the same as the AVR-X1000 though the X2000 adds Windows 8 compatibility. AirPlay and all the other streaming options are all in effect as is control via Denon's remote app.
Conclusion
Is $200 worth two additional channels of amplification, 4k upconversion, a component video input, and extra HDMI input, and a few other odds and ends? We think for many consumers it will be. If you have no need of seven channels or video upconversion, you can save yourself some money with the AVR-X1000. But if you have some legacy gear, sources with questionably video quality (like cable boxes), or just want to future-proof your system a bit, the $700 will well be worth it for the advanced features of the AVR-X2000. Regardless of which you choose, you'll get networking, AirPlay, Audyssey MultEQ XT, discrete amplification, and more. Not enough you say? Then the Denon AVR-X3000 or X-4000 receivers might be your cup of tea. Buyer's remorse could well be a thing of the past.
For more information, please visit www.denon.com.

Confused about what AV Gear to buy or how to set it up? Join our Exclusive Audioholics E-Book Membership Program!