Atdec Quick Shift Donut Display Mount First Look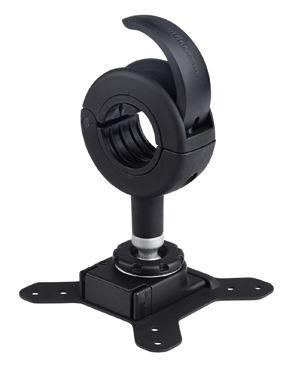 Atdec Quick Shift Donut Display Mount
Summary
Designed for simple installation
Suitable for poles with 42mm and 50mm (1.65" and 2") in diameter
Supports displays up to 12kgs (26 ½ lbs)
Mounting hole configuration: 75mm x 75mm (3" x 3")100mm x 100mm (4" x 4"). Require 200mm x 100mm (8" x 4")

Ball joint allows infinite display adjustment for any viewing angle up to 40°. Simple tension adjustment
Quick release mechanism for fast display attachment/removal
Portrait to landscape rotation
All hardware included
Executive Overview
In home theater, we are often concerned more with the overall look of a mounting solution rather than the flexibility. More times than not, we are going to mount a TV and never adjust it again. We aren't moving the display around, we aren't switching them in and out... we set it and forget it so to speak.
But that's not always the case. As more and more men are stepping up and demanding their own "man-cave" (what is the female equivalent? a scrap-booking hole?), setups are getting more and more varied. While a dedicated home theater should (as far as we are concerned) be first and foremost on the man-cave checklist, there are often secondary (and tertiary) displays. These displays may live on a wall near a pool table or perhaps in a kids room. Often you are forced to place these displays so that the maximum number of areas have some sort of unobstructed view. With lower end LCD viewing angles, this can be a tricky proposition at best.
Articulated mounts can be a solution but they often can only be articulated on one axis. Atdec has a solution that may surprise you even more than the ridiculousness of its name - the Quick Shift Donut. That's right, the Atdec Quick Shift Donut is a wall mounting option that not only gives you virtually unlimited positioning options, but it does it all with practically no tools.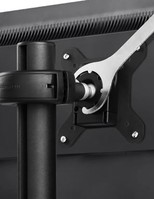 To understand exactly how this works, you need to see the little flash movie on the Atdec website. Here you'll see how the Donut works. There is a lever in the Donut that releases pressure on the 1.65" to 2" tube. From there you can adjust not only where on the tube the Donut is positioned, but rotate it on the tube. Aside from that, with a simple (provided) wrench you can release the tension held ball joint that connects to the back of the display. This allows up to 40 degree movement in any direction. Again, Atdec didn't stop there. The Quick Shift Donut also has a quick release mechanism which will detach the display from the mount without the need for tools. Basically, other than adjusting the ball joint, you need no tools to adjust the Donut or to detach the display. 
While this mount may be more useful in a professional setting, there are plenty of reasons to consider it for your personal man-cave. First, the Donut is easy to use. Adjustments are a snap especially side to side or (theoretically depending on the position of the tube) vertically. With the Quick Shift lever, the display can be moved to nearly any orientation you want. Add to that the 40 degree ball and socket joint and positioning is fairly unlimited and very easy to adjust. This allows you to spend (perhaps) less on your display as you can line up your display as you need even if the off axis response isn't optimal. Second, the quick release mechanism means that you could, in theory use the same display in multiple locations. With only the investment of a wall mount (or some sort of tube mount), you could literally take a display from the kid's room down to the basement for added impact during those all important games. 
Conclusion
We've got an email in to the Atdec rep about the pricing and availability of the Quick Shift Donut. While we don't think it will be for everyone, in the right situation, it may provide to be invaluable. That's not to say that pricing won't affect our opinion of the mount - it will. If Atdec prices this mount so that it is cheaper for people to just buy a second (or third) display, it would seriously affect our opinion of the mount. At a reasonable (sub $100 - preferably sub $80) price point, this is a no brainer. (Edit - Pricing set at $99 and availability is now - decent price for what you get). You never know what the future will hold and having the ability to adjust your display positioning is always preferable to being locked into a single position (even if you can adjust it side to side and tilt).

Confused about what AV Gear to buy or how to set it up? Join our Exclusive Audioholics E-Book Membership Program!
Recent Forum Posts:
ned posts on February 04, 2010 19:01
Great for Speaker mounting as well.
Post Reply