Sony XBA-1iP In-Ear Headphones Review
Summary
Audio
Driver Unit : Closed, Balanced Armature
Frequency Response : 5 - 25,000 Hz
Impedance : 24 ohms at 1 kHz
Sensitivity (db) : 108 dB/mW
Volume Control : +/- Button
General
Case Type : Carrying Pouch
Plug : Four-conductor gold-plated stereo mini plug for iPod with remote function
Type of Use : Portable
Power
Power Handling Capacity : 100 mW (IEC)
Audio Features
Ear Cups : N/A
Omni Directional, In-Line Microphone
Hardware
Cord : 47 1/4 in. (1.2 m), OFC Litz cord neck-chain
Headphone Type : Vertical in-the-ear style earbuds
Microphone : Electret Condenser
Weights and Measurements
Weight (Approx.) : 6 g (0.21 oz) without cord
Convenience
Remote Control Functions : Volume, FF, RW, Play, Pause, Mic
Executive Overview
There are so many different uses for headphones that you can be justified in having more than one pair. With all the great over the ear, on ear, and in ear models on the market, many people might have one for late night critical listening, one for working out, and one for traveling. Of course, you'll have to balance your purchases based on price point, frequency of use, and many other factors.
As audioholics, we are simply unwilling to sacrifice sound quality in anything we own. We may not be able to upgrade our car stereo to the same level of performance as our home theaters, but we certainly aren't going to put up with bad sound. We, at the very least, demand a higher quality of audio performance from everything we own. This includes the headphones that we use when traveling.
Sony's new XBA line of in-ear headphones start at $80 and work their way up to $500. The price increases are based on iPhone connectivity, number of drivers, and Bluetooth. We took a look at the single driver XBA-1iP in-ear headphones. These include a $20 premium over the entry level model. With that comes iDevice and Smartphone support.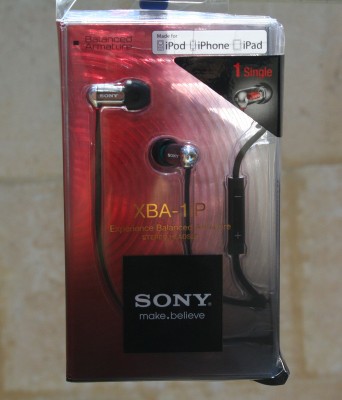 In the Box
The Sony XBA-1iP arrived in their retail clamshell case. They come with a 1.2 meter cord (standard length) without any extension. There are a total of seven pairs of tips for the XBA-1iP's - a single set of super small silicone tips and dual pairs of small, medium, and large. The silicone tips are empty on the inside while the noise isolation tips have a foam filling. All of the tips are color coded for size so that it is easy to find the pair that you want.
There is a small, velvet carrying case, a lapel clip, and a "cord adjuster". The cord adjuster allows you to wind the extra cable onto it and hold it in place by a clip at each end. The lapel clip is a fairly ingenious design and makes it hard for you to operate the clip and release the wire at the same time. Lapel clips are great for making sure the omnidirectional mic stays relatively close to your mouth without you having to hold it in place.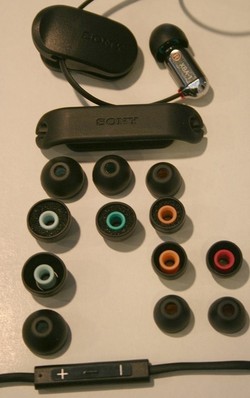 The XBA-1iP in-ear headphones are fairly tiny and light (6 grams without the cord). There is a label for left or right on each, though you'll probably end up just looking for the remote which is one the left. The end of the cord sports a four-conductor gold-plated stereo mini plug for iPod with remote function.
Use
Like most of these Smartphone/iDevice remote solutions (including those annoying Bluetooth earpieces), there are limited buttons on the XBA-1iP remote. Plus and minus buttons control volume and a center button to control everything else are all that you'll find. The uses of the center button will differ with what your device/phone is doing and how long/how many times you've pressed it. Provided you have an iPhone, these are how the center button behaves:
Plays/pauses a track of the connected iPod product with a single press.

Skips to the next track with a double
press.

Skips to the previous track with a triple press.
Starts the "VoiceOver" feature with a long press (if available - reads name of song).
Press once to answer the call.

Press again to end.

Hold down for about two seconds to reject an incoming call.
When you let go, two low beeps

For owners of other Smartphones, you'll be limited to the call features as the music playback and volume won't work (at least they didn't with my Samsung Galaxy Nexus). I tested the rest of the features with my 4th generation iPod Touch and iPad 1 and everything worked as advertised.
Call quality was reduced through the omnidirectional mic (as reported by my wife who said she preferred it when I used the handset alone). But the hands-free option isn't about getting better sound, it is about answering calls without having to hold a phone to your head. My calls were all perfectly understandable which is all you can really expect with such a product.
There are tons of tips for the XBA-1iP in-ear headphones which is important if you want to get a good fit with a large number of consumers. I found that only one of the seven tips were acceptable and it took a couple of weeks of changing them out before I settled on one. You'll need to balance comfort with performance. If the tips are too small, they'll fall out and will sound tinny and lack bass. Too large and they'll fall out as well but may hurt in the meantime. Sony did well to include so many. It was easy to switch them out and the color coding was practically fool-proof.
Comfort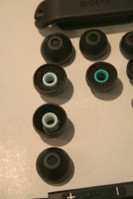 Sony makes an XBA model specifically for working out (they have an over-the-ear loop and a water-tight enclosure) but that doesn't mean you won't be wearing your XBA-1iP in-ear headphones for long periods. I spend a lot of time writing at a desk and my musical tastes aren't always appreciated (or appropriate for the kids). This means long hours with headphones. I own a pair of Denon AH-D1000 on-ear and Audio-Technica ATH-M50s headphones. Both are fantastic sounding and each has their own advantages. One of the disadvantages of both is that, after a few hours, your ears get hot. Add to that the summer heat (we're just now getting into winter here in Australia), and it's a recipe for discomfort.
The second most common location for me to wear headphones is in the kitchen. I'm notorious for my love of AV and my love of cooking. This means long hours chopping, cutting, kneading, and sauteing. Usually, I'd use one of my over/on-ear headphones but, like the summer heat, the stove can be relentless. I'd find myself removing my headphones out of pure fear that I would never get the smell out of them. An in-ear solution seemed ideal.
Anything that is shoved into your ear canal is going to feel weird. The Sony XBA-1iP in-ear headphones are no exception. I don't think there was ever a moment when I thought, "Hey, I'm not even noticing them any more." I always knew they were there. But, at the same time, I never felt the need to take them out to give my ears a break. On top of that, after writing for upwards of four hours straight without removing the headphones, I could take them out without any lingering discomfort.
Really, the only problem I had with comfort was when I had the wrong sized tips. No matter if the tip was too small or too large, they were constantly falling out whenever I moved or would need to be repositioned so that I got all the available bass. If you want to get the proper performance out of these (or any in-ear headphones), getting the tip right is paramount. In the end, with the correct tip, I found them to be adequately comfortable even over extended listening sessions.
Sound Quality

When considering sound quality, I refuse to only compare the same types of headphones. The type isn't as important as execution. I've heard in-ear headphones that sounded every bit as bassy as larger, over the ear types. Saying that an in-ear model is somehow subject to a different standard is ridiculous.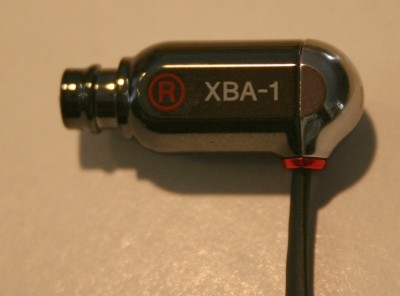 On top of that, Sony's own specification chart rates them down to 5Hz. Now no true audioholic believes that you'll really experience 5Hz. Using the Rives Audio Test CD 2, I played a few test tones. While I hear sounds down to 20Hz (there isn't a lower tone on the disc), I didn't hear what I would call "clean" output until the third test tone (31.5Hz). The 20Hz and 25Hz tones both sounded fluttery and weak in comparison to the 31.5Hz tone indicating to me that the frequency response was dropping off somewhere in the high 20Hz range (not bad, but certainly not 5Hz).
For bass linearity, I put in Yello's "Junior B" - a track with a nice bass run right at the beginning of the song (and repeated all the way through). The Sony XBA-1iP in-ear headphones provided a very nice run, if tapering off a bit at the end. While the Denon AH-D1000s had a longer, cleaner run, the Sony XBA-1iP in-ear headphones held up nicely.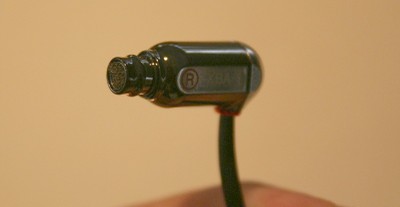 The midrange was not as rich as either the Denon or Audio-Technica headphones, but it was still acceptable.
The only real problem I ran into with the Sony XBA-1iP in-ear headphones' frequency response was the high end. At louder volumes, the highs became shrill and fatiguing. I have to believe that the higher end XBA offerings (with more than one driver) would perform much better. Expecting a single driver to provide a response from 5Hz to 25kHz is just too much (Editor's note: Shhhh! Don't tell the audiophiles!) At moderate volume levels, fatigue wasn't a problem. If you are mostly going to listen to compressed MP3s with the top-end rolled off anyhow, you likely won't notice this problem. But with reference material, it was evident fairly quickly.
Conclusion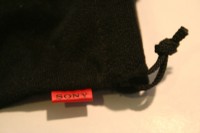 The thing to remember about the Sony XBA-1iP in-ear headphones is that they are half the price of either of the reference models. Their comfort level was good, though I never forgot I was wearing them. The bass response was more than adequate and the midrange, while not as rich as the reference models, was still very good. Sitting at my desk, I'd prefer one of my other headphones. But outside, or when I might be expecting a call, the Sony XBA-1iP in-ear headphones are a fine choice. At $100 MSRP (likely less in a store), they are almost an impulse buy. At this price, they are a very nice second pair at a reasonable price. Recommended!
For more information, please visit www.sony.com.
Confused about what AV Gear to buy or how to set it up? Join our Exclusive Audioholics E-Book Membership Program!
Recent Forum Posts:
Clint DeBoer posts on April 13, 2012 21:12
They have a cool new BD player I'm checking out soon (assuming they stay on schedule). It is the size of an AppleTV, so it's kind of cool for a minimalist installation.

I'm also impressed with Sony's new ES receivers, but not with how poorly they are marketing them.
Sugarbear posts on April 13, 2012 08:24
I don't know what it is but, other than my PS3, I feel like I'd never buy any electronics from Sony…
Post Reply