Denon AH-D1000 Headphone Review
Denon AH-D1000 Headphone Review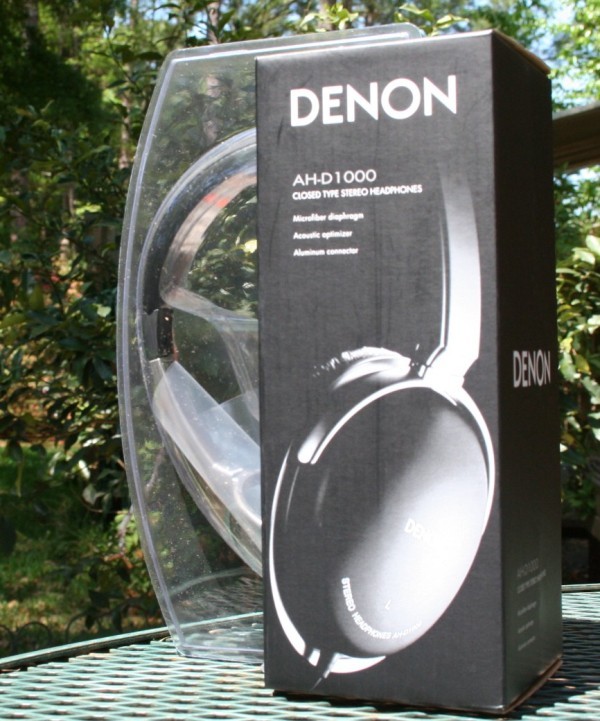 Denon AH-D1000 Headphones
Product Name: AH-D1000
Manufacturer: Denon
Performance Rating:
Value Rating:
Review Date: April 24, 2007 06:27
MSRP: $ 150
Type: Dynamic
Drive units: 40mm (1-9/16") Neodymium magnet
Input impedance: 32 ohms
Sensitivity: 103 dB/mW
Maximum input: 1,300 Mw
Playback frequencies: 8-37,000 Hz
Mass: 180g (6-3/8oz) (not including cable)
Cable length: 1.5 m (4' 11") OFC cable
Plug: 3.5 mm (9/64') gold-plated stereo mini plug
Accessories: 3.5 m (11' 5-25/32") OFC cable, 6.3 mm (1/4') Stereo plug, Operating instructions
Colors: Black/Silver
Pros
Light
Comfortable
Sound great
Cons
A bit large for travel? I don't know, I got nothin'.
Introduction
Nothing is worse than having an "epiphany" type moment with a particular song/album just to have your significant other ask you to turn it down. It is times like these that you simply MUST have a good set of cans. Denon is trying to break into this very competitive market with a new group of cans that range in price from $150 to $700. The AH-D1000's are an "on ear" (supra-aural) model that is priced right for someone that wants quality but doesn't have unlimited funds. At $150, they definitely are above the impulse buy price range and elevate the purchase to one of "bang for buck".
Confused about what AV Gear to buy or how to set it up? Join our Exclusive Audioholics E-Book Membership Program!
Recent Forum Posts:
furrycute posts on April 27, 2007 19:01
Not much interest in cans around here…

Is there going to be a review of AH-D2000, the next higher up model? I am very curious to see how this Denon stacks up against the Sony MDR-SA5000.
Kitsum posts on April 26, 2007 13:03
Are those made in China? All of my cans come from Europe, as i find them excellent HQ designs, but other mnfs might be up to the task now days.
kleinwl posts on April 25, 2007 09:37
It is hard to get a feel from the article how much better or worse these are than other headphones. For example, I have a pair of Sennheiser HD280 pros (closed) headphones and have been thinking of upgrading to HD650s (open). The HD280 is a very flat response (designed to be monitor headphones) with 32db of sound proofing… however the bass response leaves much to be desired, -10Db at 1KHz.
Post Reply