AudioControl Maestro M3 Theater A/V Processor First Look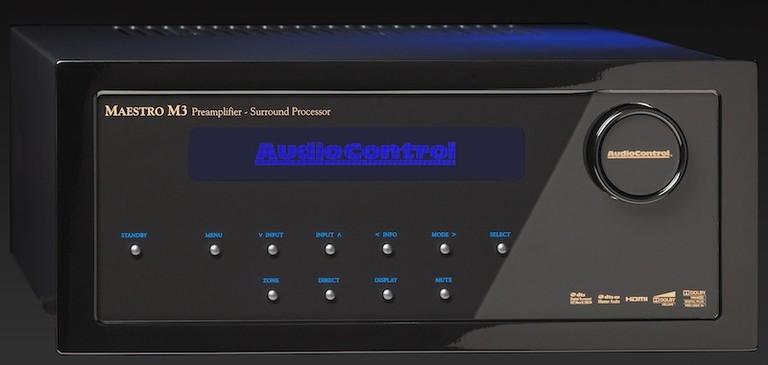 AudioControl Maestro M3 Theater Pre-amplifier
Summary
Stylish Cosmetics – High Gloss Front With Rose Gold Lettering
Balanced XLR and Unbalanced RCA Outputs
Extends HDMI, Component, and Composite Video Signals Over CAT-5/6
Phono Inputs
Decodes Hi-Definition Formats - Dolby TrueHD and DTS HD Master
Controllable via IR or RS-232 serial commands
Streaming audio via Ethernet or USB
Utilizes Dolby Volume Technology
1080p HDMI switching for five sources
Upconverting to HDMI of component, composite, and S-Video inputs
Perfect Match For AudioControl Pantages G3 Theater Amplifier
Dimensions: 17" (W) x 7" (H) 16.5"(D)
Weight: 27lbs

Five Year Warranty

Executive Overview
When looking at high end audio gear, it is not unexpected to see prices in the range of small (or something times large, luxury, performance) cars. What you get for this price is often not only the highest of high end components but also aesthetics to match. While many Audioholics are willing to eschew looks and marginal performance increases for lower costs, there are those that are more than happy to pay the premium.
AudioControl is a company with a very good name within the higher end circles. While they aren't as well known as some, consumers often report positive results from their demos at dealers and trade shows. The Maestro M3 is the latest and greatest that AudioControl has to offer. This "no-holds-barred" $5999 entry may be more than some Audioholics are willing to pay but for the audio elite, it is practically a bargain.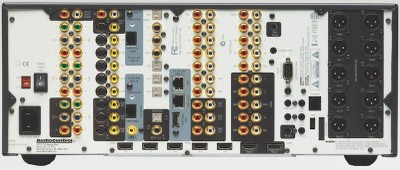 There are plenty of inputs and outputs for just about any home theater. The Maestro includes 20 video inputs including five HDMI 1.3 and five component video inputs. There are three optical and three coaxial digital audio inputs with a slew of analogue stereo inputs. As you'd expect from a receiver of this caliber, there controls for up to three zones with dedicated 3.5mm IR inputs for each. RS232 control is on board as are 7.1 channel inputs and 7.3 channel RCA outputs. For those that are interested in a balanced connection, the Maestro M3 has balanced outputs for a 7.3 channel system. In a high end home theater, we'd expect no less that two subs so the third output is definitely welcome. Vintage phono users can rejoice that they haven't been forgotten with the inclusion of a Moving Magnet phono input.
The front panel of the Maestro M3 is no less impressive with a gloss black finish, Rose Gold lettering, and stereotypical blue LED display. Fortunately, the Maestro isn't just about connections and looks - it has some impressive technology to back it up. Top of the line 24 bit, 192kHz digital to analog converters plus Dolby Volume and a "broadcast quality" video scaler are onboard. While the DACs and scaler are not mentioned by brand name, they are probably very high quality. Dolby Volume is a DSP that maintains a constant volume across time so that when you are watching TV you aren't blown out of your seat by your three subwoofers during the commercials or waking up your wife during a particularly loud part of a movie.
Of course the Maestro can convert all the latest high definition audio formats including Dolby TrueHD and DTS HD Master Audio. What is unexpected is that the Maestro M3 is networkable and can stream audio content from a connected PC or even connect to Internet radio. While this is becoming more and more common on receivers, high end separates often lag behind on such technology. Not so with the Maestro. Add to that the dual HDMI outputs and a USB port and you've got more than you'd ever expect from a specialty piece of gear.
The single thing that has most people talking about the Maestro M3 is AudioControl's integrated Active Balanced Circuitry. This allows you to send video signals over Cat5/6 up to 1000 feet for Composite or Component or 150 feet for HDMI (depending on the format). These signals are also "balanced" which is a method used in professional video and audio to reject noise, hum, or distortion that can sometimes get introduced into signal paths. Because the Maestro M3 was designed with high performance video in mind, the Active Balanced Output on the Maestro M3 can accommodate high-resolution signals of 480, 720, and 1080. Now this is only video and not audio and it requires an extra purchase of a termination point but for integrators it may be exactly what they are looking for. 
Conclusion
Astute readers of Audioholics will note that AudioControl's Maestro M3 looks an awful lot like the Arcam AV888 Pre/Pro - and they'd be right. But rather than a rebadging as we've seen so many other manufacturers do (with a huge price increase), AudioControl has taken the platform and modified it. They also do all of their product testing and engineering work at their Washington facility. Their Active Balanced Circuitry is very different from anything we've seen on other Pre/Pros - high end or otherwise. While it may not be a feature that everyone is interested in, it is something that, when you need it, you really need it. On looks alone the Maestro is turning heads. While we've often found that high end gear disappoints on closer inspection, the Maestro holds its own.
For more information, please visit www.audiocontrol.com.

Confused about what AV Gear to buy or how to set it up? Join our Exclusive Audioholics E-Book Membership Program!
Recent Forum Posts:
AcuDefTechGuy posts on October 01, 2010 13:59
Looks awesome. I wonder if it is made & assembled in the USA?
JimmyTango posts on October 01, 2010 08:38
I believe this is the OEM for Arcam's AVR500, 600 and their AVP888. So this would be the Arcam AVP888.

I had an Arcam AVR600 for 2 months. So many damn issues with it i got rid of it. Shame as its a nice piece of gear, but bug riddled.
Post Reply