Sanus NF Series Racks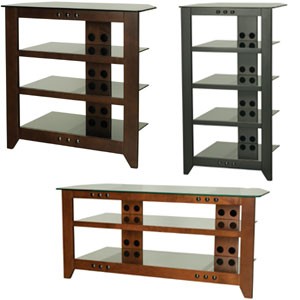 Summary
Product Name:

NF Series Racks

Manufacturer:

Sanus Systems

Review Date:

January 09, 2009 02:00

MSRP: $299-$349
First Impression:

Pretty Cool
NFAV230 Specs
Product Width: 30" / 76.2 cm
Product Height: 29.87" / 75.87 cm
Product Depth: 18" / 45.72 cm
Top Shelf Width: 30" / 76.2 cm
Top Shelf Depth: 20" / 50.8 cm
Top Shelf Capacity: 110 lbs / 49.9 kg
Middle Shelf Width: 23" / 58.42 cm
Middle Shelf Depth: 15" / 38.1 cm
Middle Shelf Capacity: 50 lbs / 22.68 kg
Bottom Shelf Width: 23" / 58.42 cm
Bottom Shelf Depth: 15" / 38.1 cm
Bottom Shelf Capacity: 70 lbs / 31.75 kg

NFA245 Specs
Product Width: 26" / 66.04 cm
Product Height: 45.1" / 114.55 cm
Product Depth: 22" / 55.88 cm
Top Shelf Width: 26" / 66.04 cm
Top Shelf Depth: 22" / 55.88 cm
Top Shelf Capacity: 60 lbs / 27.22 kg
Middle Shelf Width: 19" / 48.26 cm
Middle Shelf Depth: 18.49" / 46.96 cm
Middle Shelf Capacity: 50 lbs / 22.68 kg
Bottom Shelf Width: 19" / 48.26 cm
Bottom Shelf Depth: 18.49" / 46.96 cm
Bottom Shelf Capacity: 70 lbs / 31.75 kg
NFV249 Specs
Product Width: 49" / 124.46 cm
Product Height: 22.16" / 56.29 cm
Product Depth: 19" / 48.26 cm
Top Shelf Width: 49" / 124.46 cm
Top Shelf Depth: 19" / 48.26 cm
Top Shelf Capacity: 150 lbs / 68.04 kg
Middle Shelf Width: 41.04" / 104.24 cm
Middle Shelf Depth: 16" / 40.64 cm
Middle Shelf Capacity: 60 lbs / 27.22 kg
Bottom Shelf Width: 41.04" / 104.24 cm
Bottom Shelf Depth: 16" / 40.64 cm
Bottom Shelf Capacity: 80 lbs / 36.29 kg
Executive Overview
Sanus Systems displayed three new models in its AV Foundations Natural series. These included the NFV249 three-shelf AV lowboy, the four-shelf AV stand and the NFA245 five-shelf audio stand. All units incorporate three new Sanus colors and thick, smoked tempered glass shelves.

The new models are designed with solid Grade A hardwood, extra-thick tempered glass and rigid steel hardware, which provide enough strength to handle a rackful of gear or a new flat panel television. Models also feature open architecture, which offers unrestricted airflow to electronics, allowing them to maintain their optimal operating temperature and maximize performance.

The new models are available in black, cherry or mocha finishes. They incorporate new platinum accents and smoked-glass shelves.
The NFV249 three-shelf AV lowboy lists for $349.99. The NFAV230 four-shelf AV stand lists for $299.99. The NFA245 five-shelf audio stand lists for $349.99.

Sanus products are available at thousands of retail locations nationwide; a store locator is available at www.sanus.com.
Confused about what AV Gear to buy or how to set it up? Join our Exclusive Audioholics E-Book Membership Program!
Recent Forum Posts:
Soundman posts on January 09, 2009 08:55
Nice

These look nice! This is a good pricepoint, I think. I'll consider picking one of these up. I plan to be putting together a dedicated HT room in the near future. Right now my gear is crammed in a TV Cradenza, granted I have made some slight modifications.
Post Reply