Philips 7000 Series LCDs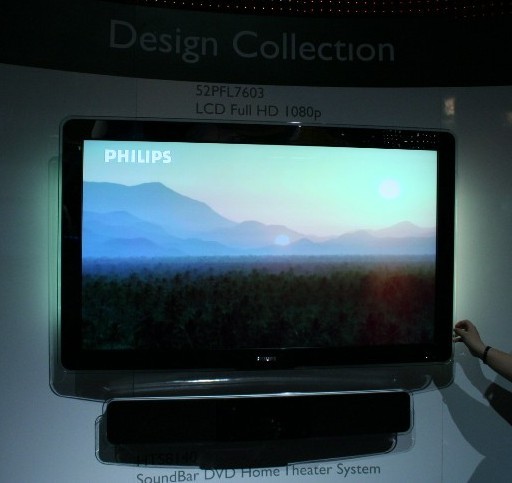 Philips 52PFL7603
Summary
Product Name:

52PFL7603

Manufacturer:

Philips

Review Date:

January 14, 2008 15:53

MSRP: $1699-$2799
First Impression:

Pretty Cool
Executive Overview
Philips debuted its 7000 FlatTV series at CES. This new line ranges from 19 to 52 inches (diagonal), and features a rounded edge surrounded by an acrylic edge, which not only gives the set a less rigid look but also enhances the sets technology.  Philips reportedly conducted extensive research with consumers to find out what they really wanted.  The response was that consumers feel that most televisions look the same and they miss products that are "outstanding".  Consumers share a desire for products with a simpler and more approachable, softer and more sophisticated design.
The new design collection delivers on that need with a design that is minimalist, emotional, and recognizable and led by the 7000 series.  Consumers will also notice the absence of a speaker grill, which makes the sleek, black bezel continuous around the set for a more minimalist look.  The sound is actually powered from the back and carried out throughout the acrylic flare around the set.  The end result is a TV that actually is part of your environment –superior performance packed in a design that is truly like no other.
The addition of 120Hz ClearLCD technology improves the shadow detail and black levels in dark scenes while greatly diminishing motion artifacts. Philips' 120Hz ClearLCD technology provides razor-sharp moving images with an ultra-fast motion response time of two milliseconds. By doubling the picture refresh rate from the standard 60Hz, these sets deliver swift, streak-free action - elevating image quality and clarity.
Philips has further refined the LCD with HD Digital Natural Motion technology , which eliminates the persistent juddering effects that appear with recorded movie content.  Motion Estimation Motion Compensation technology estimates motion in the picture and inserts compensated frames, resulting in a smoother, more natural picture and eye-popping sharpness. By smoothing the shaky visuals typically appearing in film content, this technology creates an unrivaled experience.
Combined with amazing picture performance, Philips' latest generation of LED Ambilight technology immerses and engages viewers like no other display. The advanced lighting feature – available on the 7603 series - captures the colors and action on the screen and provides well-balanced light behind the TV set. This leads to more relaxed viewing and eliminates the need for additional ambient lighting while watching television.
The new 7000 series features a unique invisible speaker system that delivers a powerful audio experience from a slim TV cabinet. Philips' Invisible Sound System integrates wOOx subwoofer with two dual-excursion passive radiator drivers to improve low frequency performance while concealing the speakers in a subtle, efficient design.
Calibrating picture settings is a breeze with Philips' simple, unique settings assistant feature. In a few easy steps, users can select their on-screen preferences with the left and right cursor buttons. By using a program similar to an eye test, viewers can select what they perceive as the best picture and sound. Choose initial preferences from the five split-screen samples and the television will make the changes and store them for future use. The 7000 series offers four HDMI 1.3a inputs with built-in consumer electronics control (CEC) for the cleanest, clearest digital signal. Now users can hook-up as many as four HDMI devices while assured their sets are future-proof for further connectivity. For more information, please visit www.philips.com.
Model

Display Type

Ambilight

 

Invisible Sound

120 HZ

ClearLCD

Pixel Plus 3HD

MSRP

Availability

7403 Series

42PFL7403

LCD

 

X

X

X

$1,699

March

47PFL7403

LCD

 

X

X

X

$1,999

April

52PFL7403

LCD

 

X

X

X

$2,699

May

7603 Series           

42PFL7603

LCD

X

X

X

X

$1,799

April

47PFL7603

LCD

X

X

X

X

$2,099

April

52PFL7603

LCD

X

X

X

X

$2,799

May
Unless otherwise indicated, this is a preview article for the featured product. A formal review may or may not follow in the future.
Confused about what AV Gear to buy or how to set it up? Join our Exclusive Audioholics E-Book Membership Program!