Yamaha RX-V2065 Preview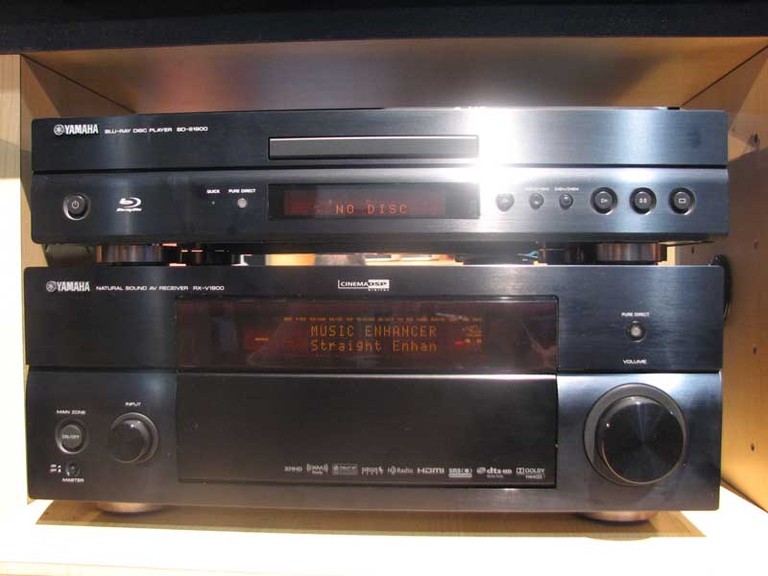 Yamaha RX-V2065 Receiver
Summary
High Sound Quality
7-channel 910W powerful surround sound (130W x 7)
HD Audio format decoding: Dolby TrueHD and DTS-HD Master Audio; Dolby
Digital Plus and DTS-HD High Resolution Audio
Digital ToP-ART and High Current Amplification with discrete amp configuration
Pure Direct
Ultra low jitter PLL circuitry for HDMI and any digital sources
Burr-Brown 192 kHz/24-bit DACs for all channels
Intelligent Assignable amplifiers for bi-amp or Surround Back <-> Front
Presence or Zone 2/3 connection
High Picture Quality
Analog video upscaling to full HD 1080p with TBC
1080p-compatible HDMI (5 in/2 out [simultaneous])
Supports Deep Color (30/36 bit), x.v.Color, 120Hz/24Hz Refresh Rates and
Auto Lip-Sync compensation
Advanced Features
Network functions incl. the compatibility with MusicCAST2 MCX-RC100 Commander
Access to Internet Radio (MP3/WMA), Streaming Service (Rhapsody®) and music files on PC (WAV, MP3, WMA, AAC, FLAC)
DLNA network device support
New SCENE buttons (BD/DVD, TV, CD and Radio) - quick and simple to use
YPAO sound optimization for automatic speaker setup
HD Radio™ Receiver and iTunes tagging
XM and SIRIUS ready
USB port for portable audio players and flash drives (MSC)
iPod compatibility via optional YDS-11 Universal Dock
Bluetooth (A2DP) compatibility with optional Yamaha Bluetooth® Wireless Audio Receiver YBA-10
New GUI on-screen display with album art
Dialogue Lift
iPod song titles displayed in English and Western European languages on the front panel and on-screen display
HDMI CEC functionality, HDMI standby through functionality - HDMI CEC functionality is for HDMI 1 out only.
Initial Volume Setting and Maximum Volume Setting
Surround Realism
CINEMA DSP 3D mode (17 DSP programs) with Adaptive DSP Level
Adaptive DRC (Dynamic Range Control)
Compressed Music Enhancer, SILENT CINEMA and Virtual CINEMA DSP
Audio Delay for adjusting Lip-Sync (0-240ms) Versatile Zone Control
Assignable Amplifiers for multi-zone control (Zone 2 and Zone 3)
RS-232C interface
Remote in/out and dual programmable +12V trigger outputs
Executive Overview
One doesn't have to try very hard to get excited about Yamaha's new receiver offerings. They definitely have been taking some big leaps lately. One thing we've really liked is their new interface. We've completed the preliminary review of the new neoHD Media Centers and have been impressed. While the system does have some quirks, it is very intuitive to the neophyte.
For many enthusiasts, this is a warning sign. They equate "ease of use" with "lack of quality." Yamaha has always been known for their quality so this leaves the enthusiast confused. Is Yamaha losing their edge? Are they giving in to the masses? Or are they managing to actually make good receivers easy to use?

The Yamaha RX-V2065 is the latest in the '65 series of receivers. At $1399 MSRP, it is currently the most expensive. At that price point you'd expect a lot of performance, and you'd get it. With 130 watts per channel, all the latest HD audio formats decoded internally, dual subwoofer outputs, high end DACs and attention to detail in maintaining audio fidelity, the RX-V2065 doesn't disappoint. On the video side, you have analogue upscaling to 1080p and dual (simultaneous) HDMI outputs.
The RX-V2065 is network ready though not wireless enabled, meaning you'll need to get an Ethernet connection into your home theater in some way. If you do, you'll find Internet radio, Rhapsody, and network streaming support for most of the common file formats (WAV, MP3, WMA, AAC, FLAC). Of course the Yamaha RX-V2065 is designed to work flawlessly with Yamaha's MusicCAST2 MCX-RC100 Commander and has DLNA support.
You're not going to have much of a problem connecting most of your devices as inputs are plentiful. There is a USB port on the front of the unit for portable audio players and flash drives, though they require the addition of the YDS-11 Universal Dock for iPod support (and this dock has its own rear multi-pin connection). The unit is XM and Sirius ready, has an HD Radio receiver, and supports iTunes tagging. The new on-screen display "GUI" will include album art for applications that can support it and iPod song titles will also be displayed on the front of the receiver. The list of features really goes on.
The RX-V2065 allows you to interface and control it with an Apple iPhone using a special application program.   You can even set it to notify you about a new firmware update which can be engaged directly from your iPhone.
The real question, however, is what your $400 gets you over the cost of Yamaha's RX-V1065 receiver - priced at $999 for the mathematically challenged. Well, for starters, you get 25 more watts per channel, something that just about everyone will appreciate. The RX-V2065 has network capabilities which can be huge for some (especially those with Rhapsody accounts or who just love Internet Radio). The second HDMI output, while simultaneous, is better than the single one the RX-V1065 plus the RX-V2065 has a 5th HDMI input. Other than that, it gets a 3rd zone and a second remote. Both the extra zones are audio only - a bit disappointing considering some of the competitor's offerings). Still, all in all, it's a nice boost for the money.
Conclusion
The Yamaha RX-V2065 has a lot of bang for the buck. All the receivers currently on the market with network capability have higher price tags. Add to that the years of manufacturing that Yamaha has under their belt and you've got a lot to get excited about. What's really interesting is what Yamaha will offer next. The RX-V2065 may not be the last '65 model out of the AV giant, or they may indeed wait to further beef up the line again with the subsequent '66 series.  We just don't know what will be in the next step up from here.
For more information about the Yamaha RX-V2065, click here.

Confused about what AV Gear to buy or how to set it up? Join our Exclusive Audioholics E-Book Membership Program!
Recent Forum Posts:
Lordoftherings posts on November 03, 2009 23:49
A poll for a wishing A/V Receiver tested? - Sounds good to me.
gene, post: 622095
Someone start a poll in the A/V receiver thread on which new models you would like to see me bench test and I will pick the most requested one. thanks.
1. Onkyo TX-NR3007 -> Personally, I'll vote for this one first.
2. Denon AVR-4810CI -> That one too.
3. Marantz SR8004 -> Is that one out yet?
* By the way, is there such a poll?
** There is now, I just started it.
jcmiguel posts on November 03, 2009 06:55
FLAC on RX-V2065

am quite interested to learn what are the flac player capabilities. Flac can be stereo or multichannel, linear pcm up to 32 bits. I have a large collection of FLAC files with some multichannel and a receiver that can deal with that would be perfect.

Also, could someone let me know if the multizone could handle the following setup:
Zone 1 has a home theater with 7.1 speakers
Zone 2 is a stereo speaker setup wired to the receiver.
I want to know if I can change from 7.1 to 5.1 and use the 2 channels for zone 2 without having to rewire everything, just using the GUI, and return to 7.1 when I am done.

Thanks
3db posts on September 25, 2009 07:31
I think this unit would make a very expensive pre-pro and I would definately find something alot cheaper with the same capabilities. This from a new diehard Yamaha fan. I don't understand what Yamaha is doing by cheaping out like this. They are the market leader in receivers but if they keep this BS on for very long, they'll fall behind for cerrtain.
MichaelJHuman posts on September 24, 2009 20:11
You can tell a lot by looking at cabinet size, weight and power consumption and comparing to earlier models.

If we knew the VA rating of the main transformer, we could even be more sure.

There is pretty good evidence that they reduced weight by reducing power transformer size, which directly impacts power output.
Aussie_Z posts on September 18, 2009 21:53
Amplifier on a diet?

I am also a big Yamaha fan … for a long time … and over lots of pieces of equipment. There build quality is good and their service is good. Oh … and the surround sound modes are great. Over the past few years, with 1) features being dropped/moved, 2) video conversion standards (pull-down) being iffy in some cases and 3) bang for the buck seeming to go down … I am beginning to waiver.

On this type of amp a weight loss of 15 pounds is significant. I think I will wait till I hear a really good explanation of why that weight is not needed any more. Maybe it has moved over to a digital amplifier stage?

Let's hope somebody can explain it … because I really need a new amp!
Post Reply