FAVI Pico+ WiFi Projector with Miracast Preview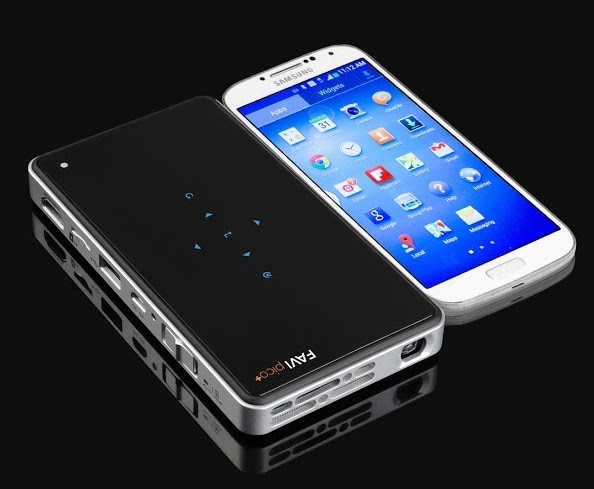 FAVI Pico+ and an iPhone
Summary
Built-in WiFi Display Application supports Miracast, Airplay and DLNA

Projector turns into a WiFi Hotspot

Connects via HDMI cable to most smartphones, tablets, computers, cable tv boxes, video players, cameras and more

Brightness: 85 lumen

Projection Technology: DLP / LED

Lamp Hours: 20,000 hours

Native Resolution: 858 x 480

Supported Resolution: 720p / 1080p

Inputs: 1 x HDMI / MHL, 1 x USB, 1 x SD Card, 1 x headphone, 1 x Micro USB (Power)

Battery Life: 3 hours in eco mode

Executive Overview
Pico projectors are both a name and a type. They are small, portable, often battery powered, and are really meant for the traveling business persons. If you are on the market for a pico projector, you probably have the need to give presentations on the go - likely to clients. I remember when I used to work for a school district. We had a sales guy come in and try to sell us on their student management system. He pulled a projector out of his briefcase (it was a long time ago) that was about half the size of his laptop. At the time, none of had seen anything like it before. When he called for questions at the end of his presentation, the first were about his projector.
Pico projectors aren't as blingy as a Rolex but they do make an impression.
The key in pico projectors is that they have to be easy to use and they have to be cool. A perfect marriage of form and function. FAVI thinks they've achieved this marriage with their new Pico+ projector. Barely bigger than your iPhone, the Pico+ has a few very unexpected features. To start with, it is obviously very small. The top features capacitive controls on a gloss black face. While the native resolution is an unimpressive 858 x 480, it can accept up to 1080p signals (the limited specs available indicate that it can only accept 720p and 1080p but we hope this isn't correct as it would make connecting to some devices problematic).
Connections abound with the Pico+ projector. One side has HDMI with MHL (for full HD streaming not that it can display it), USB, and an SD card slot. There is a headphone output for those that project up to 100" images but doesn't want to bother others with sound, and a Micro USB port for power. The front side (shown below) has the projector lens and what looks to be a fan vent. There is a little dial on the side near the lens (not visible in the picture below) likely for focus. In such a compact package, lens shift is not expected or provided though there is no mention if digital keystoning is available (probably not though).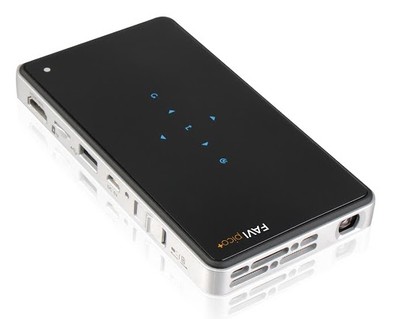 Don't try to make calls with it even though we know someone will

Physical connections, however, are not the main claim-to-fame of the FAVI Pico+ projector. The projector can become its own hotspot allowing you to connect to it via DNLA, Miracast, or Apple's AirPlay. Creating its own WiFi hotspot releases you from having to gain access to your clients network (something none of them will let you do, ever) and is a real blessing for the executive on the go.
FAVI brags that you can project up to a 100" image though we doubt you'll want to go much higher than half that if you want to be able to read what is on the wall. The 85 lumens isn't inspiring and the three hour battery life sounds great until you realize that it is only in eco-mode. We bet you'd have a hard time getting through a two-hour movie in normal mode. That said, the 5000mAh battery is reported to be best in class and you can use the Pico+'s power bank feature to charge your mobile device, both while projecting or when the projector is turned off. Hey, if you are done with your presentation, you might as well drop the rest of that charge into your phone.
Conclusion
We're curious as to how the FAVI Pico+ projector will operate in real-world situations. It has a lot of features that are pretty useful such as full-size USB and HDMI ports and the ability to set up its own WiFi hotspot so that you can stream to it via Miracast, DNLA, or AirPlay. The brightness, low native resolution, and battery life concern us, however, so we'll reserve judgement until we get a unit in our hands. While you might not want to use the FAVI Pico+ for movies, presentations can go 2+ hours and if the battery can't handle it, the Pico+'s appeal will be pretty limited. Still, it is very small, very portable, and very cool. For some, that will be more than enough. At $299, the price is certainly right and we're betting FAVI already has pre-orders for this little bit of business bling.
For more information, please visit www.favientertainment.com.

Unless otherwise indicated, this is a preview article for the featured product. A formal review may or may not follow in the future.