Netgear's Internet Adapter for Home Theater Review
Summary
Performance
Physical Specifications
Powerline AV Adapter with Ethernet Switch (XAV1004)
– Dimensions: 137 x 102 x 28 mm (5.40 x 4.01 x 1.10 in
– Weight: 0.218 kg (0.48 lb)
Powerline AV Ethernet Adapter (XAV101)
– Dimensions: 98 x 72 x 40 mm (3.86 x 2.83 x 1.57 in)
– Weight: 0.18 kg (0.4 lb)
Network Ports
XAV1004: Four (4) 10/100 Mbps Ethernet ports
XAV101: One (1) 10/100 Mbps Ethernet port
Typical Coverage
Up to 5000 square foot home
Package Contents
One (1) Powerline AV Adapter with Ethernet Switch (XAV1004)

One (1) 1.82 m (6 ft) AC power cord, localized to country of sale (XAV1004 only)
One (1) Powerline AV Ethernet Adapter (XAV101)
Two (2) 1.52 m (5 ft) Ethernet cables
Setup CD
Product documentation
Executive Overview
Remember when the only thing you had to worry about plugging your TV into was the wall? Maybe you don't, but I do. And then we got a rooftop antenna. And then cable. And then receivers and surround sound, laser disks and VCRs. Now it's a rats nest of cables and interconnects back there and they want to add Ethernet? Netgear's Internet Adapter for Home Theater (XAVB5004) is a powerline solution much like the Belkin we reviewed previously except that it amps up the throughput to 500 Mbps and includes both a powerline 4-port router and a powerline AV500 "gigabit" adapter (in this way it also improves upon the 200Mbps XAVB1004 model released last year). The system is designed to deliver flawless HD video streaming and is capable of connecting up to four Internet-ready home theater devices, such as HDTVs, Blu-ray players, IPTVs, TV set-top boxes, media players or game consoles to the Internet - it's even 3D-capable. The kit includes one 1-port adapter to connect to the router and one 4-port adapter to connect to the TV and your various peripherals. The solution's four ports are conveniently color coded for simple setup and the entire system is really plug-in ready from the minute you unbox it.
It's one thing to add a device to an existing system, but these days TVs, game systems, Blu-ray players, and more are all coming with network features. While not technically required for operation you miss a lot if you don't correctly wire everything up - plus Blu-ray needs to update in order to play the latest movies. Now with the race on to give you the most access (Netflix, Hulu Plus, Pandora, Spotify, etc) the big question is: How do you connect all these devices up to your network or router?
We know that HDMI 1.4 is going to offer some sort of Ethernet connectivity through the cable. This means that any device connected to the Internet that is connected to another device through an HDMI 1.4 cable will share that Internet connection. While that's cool and all, those cables aren't exactly sharing the love with the rest of your system as of yet.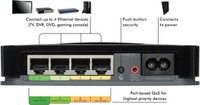 Netgear has been offering powerline products and routers for years. It only makes sense that they'd have a new powerline solution that brings the two together. The way powerline products work is they use the existing power lines in your home to make a connection. We've seen products that do this for audio signals (for surround speakers), Ethernet, and more. You install one device into your home theater and a second near your router. With the Netgear Internet Adapter for Home Theater, you actually get 4 priority labeled ports for your gear and an AV500 adapter to source the signal from your Internet router. That means that if you want one piece of gear (like a game system or Blu-ray player that you use to stream Netflix) to be allocated the most bandwidth, you install it in port 1. For the most part, however, we find that people rarely use so many Internet connections at once. We do like the four port switch (Belkin only offers 3 at the same price point) as it gives you more ability to integrate additional gear into your system.
Like all Powerline products that we've seen, the Netgear Internet Adapter for Home Theater (XAVB5004) has an encryption system. Netgear is using a 128-bit AES data encryption that can be either set by a push of the button on the units or via included software if you have a computer running Windows Vista. There are also convenient status lights that indicate the data rate you are achieving
We slung the system up to our reference Samsung PN51D8000 plasma display and found the bandwidth to be excellent - even enough to handle streaming 3D television from the Samsung servers - which was incredibly taxing. VUDU also streamed flawlessly at HDX resolution and we were able to send lossless audio from our computer to the television without any issues. Relocating a second unit into our primary home theater system, we found the 4-port hub to be a great feature as it allowed us to connect our Xbox 360, Oppo BDP-93 Blu-ray player, Denon AVR-3312 receiver, and DISH Network ViP 922 set top box to the Internet - all at the same time. Not having to use a separate router for this was terrifically convenient.
Conclusion
The inclusion of the fourth port in the Netgear Home Theater Internet Connection Kit is a huge bonus over the Belkin offering. We're also impressed by the prioritizing of the Ethernet ports. This is something that we think we'd use. While a hard connection is always best, Netgear's Powerline system, and particularly their new Internet Adapter for Home Theater, are excellent options for high speed connectivity. They are far better than wireless, and for most people I've met, a system like this is going to solve a ton of problems and save even more in the way of hassles and headaches. Highly recommended.
Confused about what AV Gear to buy or how to set it up? Join our Exclusive Audioholics E-Book Membership Program!
Recent Forum Posts:
krabapple posts on February 09, 2012 12:40
Says 'last modified February 04, 2012'. I suspect that's why.
tomd51 posts on February 07, 2012 11:07
I was thinkin' that myself… -TD
BoredSysAdmin posts on February 07, 2012 11:05
I wonder why a "review" from 2009 shows up on a front page?
randyb posts on February 06, 2012 11:58
More than 1

I am assuming you could hook up more than one of these to the power grid if you had more than 4 network devices? Anyone know?
ivseenbetter posts on August 23, 2009 08:32
I thought the article told me what I needed for a first impression. They said it worked as well as the belkin. Anyway, any network measurments are going to be dependant on the wiring and configuration of your particular home. There was another article on here recently that laid out the reasons for this.
Post Reply