Samsung PN51D8000 51" Plasma SmartTV Review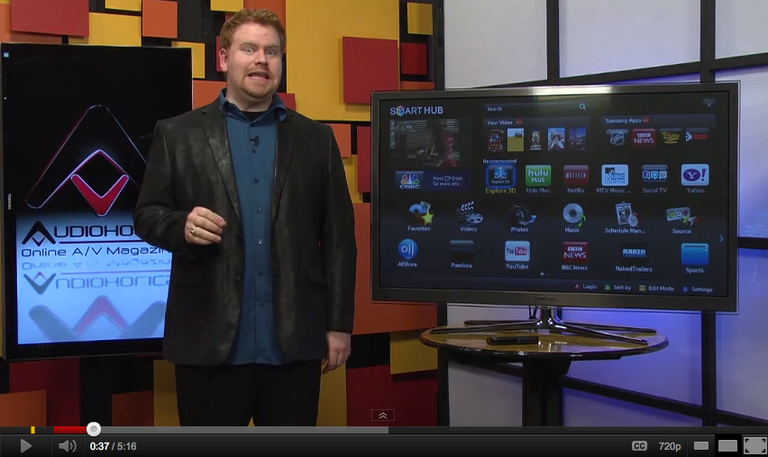 Samsung PN51D8000 51" Plasma SmartTV Video
Summary
Refresh Rate: 600Hz

Display Type: Plasma

Resolution: 1080p

Native Resolution: 1,920 x 1,080

Contrast Ratio: 25,000,000:1

3D Ready: 2D & 3D in Full HD 1080p

Wi-Fi Built-in

Apps Platform: Smart TV with Samsung Apps and Web Browser
HDMI Inputs: 4

Component Video Inputs: 1

USB 2.0 Inputs: 2

Screen Size: 51"

Dimensions (WxHxD): 47.1" x 28.3" x 1.5"

Dimensions with Stand (WxHxD): 47.1" x 31.6" x 12.2"

Weight (lbs): 51.1

Weight (with stand): 56

Warranty: 1 Year
Executive Overview
For the past few years we've started asking ourselves "What's important in a TV?" Is it the black levels? How thin it is? Color accuracy? Media streaming? Apps? I mean, what is it that people look for in a new flat panel? And more importantly, what should YOU look for? Well, honestly we can't answer the question. Some want one thing over another, but some people want it all. And I guess that's what Samsung had in mind with its new D8000 Series plasma TVs. It really does seem to have it all.
The TV is first and foremost, a plasma - so it's got excellent black levels. But Samsung also figured out a way to make it incredibly thin. The TV is 1-1/2" at its thickest point, but most of the TV is right around 1". For a plasma this is incredibly impressive - it's kinda like a supermodel. We had first seen this TV at the 2011 CEDIA Expo in Indianapolis, but getting our hands on it, it's a real work of art. The outer bezel is glass, with an inner black brushed aluminum frame. It's a great look made even more impressive with the touch-capacitance controls located on the lower left of the glass frame.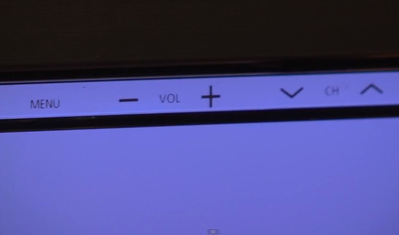 But I think it's the inside that makes the D8000 series plasmas so impressive. And there are two aspects to this: first is the picture quality, which is - for lack of a better term - flawless. The blacks are, well... black. Whether the TV is on or off, the black levels seem to be about the same. Colors are vibrant and the image is crisp with lots of detail. We were also impressed with the level to which you can calibrate this TV. All color controls are available that we could ever dream for, including custom white balance, color space and RGB controls.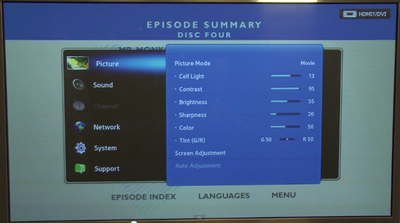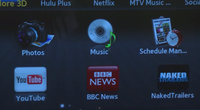 The second thing that's impressive about the Samsung D8000 is, as you might imagine, the SmartHub. We've talked about the SmartHub in other videos, but it bears repeating that this is Samsung's way of pulling together all aspects of its streaming media partners, apps and network features - all into one easily-accessible screen. You've got Netflix, Hulu Plus, VUDU, YouTube... the usual suspects, plus dozens of game, lifestyle, educational and other apps. You can also stream videos, photos and music from your DLNA-enabled computers. It's even got built-in WiFi, so you don't need to physically connect it to your network. If you're looking for a one-stop shop for everything media - this is it.
Now, this is also a 3D television, and the way Samsung does this is actually pretty forward-thinking. Instead of just the usual IR, or infrared syncing of the glasses to the TV, they use Bluetooth technology. The D8000 doesn't typically come with 3D glasses, but you can get them for just $30, or opt for a rechargeable pair for $80. We picked up one of each. Both pairs correctly dialed in the 3D image without any annoying dropouts or glitches. Battery life is around 70 hours and Samsung even has a free "Explore 3D" channel that gives you access to dozens of free 3D documentaries and other films. Just make sure you have a fast wired Internet connection, cause it's a bandwidth hog. The D800 also has real-time 2D-to-3D upconversion for 2D movies and shows. It's actually pretty impressive, though it's not something we recommend using on a regular basis.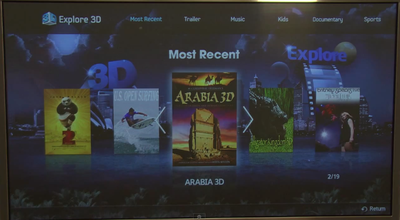 Now this TV isn't without its glitches. We attempted to log into Facebook and apparently entered a wrong password. The system kicked us completely out and back to the SmartHub rather than giving us another try. Turns out it really wanted us to register under Account Settings in the Smart Hub. Bottom line is that this TV has a certain "PC" aspect to it, with the apps and web-enabled content. The result it that you are susceptible to the occasional crash which will dump you back to the SmartHub. Each app also has its own way of working and accepting input. Some, like Netflix and YouTube for example, won't let you use Samsung's QWERTY remote to enter text when searching. You use to use the on-screen hunt & peck keyboard. Others, like Facebook, won't let you use the SmartHub button in-app - so you'll have to back out of it using the 'Return' button on the remote. Because there isn't a single set of rules that all developers have to follow, this is the inevitable result when piling all these apps under an umbrella like SmartHub. At least until somebody steps up and creates a more unified platform.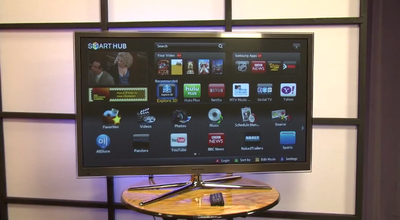 So is this TV for you? Well, it's actually one of the best TVs we've ever reviewed in terms of picture quality. It's also reasonably priced and we've seen it online for less than $1500. With a ton of network features, 3D, infinite calibration options - this is the perfect TV for those who want it all. You should audition it if you get a chance, we doubt you'll disagree.
Every time you like this video an angel gets its wings, so hit the button and subscribe to our channel so we can be sure to bring you more great reviews. Also hit us up at Facebook.com/audioholics or via Twitter at AudioholicsLive.

Confused about what AV Gear to buy or how to set it up? Join our Exclusive Audioholics E-Book Membership Program!
Recent Forum Posts:
96cobra10101 posts on January 05, 2012 12:11
I just bought this tv. We were on the fence between this and the Pany VT, but wifey wanted the interactive stuff the Sammy offered. When the sales guy showed her the qwerty remote it pretty much sealed the deal. The tv was for her anyway.
BMXTRIX posts on January 05, 2012 11:45
Wish there was a bit more talk/testing of video resolution, color accuracy, etc. to go along with the video review, but I've been pretty happy with my D7000 so far.

One area that is not touched on nearly enough is the speed of the Smart Hub and the speed of that stuff from other devices. I find the D7000 display to be nearly unusable with how slow everything loads. In this day and age where a decent PC is had by most, and better Androids and iPhones are also in the hands of the multitudes, having a TV which takes a while to scroll from box to box, or takes a long time to load applications is a huge headache. Now, my D7000 may have slower processing of these apps than the D8000, and it certainly doesn't have the QWERTY remote.

Still, I didn't buy it for the internal apps, but for the image quality and I certainly feel like my D7000 has delivered.

It would also be nice to get some comparisons to what else you've tested this year which are similar/better/worse than the D8000. The online report is that a big concern with the D8000 is that it has a anti-reflective coating which can sometimes peel. This isn't an issue in a testing process of one or two weeks, but is a long term issue that I'm not sure if Samsung has been dealing with properly.

The D7000 does not have this protective coating. I'm not sure if the D8000 is still experiencing this issue, and if it does experience it, and Samsung deals with it well, then it may not really matter in the long term.

The most obvious question is how well it stacks up against the Panasonic plasmas. The most direct cost comparison is the GT series from Panasonic. The VT series is also worth discussing in comparison to everything as it is the reported image quality leader, but has a significant price jump from the D8000/GT series plasmas… is it worth it and how much better is it than the Samsung?

While these are all questions I seem to be asking, I think that it is because these are the questions I was asking myself before I personally bought the D7000 this year. It is also the questions I see asked in these forums most often from people looking to buy.

Of course, it is always worth discussion of LCD vs. plasma and how that all compares, but I suppose it doesn't need to be rehashed in every article, but linked to a good analysis of the general differences in the two technologies.

Good stuff with the video review… as always from you guys.
Post Reply