Amulet Voice-Enabled Remote Control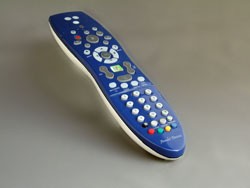 Amulet Voice-Enabled Remote Control
Summary
OK, this one is a bit tricky. The Amulet Remote is the "first voice-enabled remote control" designed specifically for Vista Media Center. Those of you who don't use Vista won't benefit from it, but it's still an interesting product that offers a different take on remotely controlling your media PC. It allows consumers to record and watch TV, listen to their favorite music, and view DVDs, videos and photos – all using simple voice commands. The remote works with any Vista Media Center system, and replaces the standard media center remote control.
So, with the Amulet you would just say "Watch Channel Cinemax" and the system automatically selects the Cinemax channel. To watch last night's recorded episode of your favorite crime show, you would say "Watch Program Law & Order", and Amulet will find and display it. The same approach works for music. To listen to that new album you bought last week, you'd bark out "Play Artist Coldplay, darn it!" and the music starts to play (OK, you don't need to append that last part). Whether you have 20 or 2000 CDs, Amulet searches and finds what you're looking for, removing the need to scroll through long menus of tracks.
But wait, there's more! Don't recognize that song? Just say "Name that tune" and Amulet tells you what's playing – the product includes a high quality synthesized voice that allows two way "conversations", even when the television or display is turned off. Yes, you can talk to your remote... sort of.
The company has spent the last 18 months developing its own software and hardware, which features patent-pending technology to automatically sense when it is being spoken to, eliminating the need for "attention words" (think Scotty saying "Computer?!"). Voice commands are then transmitted via secure wireless link to the Media Center which responds accordingly. Of course, the Amulet remote also operates as a traditional remote control with buttons, so users can choose the most convenient way to carry out any task.
The Amulet Remote is scheduled to ship in March 2009. Retail pricing has yet to be set. For more information, including demonstration videos, visit the company's website at www.amuletdevices.com.

Unless otherwise indicated, this is a preview article for the featured product. A formal review may or may not follow in the future.