Boston Acoustics A 360 Floorstanding Loudspeaker First Look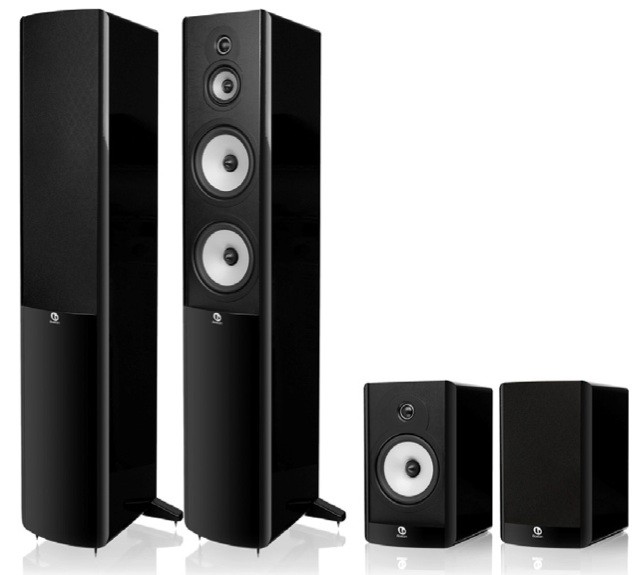 Boston Acoustics A Series Loudspeakers
Summary
Boston's 1-inch Kortec® soft dome tweeter for crystalline high frequencies
Advanced ceramic/glass fiber polymer woofers with Deep Channel® Design (DCD) deliver more bass response from less amplifier power
Acoustically tuned ports for improved low frequency response
High-contrast finish with scratch-resistant high gloss panels
Easy Hook-Up 5-way gold-plated binding posts provide total hook-up flexibility and the purest signal transfer
Boston's BassTrac® circuitry for more bass without distortion (subwoofers only)

Executive Overview
Update: 5/14/13: Check out our official Boston Acoustics A360 Floorstanding Speaker Review with measurements.
We love speakers. If the name Audioholics did give it away for you, then let is just say it plain. We love 'em. Tall ones, short ones, fat ones, small ones (well, not really but we don't want them to get any more of a complex). All of 'em. In their own way, they've all got something to offer. One thing we love about speakers is how they can surprise you. It is one of the few pieces of gear that you can experience and say that they surprised you in a good way. When your Blu-ray player, game console, or DVD player surprises you, it's usually because it doesn't work the way you thought. When your receiver surprises you it's because smoke is coming out of it. But speakers can surprise you in good ways. They can reveal parts of music you've never noticed before. Sure, some audiophiles say that's the cables but we just throw them a shiny interconnect and put them back in their box.
One of the greatest things about speakers is the prices. You can get speakers for cents or for hundreds of thousands of dollars. Boston Acoustics is one of the few companies that is continuing to strive for quality speakers for the budget-minded consumer. Unfortunately, many other manufacturers have abandoned the consumer on a budget to the dregs of plastic, knock-off speakers mass produced for microwave manufacturers looking to make a buck in the AV market. They've switched to either "i" products or expensive, high end speakers. But what if you don't have a huge budget and have the audacity to insist that your speakers not have a "bass-boost" button on the side?
Well, Boston Acoustics' new A Series of speakers might be for you. Headed up by the flagship (of the line, not of Boston offerings) A 360 (we wish they wouldn't have put that space in there, it's confusing to read), the A Series looks to bring not only quality audio but a real speaker into your life without breaking the bank. The A 360 is a 3-way tower with dual 6.5" woofers, a 3.5" midrange, and Boston's 1" Kortec soft dome tweeter. These speakers ring in at $400 each (which, admittedly, is a bit expensive but remember, these are the top of the A Series line). There is a second tower, the A 250, which sports a 2-way design and pairs the same tweeter with dual 5.25" woofers for $100 less. If you are in to bookshelf speakers, there is the A 26 (same tweeter, 6.5" woofer) for $200 each, the A 25 (switches the woofer to the 5.25"), and a compact satellite, the a 23, which retails for $140 and can be used as a bookshelf though it is designed for surround duties. The A 223C is the sole center of the line with the Kortec soft dome tweeter and two 5.25" woofers for $250.
Because this is Boston Acoustics and they never leave anything half done, they've introduced two new powered subwoofers as well. First there is the 300-watt ASW 650 front-firing 10" ported and 150-watt (300 watts peak) down-firing 10" ported ASW 250 complete the lineup. The Boston Acoustics material says both subs ring in at $350 though we think that is a misprint. Likely the ASW 650 is around $50-$100 more with it's similar design and larger amp. In addition, Boston Acoustics is offering a convenient new 5.1-channel surround sound speaker package, the A 2310 HTS. According to Boston, the system delivers immersive cinema-like audio right out of the box. It includes five A Series speakers, four A 23 satellite speakers, one A 223C center channel (sold only as part of the speaker package, with dual 3 1⁄2" woofers) and the ASW 250 subwoofer, for an MSRP of $899.99. The A Series is expected to be available in February 2011.
While Boston's new A Series has price going for it, what we really like it that they actually look like speakers. They are boxy and black but they aren't like most of the other manufacturers' budget offerings which seem to look like a speaker and a light pole had a baby. The A 360, like the entire series, has high-gloss scratch-resistant cabinets with textured tops and magnetic grills. The towers have rear outriggers for added stability and sport carpet spikes.
Inside the cabinets you'll find vertical and horizontal bracing. The crossovers have low-loss film capacitors and low-distortion laminated silicon steel cores for the inductors in all critical areas. The woofer cones are created out of a newly developed ceramic and glass fiber polymer. On the back you'll find 5-way gold-plated binding post. 
Conclusion
The key with the new Boston Acoustics A Series speakers is the price. The flagship A 360 tower of the line runs only $400 each. That means you could get the top of the line towers, top of the line bookshelf (for surround), a center and a sub for around $1800. And that's with top of the line everything. You can start off with the A Series for $900 for a full 5.1 system. We're very curious to see how the A 360 towers (and their smaller brethren the A 250 towers) sound. At $800/$600 a pair, that's bargain basement pricing for tower speakers. For many hardcore Audioholics, that's an impulse buy. For those on a budget, providing the sound quality is there, it's a God-send. This is a chance to get into real speakers at a real affordable price. We look forward to seeing with the Boston Acoustics A Series speakers can do.
For more information, please visit www.bostonacoustics.com.

Confused about what AV Gear to buy or how to set it up? Join our Exclusive Audioholics E-Book Membership Program!
Recent Forum Posts: