Da-Lite's Da-Lift Pivot Motorized Projector Lift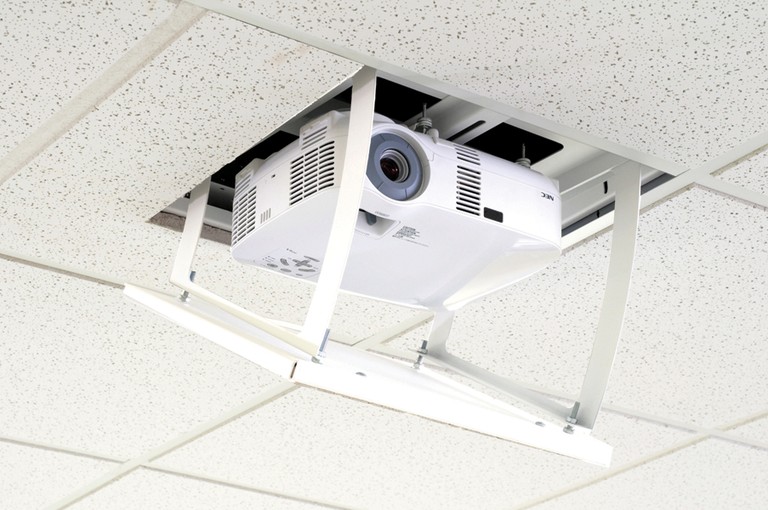 Da-Lite's Da-Lift Pivot Motorized Projector Lift
Summary
Product Name:

Da-Lift Pivot Motorized Projector Lift

Manufacturer:

Da-Lite

Review Date:

January 08, 2009 09:40

MSRP: $2658 + $425 for the plenum covers
First Impression:

Pretty Cool
Executive Overview
Da-Lite's new Da-Lift Pivot motorized projector lift is engineered with a fixed pivot point that drops a projector down from a hidden drywall or drop-ceiling location. Because of its precision design, the Da-Lift Pivot insures proper alignment during and after installation. The Pivot comes complete with an Advance UPM-1 Universal Projector mount and a unique internally mounted low voltage control unit with switch to make installation adjustments easy.
The way the mount is designed is unique in that it fits in either suspended or drywall ceilings and comes with a trim flange for a professional appearance. The Pivot is available in two models, the Da-Lift Pivot 26P or the Da-Lift Pivot 33P so multiple projector sizes can be supported. There is also an optional plenum cover which can be used where applicable codes require it.
The Da-Lift Pivot 26P and 33P both retail for $2658. The plenum covers retail for $425. Both are avaialble now from Da-Lite.
For more information please visit www.da-lite.com.
Unless otherwise indicated, this is a preview article for the featured product. A formal review may or may not follow in the future.
Confused about what AV Gear to buy or how to set it up? Join our Exclusive Audioholics E-Book Membership Program!
Recent Forum Posts:
BMXTRIX posts on January 08, 2009 15:55
There are like 20 or 30 different projector lifts out on the market - I'm really confused as to why this one is newsworthy.
http://www.dalite.com/products/spec_pdfs/464.pdf
Once again we have a mount which does not fit between residential standard floor joist spacing, so it can't go into any theater unless it uses a drop ceiling or has oversized spacing between joists for some reason.
Really, lifts are super cool - but it would be great to see an actual review about a product designed to fit the homes that 99% of us actually live in.
For the other 1% this is just one of dozens of other solutions which have been around for over 10 years - just done a bit differently.
Color me really unexcited.
Post Reply