Intelix DIGI-HD-COAX HDMI Extender Preview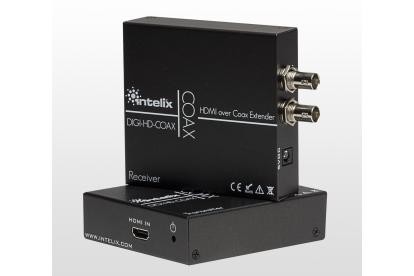 Intelix DIGI-HD-COAX
Summary
Transmits HDMI over RG6 or RG59:
1080p up to 300 feet
1080i up to 675 feet
720p up to 675 feet
480i/p up to 1,000 feet
Built in amplified signal splitting
Executive Overview
When you are a custom installer, you often run into problems that others don't. Sure, your common homeowner may want a TV in every room, but they're just going to buy a number of TVs and rent a few cable boxes. At most, they may have a main living room with a surround sound system and use their Zone 2 for piping music to their kitchen or outdoor area. To put it simply, their problems are small and have fairly easy solutions.
A custom installer, on the other hand, has demanding clients with very specific needs. What they "need" often is much more complicated to implement and requires specialized equipment and expertise. When they come across and installation that requires a long run of HDMI, their hearts must sink. It's either explain to their clients why they have to rip up their walls to install a uber-expensive cable (that the HDMI consortium in their infinite wisdom will probably make obsolete in a few months/years) or look for another solution. Typically this has come in the forum of optical (also expensive) or twisted pair cables. Either way you end up with having to install a cable (more than likely). In a new home that may not be much of a problem if you can get in there while the walls are still open. If not... well, at best you're crawling around an attic. At worst you're having to repaint repaired drywall, refinish repaired flooring, and explaining how one of your workers tracked insulation/paint/grout all over your customer's custom, imported, Italian tile.
But there is a cable that is in almost every room of the house. Something that is as ubiquitous as power outlets. Coaxial cable. Even older homes will have coaxial runs that are accessible without ripping up a wall. If only there were a balun out there that could send HDMI over coax.
Enter Intelix.
While not the first on the market, Intelix has recently released their new DIGI-HD-COAX balun. This unit is HDCP compliant which means you won't have to worry about compatibility issues stemming from HDCP. High Definition Copy Protection is used to validate that each of the connection/products in the chain are valid and not trying to copy or steal the signal. For any installer product, HDCP compliance is mandatory. 
The Intelix DIGI-HD-COAX extender is usable over a single RG6 or RG59 cable and can transmit 1080p up to 300 feet, 1080i up to 675 feet, 720p up to 675 feet, and 480i/p up to 1,000 feet. Plus, built-in amplified signal splitting provides seamless daisy-chain distribution to ten remote rooms. This gives installers a large amount of flexibility with their installations. Have a client that wants the same content on every TV in the house? No problem. Got a sprawling mansion with a kid's room all the way on the other side from the media closet? You're covered (they don't need 1080p anyhow).
While the pricing has not been announced yet, don't expect the DIGI-HD-COAX extender to be an impulse buy. Typically such solutions are pricey. But even at several hundred dollars, they can still come in much less than trying to run a dedicated HDMI cable over a long run with amplifiers and everything else required. Add in that you don't need to tear up walls and can use existing infrastructure and the savings are clear. 
Conclusion
If you need an HDMI extender, using existing cables rather than having to install dedicated Ethernet, optical, or HDMI cables makes a lot of sense. What is going to be the deciding factor in the success of the Intelix DIGI-HD-COAX extender is the price. If they can come in significantly under the competition they've got a real chance at rising to the top of the heap in a very specialized market. Plus the integrated built-in amplified signal splitting is something that will definitely have more than a few installers putting the DIGI-HD-COAX on their shortlist when they come across an installation that requires it.
For more information, please contact www.intelix.com.

Unless otherwise indicated, this is a preview article for the featured product. A formal review may or may not follow in the future.
Confused about what AV Gear to buy or how to set it up? Join our Exclusive Audioholics E-Book Membership Program!