Vivitek H9080FD LED DLP Projector Preview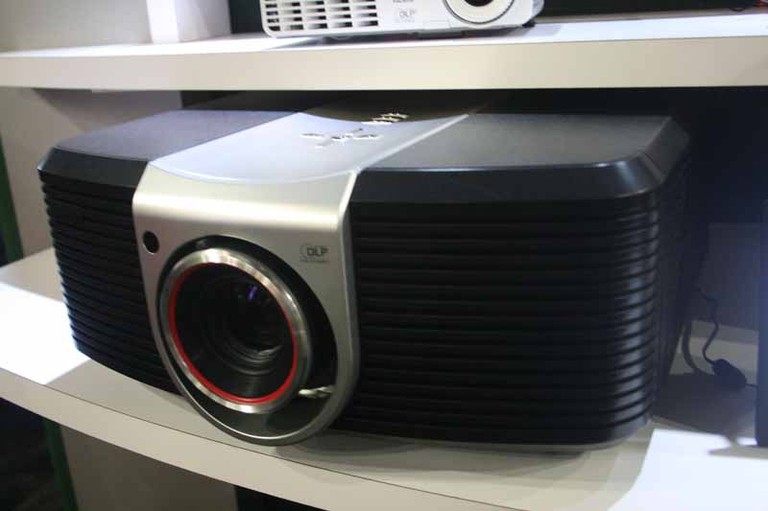 Vivitek H9080FD Projector
Summary
Display
H9080FD


Brightness
800 Lumens (Typical)


Native Resolution
1080p (1920 x 1080)


Contrast Ratio
100,000:1 (Full On/Full Off)


Lamp Life and Type
≈20,000 Hours, PhlatLight LED PT-120


Display Type
Single 0.95" DMD DLP® Technology by Texas Instruments


Video Processor
Gennum 9450


Throw Ratio
1.85 to 2.4:1 (Distance/Width)


Image Size (Diagonal)
22.5" to 300" (0.6 to 7.62 m)


Projection Distance
8.2' to 29.5' (2.5 to 9.0 m)


Projection Lens
F=2.5-2.7


Zoom Ratio
1.3:1 Manual Zoom/Focus


Aspect Ratio
16:9 Native, 4:3 Compatible


Color Spectrum
1.07 Billion


Horizontal Scan Rate
15, 30 to 90 KHz


Vertical Scan Rate
43 to 85 Hz


Projection Method
Table Top or Ceiling Mount (Front or Rear)


Lens Shift
Vertical: ±120%, Horizontal: ±30%


Uniformity
85%


Computer Compatibility
1080p, UXGA, SXGA+, SXGA, XGA, SVGA, VGA Resized; VESA Standards; PC and Macintosh Compatible


Video Compatibility
SDTV (480i, 576i), EDTV (480p, 576p), HDTV (720p, 1080i/p), NTSC 4.43, PAL (B, D, G, H, I, M, N), SECAM (B, D, G, K, K1, L)


I/O Connection Ports
HDMI v1.3 (x2), Component Video, BNC, VGA-In, S-Video, Composite Video, RS-232c, 12V Trigger (x2), Wired Remote Mini-Jack


Weight
35 lbs (15.9 kg)


Dimensions (W x H x D)
20.5" x 8.8" x 21.6" (520.7 x 223.5 x 548.6 mm)


Noise Level
25dB


Power
Supply: AC Input 100 - 240V
Consumption: 175 Watts, < 1 Watt(Standby)


Operating Temperature
41 to 104ºF (5 to 40ºC)


Standard Accessories
AC Power Cord, Component Cable, Remote Control, Batteries for Remote, Lens Cap, User's Manual (CD), Warranty Card


Optional Accessories
Short Throw Lens, Long Throw Lens. Replacement Remote
Executive Overview
Since the arrival of LED bulbs on the scene, we've been crying out for LED projectors. Sure, you see them in pico projectors and business class offerings, but we wanted them in dedicated home theater projectors. If, for no other reason, than bulb life. You could double the cost of most budget home theater projectors and still come out on top if they were LED (factoring in the cost of replacement bulbs). Finally, Vivitek has made our dreams come true with their new H9080FD LED projector.
Well, except for the price.
At a buck shy of $15,000, the H9080FD isn't exactly an impulse buy. As you'd expect with a new technology, the first wave of offerings are going to be expensive. We fully expect LED projectors to be the wave of the future, though, if the H9080FD is any indication.
There are a few things to consider with LED bulbs. First, is getting accurate color. Early on, LEDs had some problems in this regard but, we're happy to report, that doesn't seem to be the case here. In fact, LED light sources are proving to be even more capable than their UHP lamp alternatives. In the CEDIA demo, Vivitek's H9080FD LED Projector was very impressive. We saw images from Inception, Tron, and Iron Man 2 on the H9080FD LED projector and were suitably impressed with its color reproduction. Considering that a normal bulb will last from ~2000 to 5000 hours, the 20,000 hour lifespan of the LED bulb in the Vivitek H9080FD is mind boggling. 
If you take a look at the specs above, you'll notice a very nice contrast ratio (100,000:1 - though it is rated full on to full off) but a disappointing lumens number (800). In actual use, and after calibration, expect that number to be closer to 650. That isn't very bright. Compared to most budget offerings, that may be half of the brightness. But, remember, as normal bulbs are used, they dim. Not so with LED. So the brightness you'll experience with the Vivitek H9080FD may be similar to what you'll experience at the end of your normal UHP lamp's life. Except that you'll have to change the UHP lamp from 4 to 10x's at $200-$500 a pop. While it doesn't make up the difference in price between budget projectors and this $15k behemoth (it weighs in at 35 pounds). Really, 800 lumens of output may not seem like enough, but in a completely light-controlled room, the images we saw were exceptional.
The Vivitek H9080FD comes with two HDMI v1.3 inputs (no 3D), and one each Component Video, BNC, VGA-In, S-Video, Composite Video, and RS-232C. There are two 12V triggers plus a Wired Remote Mini-Jack. The projector is 1080p (of course) and sports a Gennum 9450 video processor. With this amount of lumens, you're going to want to pair this projector with a smaller screen (probably less than 100") in a light controlled environment. The 1.3:1 zoom is modest (check your theater measurements) though the Vertical: ±120%, Horizontal: ±30% lens shift should make placement fairly easy. The only downside to the lens shift is that it requires a special tool (included) and the removal of a few screws - a less than elegant solution.
Conclusion
Are we excited about the Vivitek H9080FD LED projector? Heck yes. Sure, it's a first generation LED projector - which means it is expensive, but we've been waiting for LED front projectors for what seems like forever. We were heartened by the color reproduction and sharpness of the images. While the $15k price tag means we'll wait for the price to come down in future generations, we're happy that LED has come on the scene with such an impressive offering. Pretty soon we'll all be enjoying projectors with 20,000 hour lifespans rather than the 2000-5000 we're currently stuck with.
For more information, please visit www.vivitekusa.com.

Confused about what AV Gear to buy or how to set it up? Join our Exclusive Audioholics E-Book Membership Program!
Recent Forum Posts: