Pioneer Kuro LCD... Oxymoron?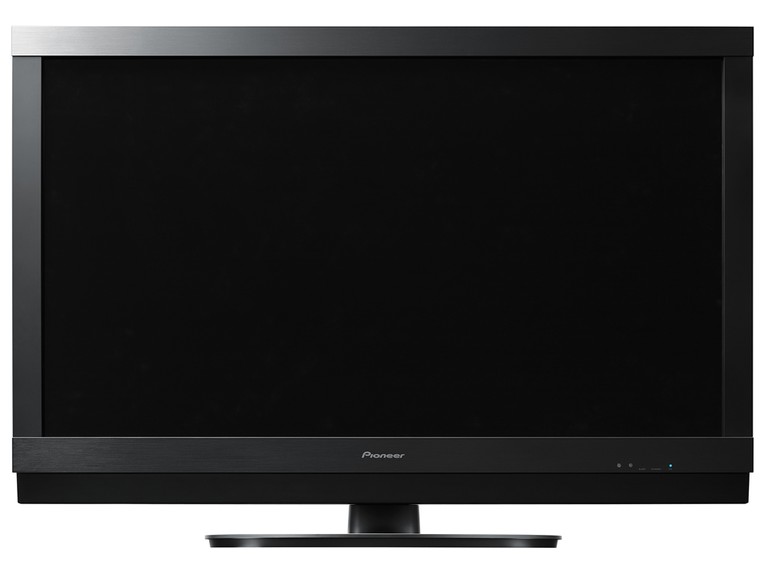 Is it really dark or is it off? You decide.
If you go to the Pioneer website and look up Kuro, they talk about one thing - black levels. In fact, Kuro literally means black in Japanese. Since the announcement of the line, Kuro has also been synomous with plasma displays if for no other reason than for the better black levels.
Not any more.
Pioneer has recently announced that Kuro LCDs will begin shipping in the UK in August with a US release expected to follow. They are starting off with the 32-inch KRL-32V, 37-inch KRL-37V and 46-inch KRL-46V. The 32 and 37 inch displays will be shipping in August though the 46's shipping date has not been announced. We knew that Pioneer was phasing out their plasmas and starting to source LCDs from Sharp, but we didn't know they'd continue the Kuro line.

The new Kuro LCDs have all the things you'd come to expect in what is sure to be a high dollar product - 1080p ready, 3 HDMI inputs, and 120Hz processing (the press release says 100Hz but remember that is in the UK - when it gets here it is sure to be 120Hz). Each of the HDMI inputs is 1080p/24 capable, there are included analogue and digital tuners, and the viewing angle is claimed to be 176 degrees off axis (top/bottom or side to side). What is interesting is the "High-contrast Filter" which is probably the technology that they are going to use to increase the black levels of this display. They are claiming a similar performance to their plasma line. That would be impressive indeed!

The two smaller displays have a 6ms response time (fast, but not lightning) while the largest has a 4ms (now that's what I'm talking about). This, along with the 120Hz processing, should help reduce if not eliminate motion blur. The displays also come on swivel stand that rotates 15 degrees which is probably just enough to adjust for glare from an in-room light source or for your kids to use it as a bat with a nerf ball.

The picture of the LCD provided with the press release shows an extremely black screen - probably trying to show their commitment to great black levels. I can get almost any LCD to look like that - I just turn it off. We look forward to seeing just what these new LCDs can do at the upcoming trade shows.

tsteves posts on July 03, 2008 20:10
Carlton Bale
"Just because Pioneer is outsourcing their plasma manufacturing doesn't mean they are phasing out their plasma line"

It seems like an obsession among some in the audioholics realm to declare plasma is dead at every possible opportunity. It's a bit annoying, and certainly seems a bit like like biased reporting. Panasonic working on OLED probably means that plasma will stick around until OLED can compete with LCD.

hodedofome
"Have ya'll seen the new Samsung LCD's? They are pretty black. Not quite as black as Kuro plasmas, but better than the Panasonic plasmas I've seen"

Very funny!
krajnik posts on July 02, 2008 23:43
hodedofome, post: 429299
??
Gotta love Google translate
?? is pronounced "mokutan", for anyone who's interested…
hodedofome posts on July 02, 2008 10:06
jliedeka, post: 429153
I was wondering what the Japanese word for charcoal is. Wouldn't that be a better name than Kuro for their LCDs?

Jim
??
Gotta love Google translate
jliedeka posts on July 01, 2008 18:59
I was wondering what the Japanese word for charcoal is. Wouldn't that be a better name than Kuro for their LCDs?

Jim
hodedofome posts on July 01, 2008 16:45
Have ya'll seen the new Samsung LCD's? They are pretty black. Not quite as black as Kuro plasmas, but better than the Panasonic plasmas I've seen and definitely better than any other LCD out there. I think Pioneer can get pretty close to the first generation Kuros, now the second gen I'm not so sure about…
Post Reply