Pioneer PDP-5070HD Plasma Display Review
Pioneer PDP-5070HD Plasma Display Review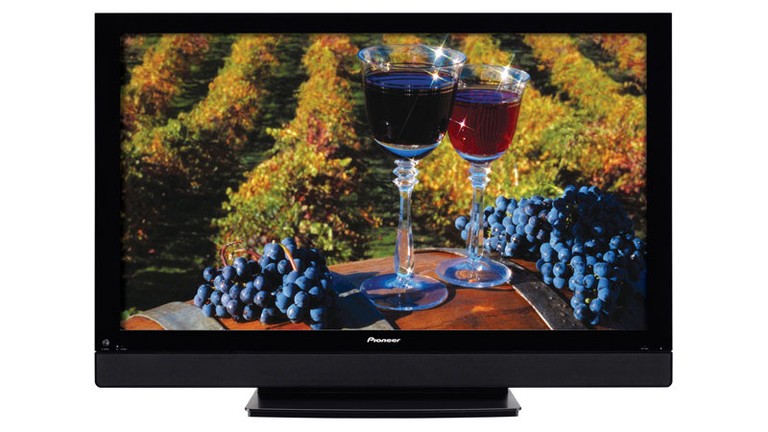 Pioneer PDP-5070HD
VIDEO PROCESSING TECHNOLOGY
Pure Drive II Signal Processing – Full time 10-bit Digital Video Processing delivers a low noise, high contrast, natural colored image
ACE IV (Advanced Continuous Emission) for reproduction of billions of colors and improved grey-scale rendering in dark picture areas
Advanced Pure Cinema with 3:3 pull down so that film-based material on DVD, videotape or even regular TV will match the smooth and natural reproduction seen in a movie theater
Color Temperature Adjustment – 3 settings (high/mid/low)
Digital Noise Reduction – 4 Settings (off/high/mid/low)
MPEG Noise Reduction – 4 Settings (off/high/mid/low)
Digital CTI – Color Transient Improver (on/off)
Natural Resize
Natural Enhancer
Digital Chroma Decoder (10-bit)
CONVENIENCE FEATURES
Fully Integrated Media Receiver with Dual NTSC and ATSC Tuner with CableCARD™ Interface
Independent HDMI Inputs (10-bit processing) with the ability to accept a 1080p/24Hz signal
TV Guide On Screen® Interactive Program Guide for easy navigation of TV program services*
A/V Selection Memory – 6 options for viewing preferences (Standard/Dynamic/PURE/Movie/Game/User)
Aspect Ratio Control – 5 positions (Wide/Zoom/Cinema/ Full/4:3) "Dot by Dot" for PC
Split Screen/Picture in Picture display modes to view multiple sources at one time
Home Gallery offering a convenient way to view photos via USB connection
V-Chip Parental Control
New Remote Control with preset, glow in the dark, direct input selection and TV Guide On Screen control
PRODUCT DIMENSIONS
Display (W x H x D): 48-3/16" x 30-7/8" x 4-1/2" - With Detachable Speaker
Display Weight: 75.1 lbs.
VERSATILE VIDEO AND AUDIO CONNECTIVITY
Inputs
Independent Dual HDMI with Audio
Component (1 side/2 rear with Audio)
Composite [1 side/3 rear (1 rear with Audio)]
S-Video [2 rear (1 rear with Audio)]
Antenna A & B
USB (Mass Storage Class) (Side Input)
PC
Outputs:
Optical Digital Audio
Monitor Out – Composite/Audio LR
Subwoofer
SR+
SOUND TECHNOLOGY
13 Watt Stereo Amplifier With TruBass 2-Way Stereo Speakers
SRS® WOW/FOCUS/TruBass Surround Sound Audio
Bass Boost Loudness
OTHER
Table Top Stand – Included
Detachable Bottom Speaker – Included (PDP-S40)
Flat Wall Mount – Optional (PWM-F110)
CARTON DIMENSIONS
W x H x D: 53" x 38-1/4" x 20-1/4"
Weight: 113 lbs.
Pros
Great picture
Removable bottom mounted speaker
Good signal processing
Plenty of neat extras (freeze frame, USB input)
Cons
Price
Lack of calibration options
Introduction
My first display review was a plasma and I've long held that I prefer plasmas to LCDs (in general). It's easy to make such generalizations when you've reviewed 3-1 plasma v. LCD. Pioneer has had a reputation for putting out quality displays and I've never had the pleasure of reviewing one. It wasn't hard for me to get excited about a Pioneer review much less a Pioneer plasma review - even if it was "only" a 720p display.

Confused about what AV Gear to buy or how to set it up? Join our Exclusive Audioholics E-Book Membership Program!
Recent Forum Posts:
nellie7799 posts on August 04, 2007 09:18
kleinwl, post: 277924
Clint,

Why did they not send you the 5080? That is the hot new pioneer, not the older 5070.
Seriously. I love how the MSRP is $3,000 and one of the cons is "price." I don't know where you're shopping but I just got my 5080 for 2600 shipped. You guys really need to get on the ball. Who cares about a display that is no longer current generation?
kleinwl posts on June 22, 2007 12:49
Clint,

Why did they not send you the 5080? That is the hot new pioneer, not the older 5070.
oasis posts on June 21, 2007 16:17
thank you sir.
Clint DeBoer posts on June 18, 2007 07:11
oasis, post: 274834
1.) could you recommend a good calibrator in my zip 32563
Check out
http://www.imagingscience.com/isf-trained.cfm
oasis, post: 274834
2.) can RG-6 be used to deliver 2 different signals simultaneously and in opposing directions. i want to receive simultaneous OTA HD via outdoor antenna into the house and SAT signal to TV outside on back porch area using the same RG-6?
I don't see how this could be possible unless you switched it.
Lohrville posts on June 17, 2007 11:12
Pioneer PDP5070HD's Remote's Favorites Buttons

Has anyone successfully used the Pioneer remote's favorites buttons to use to jump to channels selected as favorites?
My cable box is made by Motorola and it responds to many of the buttons on the Pioneer remote when the little indicator under the flap at the bottom of the remote is moved to the mark for cable operation, but I cannot get it to switched to the favorite channels.
I have tried to follow the directions in the manual and can get the heart to show up for a selected channel. Once I hit "enter", though, the window disappears and when I re-open it, the favorites channels show up, but the heart has disappeared.
If you have gotten this to work, please advise me as to how you did it, step by step.
Post Reply