Pioneer Project KURO 9mm 50-inch Plasma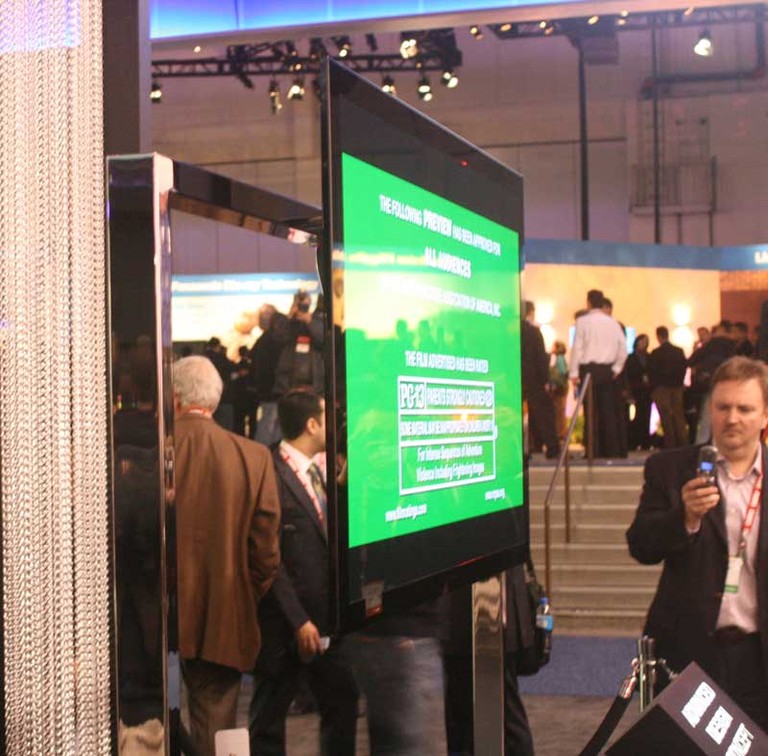 Pioneer's Project Kuors Ultra-thin plasma
Summary
Product Name:

Project KURO

Manufacturer:

Pioneer Electronics

Review Date:

January 14, 2008 09:27

MSRP: $TBD
First Impression:

Gotta Have It!
unmeasurable contrast ratio
9mm thick screen
HDMI 1.3 support
Deep color support
1080p/24/60

Executive Overview
Pioneer unveiled concepts for future display technologies under the code name "Project KURO." The two concept display technologies dealt with extreme black levels as well as drastically reduced size (depth) displays. In terms of contrast, Pioneer is challenging the contrast ratio debate by eventually producing a plasma that is absolute black with no measurable light emitting from the television. At the same time, Pioneer previewed an advanced design concept in the form of the world's thinnest 50-inch display at only nine millimeters (mm) thin.

The Project Kuros display is said to be so black that even when it is on with no image displayed, the television is invisible when you walk into a completely dark room. It has a contrast ratio that is literally beyond measurement, rendering the debate of contrast ratio irrelevant since anything divided by a value of zero would become unmeasurable....
It is due to the self emitting principle of plasma, that Pioneer was able to crack the code on plasma luminance. Pioneer technology has apparently advanced to the point where they have achieved virtually zero idling luminance in more than six million cells, previously thought to be impossible. The result is, in essence, absolute black with no measurable light coming from the television.

Pioneer's concept for the world's thinnest 50-inch flat panel display was also on display. At only nine millimeters (mm) thin, this groundbreaking Project KURO technology results in a picture that appears to be floating on a wall. In addition, its extremely light weight (18.6kg/ 41lbs) allows the television to be more easily wall mounted, contributing handsomely to interior décor without distracting.
How fast these new technology comes to market in these levels has yet to be seen, but Pioneer is not claiming availability until sometime after 2008.
For more information please visit
www.pioneerelectronics.com
.
Unless otherwise indicated, this is a preview article for the featured product. A formal review may or may not follow in the future.