Impact Acoustics Announces Its New USB Over Cat5 Wall Plate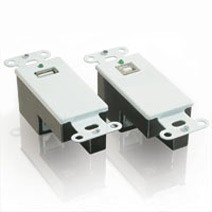 USB SuperBooster Wall Plate
Dayton, Ohio, July 17, 2007 – Impact Acoustics™, a leading manufacturer of high performance audio/video connectivity solutions, today announced the addition of the new patent-pending USB SuperBooster Wall Plate to its extensive product catalog. This wall plate solution allows a USB signal to be run over standard Cat5/Cat5E/Cat6 patch cords, enabling a USB device to function with a host computer up to 150ft away, a distance which dramatically exceeds the distance capabilities of other USB wall plate solutions that only function up to 15ft.
The Superbooster makes placing USB projectors, interactive whiteboards, cameras, printers, web cams and any other USB devices in separate rooms or closets possible. This enables these expensive equipment pieces to be placed in secure locations and provides the ability to have peripheral access in remote locations. Compared to other extension methods, such as connecting several active extenders together, the Superbooster is able to go longer distances, provides more reliability, and eliminates the need to worry about cutting through other RF signals throughout the room. This setup also eliminates unsightly cables and provides a clean, finished installation that is essential for homes, classrooms, offices and anywhere room décor is important.
This plug-and-play device consists of a transmitter unit with USB Type B Female input and RJ45 Female output connectors, and a receiver unit with RJ45 Female input and USB Type A Female output connectors. Both are incorporated into single-gang Decora®*-compatible wall plates. The transmitter/receiver pair is connected via standard Cat5/Cat5E/Cat6 patch cords (not included) which are readily available, highly familiar and inexpensive. The user can choose pre-terminated network cables or pull un-terminated cable and use the tool-less IDC RJ45 connectors that are included with the device. No external power source is required as the system is powered completely by the computer's USB port. Other than the cables, no other parts are required, making it the first self-supporting wall plate extender device on the market.
The USB Superbooster Wall Plates fit standard J-boxes and are compatible with Levitron Decora® brand plate covers. The device is also compliant with USB Specification 1.1. It's compatible with any computer that supports USB, meaning there are no drivers to install or special software required, and it's also compatible and easy to use with USB hubs. The USB Superbooster Wall Plate comes with a 1-year warranty and is available through various distributors and online at www.impactacoustics.com
About Impact Acoustics:
Impact Acoustics is a division of Dayton, Ohio-based Lastar, Inc., a leader in the computer connectivity industry since 1984. In 2002 Lastar created Impact Acoustics in order to deliver its expertise in computer and data connectivity products to the consumer and commercial communications electronics industry. For information regarding Impact Acoustics, please visit www.impactacoustics.com or contact us, toll free, at 1-877-AV.EXPERT.