Art.Suono Wireless Music Enhancing Transmission System and iPod Dock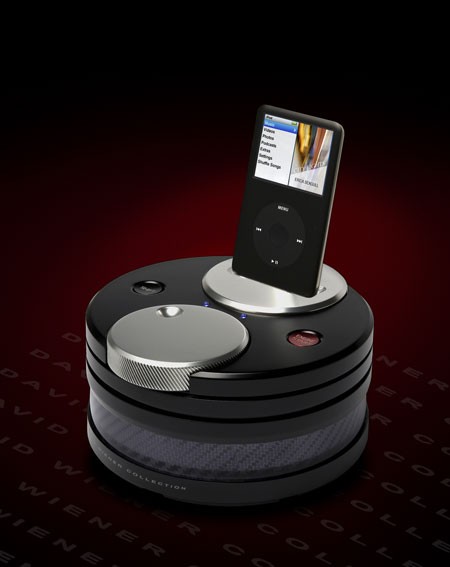 Summary
Executive Overview
David Wiener Ventures (DWV), a design house that develops exclusive products under the DWV and Ferrari brands, has begun shipping the Art.Suono Wireless Music Enhancing Transmission System and iPod Dock (say that 3 times fast). Art.Suono is a limited edition, luxury entertainment product targeting the high-end, lifestyle market. Art.Suono is the latest offering of the David Wiener Collection, a luxury line of audio, entertainment, furnishing and fashion offerings which has ample amounts of form and function.
The Art.Suono uses DWC-Wireless, a branded 2.4GHz Spread Spectrum transmission technology that lets users transmit ANY audio source to ANY audio system (including the Ferrari Art.Engine, and future DWC systems). The audio source can be an iPod, a computer, a CD player, an MP3 player or satellite radio. Art.Suono also touts its DWC-Aphex circuitry, based on technology long used by audio engineers and top recording artists like Linda Ronstadt, James Taylor and Paul McCartney in mastering their albums. Specifically, the DWC- Aphex circuitry:
Restores the harmonics lost in compressed music files, and provides increased detail and imaging
Optimizes bass frequency response, for deeper and more resonant bass, restoring and improving bass without increasing the listening volume, or creating muddiness
Works at ALL listening levels, including lower volumes.
A technique called Frequency Hopping Spread Spectrum (FHSS) allows DWC-Wireless to rapidly change channels to maintain a constant connection and eliminate drop-outs, enabling the Art.Suono to provide consistent, stable connectivity, and the highest quality audio signal available.
The system consists of a compact transmitter, designed to rest on a table or desk next to the user, and a compact receiver housing the DWC-Aphex circuitry and styled to be displayed or hidden, as users prefer. Each Art.Suono can serve up to two receivers so that multiple music systems may be used in a home or office. Both elements are fabricated with machined aircraft-grade aluminum, carbon fiber accents, and fine detailing and finishes. It features iPod-docking and charging for any iPod, an "Engine Start" power button, a "Shift" input signal switch, a concealed input signal jack, LED indicators, and a convenient volume control designed to allow quick, precise volume changes and muting.
Installation is quick and simple, requiring no tools or computer skills. All accessories and wires are included with each Art.Suono system. The Art.Suono Wireless Music Enhancing Transmission System and iPod Dock is a lot to take in (I wonder if they charge per letter?) and is definitely not for the weak of pocketbook. For high-end users who like a taste of luxury (ie. not me) this is a product you'll want to get and show off in your office or home for bragging rights.
The Art.Suono is rolling out now to select retail outlets and online at a suggested price of $1,499. For the nearest dealer or to order directly, contact www.dwcollection.com/artsuono.

Confused about what AV Gear to buy or how to set it up? Join our Exclusive Audioholics E-Book Membership Program!
Recent Forum Posts: