Kaleidescape Cinema One Media Server Preview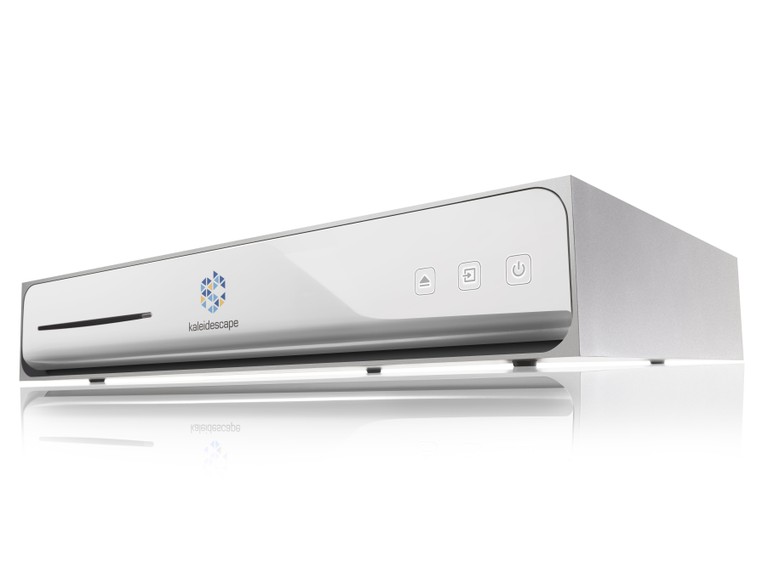 Kaleidescape Cinema One
Summary
Network
100Base-TX/1000Base-T Ethernet (RJ45 connector)

802.11n Wi-Fi USB adapter included
Video Output
Audio Outputs
HDMI
Digital coaxial (RCA connector)
Analog stereo (RCA connectors)
Video Modes
1080p60/50/24, 1080i60/50, 720p60/50, 576p, 576i, 480p, 480i
Video processing and user interface selectable to 2.35 (CinemaScape) or 1. 78: 1
Audio Formats
Bitstream pass-through of Dolby TrueHD and DTS-HD Master Audio

Dolby Digital
DTS Digital Surround
MPEG Audio
Media
Downloads from the Kaleidescape Store, precisely matching the quality of Blu-ray disc and DVD

Blu-ray Disc, BD-R, BD-RE

DVD, DVD-R, DVD-RW, DVD+R, DVD+RW

CD Audio, CD-R, CD-R W
Control
Ethernet control from Crestron, AMX, Control4, Savant, the Kaleidescape App for iPad, and other apps and control systems

Kaleidescape Remote included
Front-panel IR receiver window
IR input (1/8 in. mini-plug)
Limited Warranty
Executive Overview
A while back we reported on Kaleidescape's download service. With complete downloads (including special features) and Blu-ray video and audio quality, it is truly the highest of high-end download service. Kaleidescape has also a reputation for incredible products. They handpick drives, monitor your system for potential problems to make sure you don't have issues, and much more. But Kaleidescape products come with Kaleidescape's prices. Hovering between "HOW MUCH?!?" and "If you have to ask..." Kaleidescape products have been providing local storage and streaming of movies for the rich for years. 
That's about to change.
Kaleidescape has announced their first consumer level product. This mass market offering is called the Cinema One. A standalone server, the Cinema One has space for 100 Blu-rays or 600 DVDs. Kaleidescape promises that the Cinema One can be paired with another. The two units share their space while providing the ability to send two different movies to different destinations. Kaleidescape mentions Magnolia, the higher-end store within Best Buys, as a partner and probable retail point.

Glancing at the back, the Kaleidescape Cinema One has a 12v DC connection for power, an HDMI output, rca analogue and coaxial digital audio outputs, and a USB input. There is an Ethernet port for connection to the Internet (to download metadata for movies and connection to the Kaleidescape store), and an IR input for use in a home automation system. There is a Kaleidescape app for control as well as a remote. The Ethernet connection can also be used by Crestron, AMX, Control4, Savant, and others for control. The Blu-ray drive on the front is compatable with all Blu-ray and DVD/CD formats. As you might expect, the basically extinct DVD-A and SACD formats are not supported. There is no mention of 3D support and it is unclear if the USB port can be used for anything other than connecting the supplied USB wi-fi adapter. The DVD region code of the Cinema One can be changed up to four times though the Blu-ray region is set at the factory. Interestingly, the Cinema One can import any Blu-ray, but it will only playback the ones that have the correct region code. 
Kaleidescape's main claim to fame has been their interface. Yes, when they first hit the market, they were one of the only services that allowed you to rip (somewhat legally though licensing agreements) your movies to their proprietary products. This allowed them to lock you (the user) out of the actual file to pacify the studios that they weren't just allowing you to upload their movies to a torrent site. So many years on the market has given Kaleidescape a huge library of metadata on movies - they say they have nearly 250,000 in their database. This means that even the most obscure movie will be recognized by their interface making it extremely unlikely that the customer would have to add movie information manually.
The Cinema One interface features cover art, synopsis, and suggestions for similar films based on genre, director, actors, etc. Kaleidescape has even had people pick their favorite/most iconic parts of popular movies so that you can skip directly to the best parts of your favorite movies (with Transformers, we believe it is the ending credits but we're not sure). Giving consumers access to that library of metadata, and the historically high quality of Kaleidescape's products, is probably enough for many to queue up for one right now.
Of course, Kaleidescape's Cinema One won't exactly be cheap. At just a bit under $4k, the Cinema One is still aimed at the serious home theater enthusiast. It is designed with home automation in mind so those with electric screens, lighting, and other systems can coordinate them all with the Cinema One. Kaleidescape also brags that the Cinema one with have their CinemaScape video-processing mode, making it "the best source device available for a 2.35 home theater."
Probably the most exciting development from the Kaleidescape Cinema One announcement isn't about the Cinema One at all. It is the statement, "Cinema One is the first component in Kaleidescape's new Cinema line, designed for smaller systems and featuring simple onscreen setup." That means we can expect additional announcements from Kaleidescape about more products soon. We can't wait to see what else they have up their sleeves.
Conclusion
Kaleidescape just blew our minds. Yes the Kaleidescape Cinema One media server is $4000. Yes, we realize that many people will say, "But I could build an HTPC for less!" But that HTPC wouldn't have Kaleidescape's interface, access to Kaleidescape's Store (which features Blu-ray quality video and audio AND full downloads with special features), and Kaleidescape's features and build quality. When you look at Kaleidescape's previous offerings, the Cinema One is seriously discounted. When you look at how fanatical their users are about their products, you have to be intrigued. If you've always wanted a Kaleidescape system but couldn't afford it, you owe it to yourself to check out the Cinema One. It might be just what you've been looking for.
For more information, please visit www.kaleidescape.com.

Unless otherwise indicated, this is a preview article for the featured product. A formal review may or may not follow in the future.