Kaleidescape Releases iPhone Movie App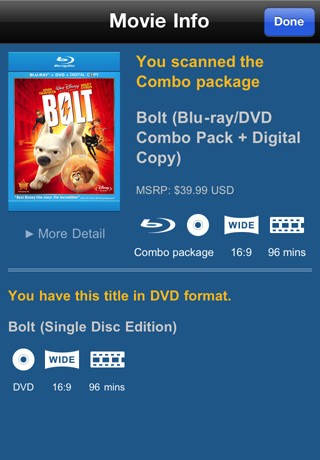 Kaleidescape iPhone Movie App
Kaleidescape, Inc., the market leader in movie servers, today announced the availability of a free app for iPhone that simplifies the movie-shopping experience for Kaleidescape customers. The app scans a DVD or Blu-ray Disc barcode, and then displays whether or not that title is on the owner's Kaleidescape System, and if so, in what format. This eliminates the frustration of buying a movie only to find out later that you already own it. The app also provides information from the exclusive Kaleidescape Movie Guide, including a brief synopsis and details such as director, cast, aspect ratio, running time, and rating. The Kaleidescape Movie Guide, the largest and most comprehensive of its type with more than 135,000 titles, has recently been expanded to include more than 4,000 Blu-ray Disc titles.
"Buying a movie is usually an impulse decision, and this new Kaleidescape mobile app helps customers select the right movie in the right format," said Eric Schmidt, founder and CEO of Sound and Vision in Willowbrook, Illinois. "It's also useful at home for determining what movies have and have not been loaded onto the system."
"This new app broadens the value of the rich information in our exclusive Movie Guide by making it available to our customers when they are shopping," said Michael Malcolm, Kaleidescape founder, chairman and CEO. "It also extends the elegance and simplicity of the Kaleidescape experience beyond the home."
The Kaleidescape app for iPhone recognizes UPC barcodes, and is designed for use by Kaleidescape customers in the U.S.
About Kaleidescape
Kaleidescape designs and manufactures the world's leading movie server, bringing lasting lifestyle convenience to families with young children and movie enthusiasts. The Kaleidescape System, renowned for its intuitive user interface, presents your entire collection of movies on every TV in your home, and provides a rich, cinematic experience for the entire family. Kaleidescape's innovative products and services are protected by over 50 patents issued and pending. Founded in 2001 and headquartered in Sunnyvale, California, Kaleidescape sells its movie servers through custom installation dealers and distributors throughout the world. For more information, visit www.kaleidescape.com.