BRAVEN 855s Bluetooth Weather-Resistant Speaker Preview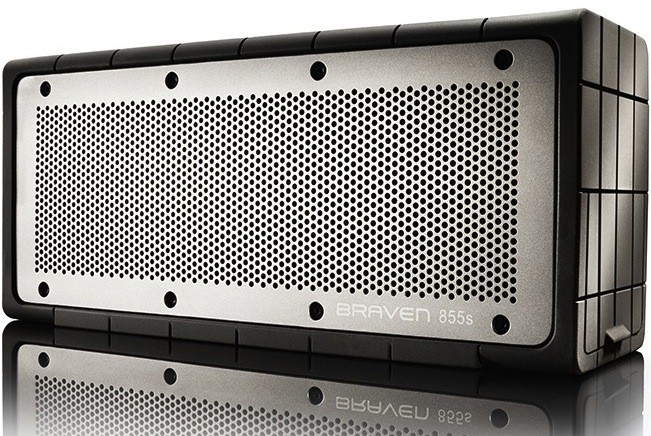 BRAVEN 855s
Summary
20W output

20 hours of continuous wireless playback

Built-in internal speakerphone and microphone

On-the-go ability to charge almost any USB-powered device

Bluetooth v3.0 EDR

(A2DP) 1.2 Support
33 ft. operating distance

IPX3 water resistant rating

Hands Free Profile (HFP)

3.5mm line-in

True Wireless - wireless daisy-chaining between two BRAVEN 855s or BRAVEN 850 devices for true left and right channel stereo

DTS SRS Wow Sound enhanced listening mode
Executive Overview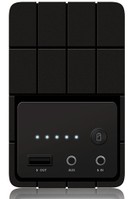 I think a lot of people look at portable speakers and "get" their use. They understand why someone might want one. But they don't think they'd need one. Can't see themselves using it. That's what headphones are for right? And who really takes their speaker to the beach or a park? I mean, really? People do that? Do they take them on the subway too? Because I don't want to be associated with that ilk.
But step back for a moment. I was in the same camp for a long time. Didn't really think I'd ever need a portable speaker. But when you have access to one, you find tons of uses for them. Listening to a podcast (like AV Rant) and need to take a quick shower? Take the speaker in the bathroom with you. Want tunes when you are outside gardening but don't want to use headphones? Now you can. Maybe you just want a speaker that you can use in your office most of the time but can also move around the house with you. I love to take mine with me when I'm cooking or out in the garage working on something. If the speaker is mounted somewhere and I want move, I have to turn it up to hear it. Which, inevitably, prompts my wife to turn it down. If I put on headphones, any and every member of my family must, immediately, have a very long, "I could care less about the words that are coming out of your mouth" conversation with me.
If you visit the BRAVEN (I'm guessing they went with "Brave" and added an "N" instead of Craven and switched to a B though neither seem to have much to do with speakers) website, you'll see a long line of portable speakers. The real claim to fame of BRAVEN products, other than wirelessness, is that they will also charge your device - a nice twist.
The BRAVEN 855s is the latest in their product line and is aimed squarely at the "adventurers" out there. So...like...Indiana Jones and John Carter and maybe Bear Grylls. But if you fancy yourself the adventurer type and you've been looking for a way to tell the world without having to wrestle a shark, the BRAVEN 855s might be what you need. This portable, rechargeable speaker measures just 9.5 inches long, 2.75 inches deep, and 4 inches tall. This is a perfect size for throwing in a backpack or just grabbing and taking it with you, but I feel certain that Bear Grylls would find it completely inadequate for defending himself from a rampaging elephant or even a mildly put out ostrich.
The BRAVEN 855s is constructed out of aircraft-grade aluminum, has a "brute looking" grill (unlike a Grylls who is just a brute), and brags up to 20 hours of playtime on its rechargeable battery. There is a USB port on the side that, oddly, can't be used to connect a device. It is only used to charge portable devices off the internal battery. To connect your device you'll either have to use Bluetooth (the 855s has Bluetooth 3.0 and A2DP 1.2 support) or a 3.5mm input from your headphone jack. There are battery check lights (five of them) which, when you press the battery check button, tell you how much battery is left (20% per light). 

The BRAVEN 855s can be connected wirelessly to a second BRAVEN 855s or the older BRAVEN 850 wireless speaker for a two channel experience. The BRAVEN 850 is essentially the exact same speaker, for the same price, but in a different enclosure. The only other difference is that the BRAVEN 855s is also IPX3 water resistant. BRAVEN specifies that this includes water splashing but not immersion. So, if you are out in the wilderness, adventuring, and a lion roars at you and a little spittle flies out of his mouth, you can safely block it with the BRAVEN 855s. Though, if you live though the experience, you wouldn't want to use it to catch your tears of joy.
After your near-death adventure with the aforementioned lion, you'll probably want to call someone. Probably your mom but I'm not judging you. Fear not, the BRAVEN 855s has got you covered there as well. With a built in noise canceling microphone, you can answer your phone without having to disconnect from the 855s. There are controls on top for volume and track control as well as play/pause and power. The BRAVEN 855s uses a combination of extended-range aluminum cone drivers and dual passive radiators though they aren't more specific than that. To give your music that extra oomph that every adventurer wants, BRAVEN has included DTS' SRS Wow Sound enhanced listening mode to help you fill a room with music or scare off potential yeti attacks.
Everyone knows they hate rap.
Conclusion
When you market your product to "adventurers", you are either selling whips to college professors or your marketing plan has jumped the shark. Forgive me for having a little fun with the BRAVEN 855s. At $300, the BRAVEN 855s is expensive but well equipped. Bluetooth enabled, it has a 3.5mm input for a direct connection and the ability to pair with another BRAVEN 855s for a stereo experience. With a built-in mic, you can use it to answer calls without having to disconnect. Heck, with a little creative accounting, you could pass this off as a business expense as a speaker phone. With a water resistant case, you don't have to worry about Dave from accounting getting sloppy at the office party and spilling his beer on it...again. As an added bonus, the BRAVEN 855s can charge your wireless device with a charging-only USB port. While we're not sure how it would fair on an actual adventure, we're pretty sure it can take any abuse you might throw at it around the house or office.
For more information, please visit www.braven.com.

Unless otherwise indicated, this is a preview article for the featured product. A formal review may or may not follow in the future.