Denon AVR-3312CI 7.2 Channel Integrated Network A/V Receiver Preview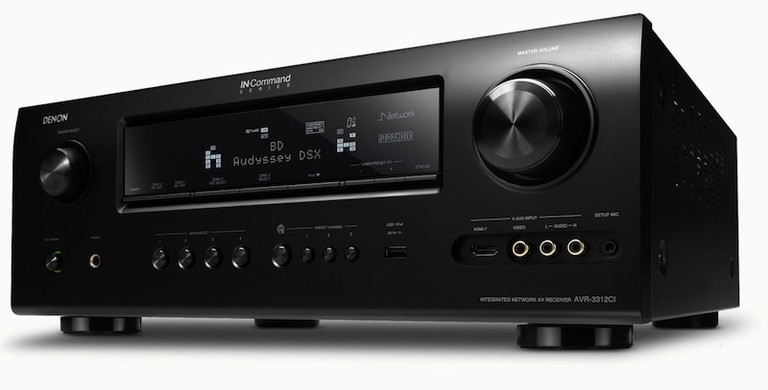 Denon AVR-3312CI
Summary
7.2ch Integrated Network A/V Receiver
HDMI 1.4a 7In/2Out 3D Ready
AirPlay Ready
Discrete Power Amps rated at 125 watts each x 7 channels

Audyssey DSX
HD Radio
3D pass thru

3 source / 3 zone output

Dimensions: 17-1/8" x 6 37/64" x 15-3/64"
Weight: 26lbs
Executive Overview
On the heels of everyone else announcing new receivers, Denon's new '12 line, dubbed their "IN-Command Series" has reared its head. While we know that more receivers in this line are on the way, the first three to hit are the AVR-2112CI (SRP:$599.99), AVR-2312CI (SRP:$799.99) and AVR-3312CI (SRP:$999.99). While the cheaper two have their advantages (namely trading in certain features for a lower price), we'll be focusing on the $1k AVR-3312CI in this first look.
Denon has a new look for their '12 line which seems to favor a slightly convex front plate rather than the industrial flat one we've seen from them and just about everyone else since people starting making AV gear. We're thinking this is a Marantz influence but we're sure they'd deny that. Denon has been making many inroads into giving consumers the network and ease-of-use features they want. The '12 series is making great leaps in that direction. First out of the gate is compatibility with Apple's new AirPlay. This allows you to stream, wirelessly, their iTunes content from their wi-fi enabled i-devices or from their networked PC or Macs. The receivers also have a front mounted USB port for direct connection and compatibility with your i-device.
If you are more of a streaming from the Internet type, the '12 series has you covered there as well. With DNLA 1.5 and Windows 7 compatibility, you'll have no problems streaming content from your compatible networked devices. Denon has also given the '12 receivers a web-browser function which also gives you access to Internet radio, Pandora, Rhapsody, Napster, and Flickr.
Denon rates the AVR-3312CI at 125 watts for each of the seven channels all with discrete amps. There are a ton of connections on the back but what is important is that it has seven (included on on the front) HDMI 1.4 inputs with 3D support. We couldn't find any information on the Denon website on Audio Return Channel or HDMI Standby Pass-thru bu that doesn't mean it doesn't support it. It just isn't listed anywhere. We did notice an ARC label next to the dual HDMI outputs so we suspect that Audio Return Channel is supported. There are two component video inputs, five (one front mounted) composite video inputs, two s-video, two coaxial and three (one front mounted) optical digital inputs, and a slew of analogue audio. While there are no 7.1 channel analogue audio inputs for integrating legacy gear, there are 7.2 channel pre-outs for adding external amps and two subs. There are pre-outs for two additional zones of audio, a composite video output for Zone 2, and the back amps can be routed to power those zones as well.
As you'd expect with Denon, Audyssey is on board with their MultEQ room correction, this time with the XT pro system. This allows installers to fine tune the room response. There are five way binding posts for all seven channels plus provisions for two additional pairs of speakers for changing your configuration on the fly without having to switch wires. This allows you to utilize the height channels of Dolby ProLogic IIz or the height or width channels of Audyssey DSX at will (you just need to reassign the amps from the menu). All the latest HD audio formats and DSPs are on board. Denon has included upconversion to HDMI of all analogue sources as well as upscaling to 1080p over HDMI. They didn't name the chipset that is performing these duties which may mean it is a proprietary one.
Denon is also bragging a new, streamlined appearance. Denon claims that the new IN-Command line has "a sleek new Denon cosmetic, with a newly designed front panel and thinner profile." Well, the AVR-3312CI is 17.1" wide, 6.7" high, and 15" deep weighing in a 22.5 lbs while the previous mode, the AVR-3311CI was, according to the website, the exact same dimensions but weighed in at 26.9lbs. We've found that receiver manufacturers are notorious for mistakes on their websites so perhaps this is an example.
Conclusion
We're always excited to check out new receivers and the Denon AVR-3312CI is no different. There is a lot of muscle under the hood and tons of options. Including Audyssey MultEQ Pro in such and affordable product is quite nice as is out of the box support for Apple's AirPlay, Windows 7 compatibility, and DNLA support. Of course all the HDMI inputs (7) and outputs (2) are HDMI version 1.4 which means 3D and Audio Return Channel are available and supported. Whether you are a newbie looking for a nice receiver that you can grow into, a power user who likes the latest features with the ability to tweak, or an installer looking for a receiver for a budget install, the Denon AVR-3312CI has something for you.
For more information, please visit www.usa.denon.com.

Confused about what AV Gear to buy or how to set it up? Join our Exclusive Audioholics E-Book Membership Program!
Recent Forum Posts:
jsmunroe59 posts on December 05, 2012 14:41
Sees the update but can't get it to update?
highfigh, post: 822480
A firmware update is the second thing that should be done to ANY piece of updatable equipment and if Crutchfield had their act together, they would post that on their website or in some communication with you. Hard reset is the first thing to be done. Also, the CI models are really not designed to be sold to end users who aren't familiar with their setup. You're in IT but if you didn't read the manual, it's not just going to tell you how to set it up through some kind of Wizard. CI dealers/integrators do these things immediately upon opening the box and plugging it in. Also, shut everything down, unplug everything, including the power cords (you can leave the speakers connected). Then, make your cable connections. If you're using a power strip, turn it off, plug the power cables in andthen flip the switch on the power strip before turning things on, starting with the receiver.

If you didn't enable Network Standby, do that immediately. Also, you need to read up on HDMI- it's not a user-friendly format. It exists so people are kept from copying Hollywood's precious movies, not so it can be a flawless connection protocol. Also, and unfortunately, HDMI cables have many serious flaws and the re-use of old cables doesn't help. Make sure your cable is free of lint, dust and other debris- it can seriously degrade bandwidth, which is the problem you seem to be having. Also, HDMI cables are meant to bend no mopre than 30 degrees, not 90, not stuffed into a cabinet with the connectors and cables pushing into the back panel.

Monster Cable is overpriced. You need HDMI 1.4 compliant cables and if you have any plans to use 3d format media, it's even more important. High speed HDMI isn't BS- and if you want to future-proof yourself a bit, get High Speed with ethernet cables. If you tried the DVD/BD or cable box without the receiver in the signal path and it worked, you need to change some settings- it's not the receiver's fault. You either have bandwidth or CEC and/or possibly EDID issues.

The reason streaming content sounds good is that it's all converted to PCM- it doesn't remain as MP3, or whatever the original format was in iTunes, etc.

Assuming that all of your sources connect to the receiver and the TV is connected to the HDMI output of the receiver, where is the TV? If it's far from the receiver, make sure the cable is good (continuity testing won't necessarily tell you if it will work) and that it's not pulling down on the jacks. If you're using an HDMI extender, make absolutely sure that the RJ45 connectors are terminated correctly, per the extender's color code. They don't all use 568/570 termination and cable length is critical. If you used a two cable extender (2 Cat5e cables), using cable from two different manufacturers is a good way to have problems. Also, pulling too hard on the cable doesn't help anything. It's not a problem for network (even gigabit networks) unless the cable was stretched badly, the bend radius is exceeded or it's cheap cable but since HDMI transmits at about 10Gb/sec, it is. If you stapled the Cat5e in place, make sure the staples aren't kinking the wire. If you used wire ties, make sure they aren't too tight. It matters.

Also, hold on to your hats, everybody- HDMI 1.5 is coming.
My 3312-CI see's that there is an update but there is no button on the remote or the front of the receiver that will acknowledge or allow the update? HELP!
tonypelicon posts on October 06, 2011 16:43
Well I can see some ppl is having some problems on this Denon version, actually my favorite one was the 2312, even if its not the 3312, I can say it has the best quality ever ! just for info you can check out any question you have about it at
Denon AVR2312CI
, this guys answered to any of my questions about the denon products and thats why I bought the 2312 some time ago, they can do a lot of tests for you and for me, was the best option to clear my doubts about it.
gmichael posts on August 02, 2011 19:51
gregmacman, post: 822431
Hi Everyone,

I decided to go to an Onkyo TX-NR809 to replace the Denon 3312. Just got it yesterday, kept me up until 1:00 am playing with it. It's too early to give my full thoughts, but so far I really like it and have had no issue with it. If anyone wants a bit of a comparison I'd do that, just let me know.

Greg
I would love to see a comparison on those two. I am in the market and they are two of the final 3 contenders. I'll keep an eye out for a new thread.
gregmacman posts on July 29, 2011 23:53
Easier to go with an Onkyo…call me lazy I guess.

Highfigh you can screw around with all that. I simply took the $1099 receiver back for a $699 Onkyo that has had zero issues with what I'm asking it to do. Also, my new Onkyo has Internet updates..they even tell you what's in the update, crazy eh.

PS. I'm not the only one having issues with the product, BestBuy said they have gotten a few back. Read other reviewers as well.

Greg
highfigh posts on July 29, 2011 18:35
For those of you who use an iPhone or Droid, check out some of the DLNA features when using Windows 7. It's easy to set up (Windows Media Player has streaming controls in the View Library Options area) and this allows the Denon or other receiver with a Media Server function to access the media on a computer, iPod/iPhone/iPad, NAS or another computer with a media library. You would need to click on Start, Network and double-click on the device (receiver) you want to enable, then use the drop-down before clicking OK. You'll see all devices that can stream once you click on this. Once this is done, press Net/USB on the receiver or remote and select Media Server. You'll see the name of the streaming devices, then you'll see 'Music', 'Pictures' and 'Playlists' after pressing the right side of the direction button. Your All Music, Genre, All Artists, etc options will appear after pressing 'Music'.
Post Reply