Unmonday 4.3L AirPlay Speaker Preview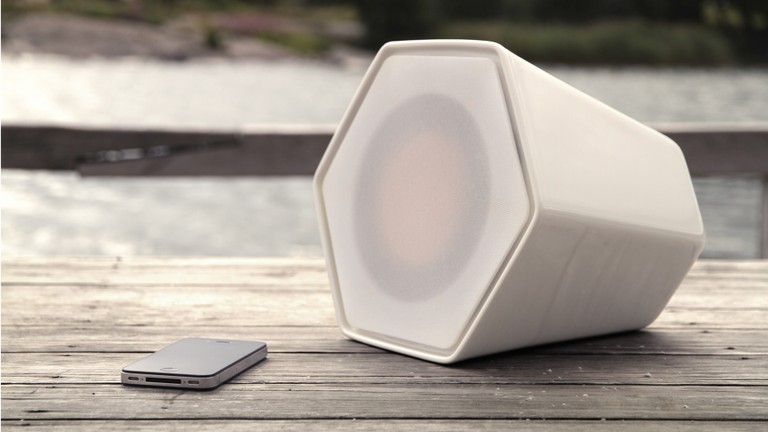 Unmonday 4.3L AirPlay Speaker
Summary
Hexagonal design
Physical orientation determines setting
4.3 Liter Porcelain Housing
Alpair 10 full range driver
Wireless router
Motion Sensor
Amplifier
3.5mm plug
1 button (reset)
1 wire (charging)

Can be set for Mono, Stereo or Dolby Surround sound with up to five speakers
Portable (optional Lumi leather carrying case)
Up to 10 hours battery life
App for control over

Executive Overview
Wireless speakers seem to be a dime a dozen these days. Not in actual cost, mind you, but in how everyone seems to be releasing one. Everyone seems to have a different solution for the "problem" of wires. What is important is to focus on your needs and how you'll be streaming your content.
Unmonday (we read that as Un-Monday but it's a Finnish company so who knows) thinks they've got a product that will get you to open your wallet. While their Kickstarter campaign is still going strong (and isn't fully funded yet), we've received word that they have already put their new 4.3L (yes, that's code for 4.3 liters, the volume of the enclosure) speaker into production. What this means is that you can take advantage of the reduced price for Kickstarter funders during these last days of the campaign. We're not exactly sure how this will work since the Kickstarter campaign is well over $130,000 short of the $200,000 needed to be funded, but Unmonday says they have $1,000,000 of funding.
Unmonday has chosen to utilize Apple's AirPlay wireless streaming for their 4.3L speaker. While there is talk of an update to AirPlay that will allow it to work direct, currently AirPlay requires a WiFi network to work. They worked around this limitation by including a router within the speaker! This means that you can enjoy the larger bandwidth and fidelity of Apple's AirPlay even outside. The included battery will provide up to 10 hours of playtime.
But that isn't all that is unique about the Unmonday 4.3L speaker. Utilizing a hexagonal, porcelain enclosure, the 4.3L has one of the most unique control schemes we've seen. Basically, there is an accelerometer within the speaker which tells the speak which side you've set the speaker on. This will configure the speaker for Left, Right, Center, Surround Right, Surround Left, or Mono output. Since AirPlay at this time only supports two channel audio, there is a Dolby Surround decoder in each speaker for splitting out the sound to the appropriate speaker.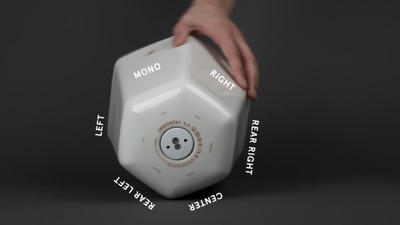 There are only two ports on the Unmonday 4.3L. One is for power, the second is a 3.5mm jack for a direct connection (of your non-AirPlay devices). There are no stats on the frequency response, size, or even weight though with a porcelain enclosure, we're betting the 4.3L isn't light. Unmonday has partnered with LUMI Accessories for custom-made leather cases in your choice of brown or sand (which we're betting is "light brown"). We do know that they have utilized an Alpair 10 driver, that the speaker can be easily disassembled for easy maintenance, and that the amplifier is custom to take advantage of the housing and the driver. 
If you jump in on the Kickstarter campaign, you can get the Unmonday 4.3L for as little as $499. The actual MSRP when the speaker is released in early 2013 will be around $700 each. While we can see the appeal of a speaker you can use in your home theater most of the time, then move around the house for distributed audio for parties, and finally grab and take with you on a whim, we're worried about the price. At $500, we thought they were pricy. $700? That's a lot. We're very curious as to how the Unmonday 4.3L speakers sound. If they really hold up to traditionally wired speakers, they may be worth the price.
Conclusion
At $700 a pop the Unmonday 4.3L speakers aren't exactly cheap. With a built in wireless router for Apple AirPlay anywhere, amp, 10 hour battery life, and Dolby Surround, you can see where your money went. With a speaker that is only now going into production, it's hard to anticipate how they'll sound. And no matter how cool the control scheme is, or or how portable they are, sound is what is most important in a speaker. We're very interested to see how these are received when they start shipping in 2013.
For more information, please visit www.unmonday.com.

Unless otherwise indicated, this is a preview article for the featured product. A formal review may or may not follow in the future.
Confused about what AV Gear to buy or how to set it up? Join our Exclusive Audioholics E-Book Membership Program!