Denon DA-300USB DAC Preview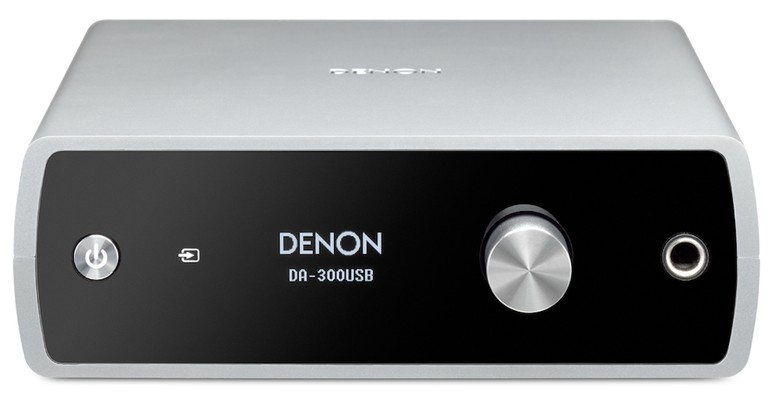 Denon DA-300USB DAC
Summary
High definition DAC with 1 x USB-B, 1 x coaxial and 2 x optical digital inputs
High quality audio components for rich, open, detailed sound
Denon Advanced AL32 Processing and High-Precision 32 bit, 192 kHz digital to analogue conversion for exceptional high definition audio quality
DAC master clock design for distortion free, fully transparent sound stage
Noise isolating circuit design prevents distortion via USB connection from computer generated digital noise; ensures fully transparent and spatially accurate sound stage
Universal bit-transparent, asynchronous playback of digital audio file formats and streaming audio from PCs via USB-B; up to 24 bit, 192 kHz and DSD2.8 and DSD5.6 native support by DoP (DSD Audio over PCM frames)
3x SPDIF (coaxial/optical) inputs for upgrading sound from other digital audio devices (up to 24 bit, 192 kHz) with the DA-300USB's advanced high definition signal processing
High quality analogue signal (line level) output and headphone amplifier stage, for connection to hi-fi amplifier or desktop speaker system and superb listening with all kinds of headphones or in ears
Simple plug-and-play operation for connection to PCs (dedicated driver available under "Downloads & Manuals") and other devices with digital audio outputs
No one predicted what the iPod would do to the world of portable audio specifically, and the music industry in general. Its effects can't be understated. Historians may someday point at the iPod as the watershed moment when the entire landscape of how we buy and consume music transformed. One side-effect of the iPod was increased interest in headphones. Before, people would use whatever headphones came with their Walkman or Discman. iPods, as long as they were small and stable enough to exercise with. While Walkman's were too big and bulky and Discman's skipped if you jarred them, an iPod could be strapped to your arm and easily taken on a run.
People quickly discovered that they needed better headphones for that sort of exercise. Not only that, they realized that headphones could be a fashion statement as well as a conveyance for their music. 
As described by Val Kolton of V-Moda headphones, this opened up a whole new world of headphone consumption. Gary Yacoubian of SVS was with Monster when they released the Beats! headphones and revealed in a recent interview that the Beats! didn't steal customers from other headphone manufacturers, but captured an entirely new consumer. Finally, high-end headphones were a viable market that had people wondering how much better their music could sound.
If you've got quality headphones and your music is all encoded losslessly, the only weak link in the chain is the DAC. A DAC, or digital to analog converter, takes the ones and zeroes of your digitally stored files and converts them into an analog waveform that can be amplified and reproduced by your headphones. Headphone outputs on your computer and portable devices vary widely in quality as do the DACs within. If you want to get the best possible reproduction of your music, you'll need some sort of quality DAC.
We've seen a number of these standalone DACs hit the market recently, but this is one of the first offerings from a major AV manufacturer. Denon is known for many things but mostly their AV receivers. As one of the many functions of a receiver is to convert digital signals to analog, it makes sense that they might break out that functionality to an external standalone DAC.
The Denon DA-300USB has been out in the UK for a while now but it is just now hitting the US shores. Priced at a buck under $550, it certainly isn't the least expensive offering on the market but it is far less expensive than some of  the esoteric offerings. The Denon DA-300USB can be placed vertically (with an included stand) or horizontally. From left to right it has a power button, input select switch (that small thing next to the power, OLED display, headphone volume knob, and 1/4" headphone jack. The power button switches it from full to standby power, the input switch cycles through the inputs in order, and the volume only controls the output on the headphone jack.

The back of the Denon DA-300USB has a USB-B input (the square one) for connecting to your computer. It also has two optical and one coaxial digital audio inputs. There are analog RCA-style unbalanced outputs for connecting to an amplifier or external (powered) speakers. For reasons I can't begin to guess, Denon chose not to supply a USB-A to USB-B cable with the DA-300USB. The only cable they've included is analog RCA cables - the ones surely everyone that might consider buying this product would have lying around. There is a small power port that connects to a wall wart plug.
Inside, Denon has included their proprietary Advanced AL32 Processing and High-Precision 32 bit, 192 kHz digital to analog conversion. This takes all the digital signals and upsamples them to 32 bit/192 kHz. Denon has included not just one but two master clocking crystals. One operates as 44.1kHz and the other at 48kHz. The DA-300USB operates in asynchronous mode, eschewing the clock in your source/computer for its own clock for maximum jitter elimination. The USB input is noise isolated from the audio output for a pristine sound.
One of the claims to fame of the Denon DA-300USB is that it accepts not only PCM but DSD signals. DSD is the same format used for SACD (Super Audio CD). It can handle DSD natively by DoP (DSD over PCM) in 2.8M and 5.6M resolutions. It is compatible with MP3, MP4, AAC, ALAC, WAV, and FLAC HD file formats. It can accept 16 or 24 bit resolutions and from 32 to 192kHz sampling frequencies. While it transforms everything into 32 bit, it can not accept a 32 bit input. The DA-300USB is not compatible with any of the Dobly, DTS, or other surround formats and Denon warns that you may damage your headphones or hearing if you try to play though formats through the DA-300USB.
Of course, the obvious comparison for the Denon DA-300USB is the recently reviewed Emotiva Stealth DC-1 DAC. At $50 less, it has more functionality, one fewer optical inputs but more overall inputs (including analog inputs) and XLR outputs. Denon, however, has a much bigger presence and we fully expect the DA-300USB to be a success for the company.
Conclusion
With top-notch circuitry, proprietary Advanced AL32 Processing and High-Precision 32 bit, 192 kHz digital to analogue conversion, analog line outputs, and four digital inputs (including USB-B for your computer), the Denon DA-300USB DAC ticks all the right boxes. At $549, you can find cheaper options but none that have the prestige and digital know-how of Denon. If you are looking for an external DAC and headphone amp for your headphones, or a way to connect your computer to high quality studio monitors, the Denon appears to be a good option.
For more information, please visit www.denon.com.

Unless otherwise indicated, this is a preview article for the featured product. A formal review may or may not follow in the future.