Preview: Intelix Show Us that HDMI + IR over Cat = Awesome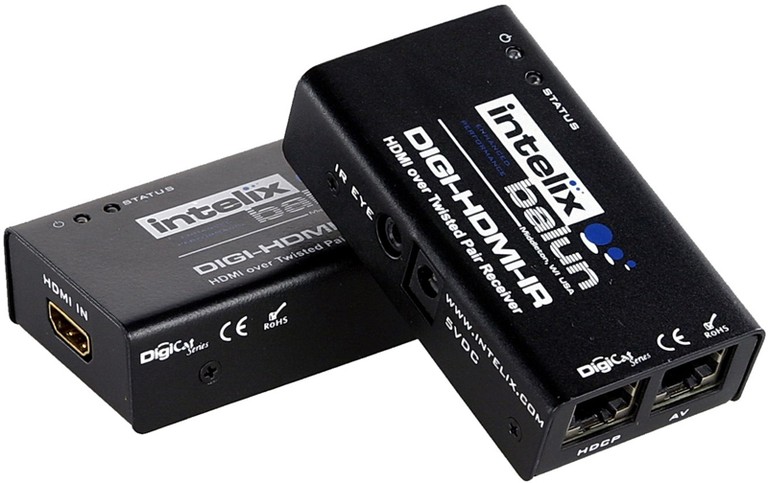 Summary
Product Name:

DIGI-HDMI-IR

Manufacturer:

Intelix

Review Date:

January 08, 2009 09:20

MSRP: $349.95
First Impression:

Gotta Have It!
Max Distance

480i,480p,720p,1080i 150 feet
1080p 100 feet

Video Amplifier Bandwidth

1.65 GHz

Supported Video Resolutions

480i, 480p, 720p, 1080i, 1080p

Power

Powered on the receive end; side mounted connector

Input Video Signal

1.2 volts p-p

Input DDC Signal

5 volts p-p (TTL)

Output Video

HDMI 1.2/HDMI 1.3

IR Carrying Wave Frequency

36 - 40 kHz

Send Unit Connectors

One (1) type A HDMI connector to two (2) RJ45s
One (1) 1/8" mini (3.5 mm) female IR connector

Receive Unit Connectors

Two (2) RJ45s to one (1) type A HDMI connector
One (1) 1/8" mini (3.5 mm) female IR
connector

Cable

Two unshielded structured cabling runs
required; Cat 5e or Cat 6 recommended

Enclosure

Metal

Dimensions

3.25" x 1.75" x 0.88"

Temperature

Operating: 32 to 131 degrees F Humidity: up to 95%

Warranty

2 years

Included Accessories

one send balun, one receive balun, two mounting brackets, one IR emitter, one IR receiver, and one power supply
Executive Overview
Intelix LLC showed off their DIGI-HDMI-IR, a professional-grade twisted pair extender which distributes HDMI and IR signals up to 150 feet.
Let's just simplify this one. While not a cheap solution at $350, it is good up to 150 feet over Cat5e or Cat6 for 1080i (100 feet for 1080p - a working HDMI 1.3 cable at that length is probably going to cost more), is HDCP compliant, supports 1080p, and is protected against electrostatic distortion. The cool functions are numerous. First, you only have to power one side (the destignation). Second, it has diagnostic LEDs on both the send and receive units which will come in handy so that you'll know that your connection is working so you won't have to run all the way across the house. Lastly, the simultaneous IR transmission. If you don't think this is cool, check out the diagram below.

It took us a second but think about it. For $350 (plus the cost of the Cat cable) you get a 150 foot HDMI cable plus an IR emitter and blaster. This is a perfect solution for those that are have a component in one room and a display in another. Plus, while they show a DVD player, this could easily be a receiver or Blu-ray player/changer. While those with a dedicated universal remote system might not find it necessary, for those that need it, this is very elegant solution. Check out more about the DIGI-HDMI-IR at www.intelix.com.
Confused about what AV Gear to buy or how to set it up? Join our Exclusive Audioholics E-Book Membership Program!
Recent Forum Posts:
infinateflea posts on January 21, 2009 18:45
Well had mine about a month.

Awesome is not word id use whilst running across the house, the leds would work if they were plugged into a toaster, doesnt mean i get a picture.
Post Reply