Emotiva mini-X a-100 Stereo Flex Amp Preview
Emotiva mini-X a-100 Stereo Flex Amp
Summary
Channels: 2
Power output: 60 watts/channel into 8 ohms; 80 watts/channel into 4 ohms
S/N ratio: > 95 dB
Frequency response: 20 Hz to 20 kHz + / - 0.08 dB; - 1.0 dB at 80 kHz)
Analog inputs: 1 pair unbalanced (RCA)
Input sensitivity (for full output into 8 ohms): 600 mV
Analog outputs (loop): 1 pair; unbalanced (RCA); fullybuffered
Output connections: 1 pair full-sized five-way binding posts
Front panel controls: Machined aluminum volume knob with illuminated status ring
Rear panel controls: AC Power switch; Line Voltage selector switch; Power Mode switch (On, Off, Auto)
Trigger Inputs: 1; 5 – 12 VDC
Trigger Outputs: 1; 12 VDC
Protection: Fully protected against excessive operating temperature, shorted speaker connections, ground faults, and other common fault conditions.
Power requirements: 115 VAC / 230 VAC (+ / - 10%); selectable by rear panel switch
Dimensions: 8.5" wide x 3.125" high x 15" deep (including feet, connectors, and volume knob)
Weight: 11.8 lbs (net); 15 lbs (packaged)
Executive Overview
Christmas is the time for giving, and Emotiva gave us a little surprise this year... in the shape of an amp. While we expect Emotiva to put out powerful amps, what we don't expect is to see something small. And that is exactly what they gave us. Introducing the Emotiva mini-X a-100 Stereo Flex Amp - so small, it doesn't even get a capital in its model number.
Just last week we talked about the new Orb Audio Booster Mini Amp and we can't help but like the direction that companies seem to be going. Sure, putting out huge power amps that can push a million watts into 2-ohms is impressive but it isn't what we always need. What we sometimes need is something small enough for our office or bedroom; something we can connect to an extra pair of speakers we have lying around or for a Zone 2; something with a reasonable price tag. The new Emotiva mini-X a-100 Stereo Flex Amp is exactly that.
At $219 MSRP (and just $199 during the holidays), the a-100 Stereo Flex Amp is not going to break the bank. It is designed with the traditional Emotiva stylings including the blue light around the single volume knob on the front, black case, and aluminum plates on the sides. The volume knob is machined aluminum as well and the unit is almost 12 pounds and 8.5" wide x 3.125" high x 15" deep (including feet, connectors, and volume knob). This is quite a bit bigger than other "mini" amps but you get, in exchange, power. Real power.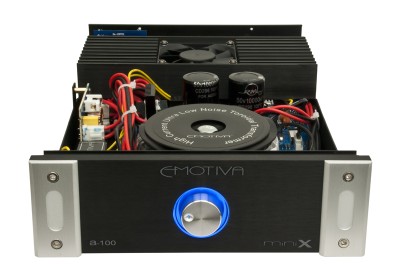 With 60 watts into 8 ohms and 80 watts into 4-ohms, you may be thinking, "Yeah, and?" Well...and what $600 or less receiver can you think of that is even rated for 4-ohms much less a $200 power amp? Not only that, look at the power supply on that bad boy. We're having a hard time thinking of one on a mid-fi receiver that is as large. Add to that the 2 x 10,000uF 60V power supply capacitors, fully discrete design, and Emotiva's reputation for quality, and you have a two-channel amplifier that will power just about any speaker you can think of.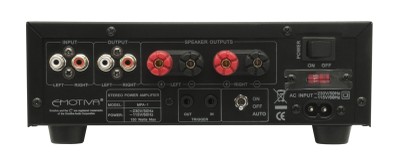 Of course, you can't have all that power without some trade-offs. While the a-100 is designed to be either a fixed-level amp or as a standalone "integrated" amplifier, there isn't much integrated into it other than volume control. There is a single line-level input (unbalanced RCA) which means you'll either have to settle for a single source or figure out a way of switching inputs outside of the a-100 (we suspect more products are coming to this line in the near future). The buffered loop output means you can string as many of the a-100s together as you like. It does have a 12 volt trigger input and output as well as an Auto on sensing feature. Emotiva has also included real 5-way binding posts as well as an user-selectable AC line voltage (115 or 230 VAC). There is no indication that you can bridge the a-100, though it seems like a more likely use would be for bi-amping.
As you can see from the top picture, there is a cooling fan. Emotiva has included horizontally mounted heat sinks which was probably a space saving measure. Unfortunately, it most likely reduced the effectiveness of the heat sinks necessitating the addition of a temperature activated forced air system. There is no word on how loud that fan will be. 
Conclusion
Our only real complaint against the Emotiva mini-X a-100 Stereo Flex Amp is the number of inputs. With only one, this integrated amp is a little hamstrung. But with it being rated down to 4-ohms, and with 60 watts at 8-ohms, this looks to be the perfect amp for the discerning Audioholic with difficult-to-drive speakers for their office, bedroom, or outdoor area. At $200, it is the perfect amp for a Zone 2/3/4 situation where it will be fed from an A/V receiver or processor. If you've been looking for a solution for your Zone 2 woes, or perhaps just want to do something with those extra speakers, the Emotiva mini-X a-100 Stereo Flex Amp may be just what you were looking for.
For more information, please visit www.emotiva.com.

Unless otherwise indicated, this is a preview article for the featured product. A formal review may or may not follow in the future.
Impelled posts on March 09, 2012 05:10
Stutz320, post: 870276
sub out would make this unit killer. I would buy it in a heartbeat.


+1

Same for that little Pioneer A35R int amp
Why not connect the sub using high level inputs when using stereo?
If you dont have high level in, you can use a converter like this
https://www.amazon.co.uk/gp/product/B001KWB5I8/ref=pd_lpo_k2_dp_sr_2/275-2495824-3035346
Less than £4
Search for "line level converter" or "speaker to line level converter".
Ones with a level control are easiest to setup right.
Micheal355 posts on March 08, 2012 20:21
——————————————————————————–

Looks great for a desktop. Pity there isn't a sub out like there is on the orb though. Overall a much nicer looking and probably much more powerful unit.
Stutz320 posts on March 08, 2012 18:19
sub out would make this unit killer. I would buy it in a heartbeat.


+1

Same for that little Pioneer A35R int amp
Seth=L posts on March 06, 2012 23:46
At the risk of peddling my own stuff, I have a Teac A-H500 for sale. I'll make a special Audioholic's concession price of $200. It comes with remote & manual.
PeterK posts on March 06, 2012 19:53
Wow I just love the looks of that Teac unit!! Really a cool piece of gear.
Post Reply
Confused about what AV Gear to buy or how to set it up? Join our Exclusive Audioholics E-Book Membership Program!