Integra DTA-70.1 THX Certified Amplifier First Look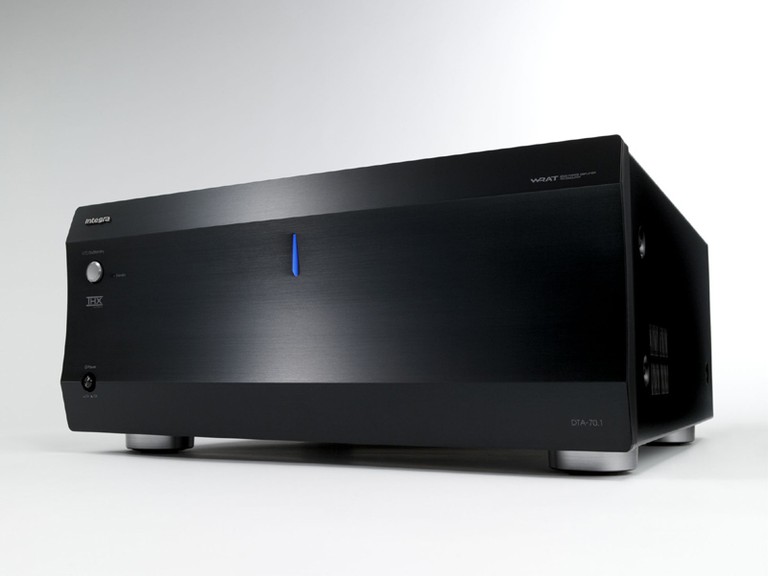 Integra DTA-70.1 THX Certified Amplifier
Summary
Power Output: All Channels: 150 W /Ch at 8 ohms, 20 Hz-20 kHz, 0.05%, 2 channels driven
FTC Dynamic Power: 400 W (3 ohms, Front) 300 W (4 ohms, Front) 180 W (8 ohms, Front)
THD (Total Harmonic Distortion): 0.05% (Rated power)
Damping Factor: 60 (Front, 1 kHz, 8 ohms)
Input Sensitivity and Impedance: 1 V/47 kohms (Balanced) 2 V/22 kohms (Unbalanced)
Frequency Response: 5 Hz-100 kHz/+1 dB, -3 dB
Signal-to-Noise Ratio: 110 dB (Unbalanced, IHF-A)
Speaker Impedance: 4 ohms-16 ohms or 6 ohms-16 ohms
Power Supply: AC 120 V~, 60 Hz
Power Consumption: 11.7 Amps
Dimensions: (W x H x D):17 1/8" x 7 13/16" x 17 1/2" (435 x 198.5 x 445 mm)
Weight: 50.7 lbs. (23.0 kg)
Executive Overview
When planning a home theater, it often pays to plan ahead. You need to be cognizant of the recent trends in home theater so that you can not only plan for what you want but for what you'll want in the future. Let's be honest, not so long ago none of us would have guessed that height and width channels would be here so soon. While they have yet to be integrated into the different high (or low for that matter) end audio formats, they have been receiving some positive reviews in professional publications and consumer reviews.
The fact is that many of us are not exactly prepared for more than seven channels of amplification. Oh, we may have seven channels for our main room and more for separate zones but that's about it. One thing we firmly believe around here is that an amplifier is almost never a bad purchase. As long as you get one that is linear and powerful and doesn't add anything to the signal you'll be fine. Plus, when it comes time to upgrade, you'll have the amps necessary to do so.
Integra has released it's first THX certified nine channel amplifier. The DTA-70.1 is designed to work in conjunction with the DHC-80.1 processor to provide not only the seven channels you'll need for a full surround experience, but two additional channels for height or width channels. For those that are saying to themselves that they have a smaller room so they don't need all those amps we once again point out future-proofing your purchases. While speakers, receivers, and transports come and go, a good amp is forever.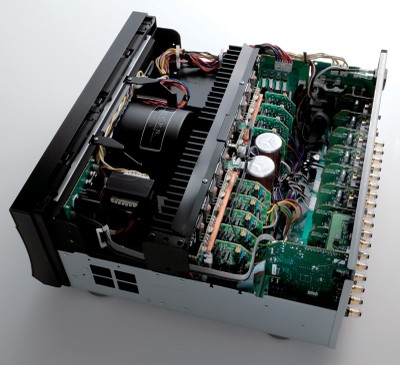 So, when you are looking for an amp from a manufacturer like Integra, what do you want to see? Since you know the price tag will be hefty, you want as many features as possible along with stunning aesthetics and bulletproof build quality. The new Integra DTA-70.1 sports an all analogue discrete-component design. It has an 11.7-Amp power supply with a massive toroidal power transformer with dual 22,000 µF capacitors. Each channel has identical symmetric circuit layouts, configured in a push-pull topology utilizing high-performance three-stage inverted Darlington circuitry and powerful custom-designed output transistors. While the specifications state the DTA-70.1 has 150 watts into 2 channels at 8 ohms, the FTC Dynamic Power specification is 180 Watts into 8 ohms, and 400 Watts into 3 ohms. The power bandwidth is 5 Hz to 100 kHz, +/-3dB, and the IHF A-weighted signal to noise ratio is an excellent 110 dB.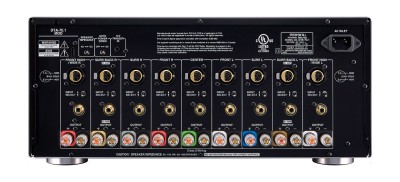 As you'd expect with a product at this price point, the DTA-70.1 sports a lot of aluminum including a solid aluminum front panel with the requisite blue LED indicator. While it doesn't have the pretty meters of something like a McIntosh, it does have an attractively concaved front and all black finish. On the back you'll find labeled inputs and color-coded outputs. You have access to both balanced and unbalanced connections and a switch for 4 or 8 ohm operation. There is twelve volt trigger input available (via 3.5mm plug) and Auto On through signal sensing. The vertical arrangement of the amps has been in use for a number of years with different products and resembles some of the blade amps we've seen in the past. This means that each channel is identical in construction and (theoretically) easier to service.
Lastly, the Integra DTA-70.1 has received THX's highest rating - Ultra2. While certain events recently have case a bit of a pall on the THX certification process in general, remember that each device type goes through a different process. With amps, the focus is on the ability to drive all of the speakers in a modern home theater system to full THX output levels and beyond. This is not just for a single or a few speakers - but for all of them. In the case of the DTA-70.1 it means (according to Integra since THX has always been tight lipped about their standards) all nine channels driven. Now we don't know the size of the room or the speakers used, but you can bet that at the very least you're getting a quality amp. It may be a bit more expensive because of the THX logo, but the question is how much is that piece of mind worth?
Conlcusion
The DTA-70.1 amp from Integra looks like quite a beast. At over 50 lbs it certainly weighs like one. It's got all the right parts and talk for a high end amp. It's sort of hard to really come to grips with the overall sense of the amp without a formal review and test bench results. The components all look and sound to be right but at $1,800, it seems like a bit of a mystery. For a high end offering, we'd expect a higher price tag but for a budget one we'd expect lower. At 150 watts per channel, there are a lot of receivers out there that claim similar power (but in actuality don't have the headroom or have fudged their measurements). At 200 watts per channel, you tend to get a bit more respect but to hit those power levels on a continuous basis requires larger heatsinks and power supplies which adds cost and weight.  Such a model may be best reserved for an Integra Research product should Onkyo ever rebirth that brand.  As a mate to the $2,300 DHC-80.1, the price comes a little more in focus. We think this amp will be very attractive to those that have already committed to shelling out the money for the Integra Pre/Pro. For those that haven't... well... it still looks pretty good, if pricey.
For more information, please visit integrahometheater.com.

Confused about what AV Gear to buy or how to set it up? Join our Exclusive Audioholics E-Book Membership Program!
Recent Forum Posts:
GrimSurfer posts on March 05, 2019 20:29
AcuDefTechGuy, post: 709594, member: 26997
Why can't they make a "real" amp with 200wpc?
Ummm, because 9x200W (1800w) is impossible on a 15A circuit unless somebody has invented how to build a 100% efficient amp.
9x150W isn't likely for that matter either, if the amp is of AB topology.
I am, of course, referring RMS watts and not that PMPO or other peak measurements so often thrown about with careless abandon by the industry.
liquidcarney posts on March 05, 2019 19:07
I realize this thread is 9 years old…..

Im wondering if anyone actually purchased this amplifier back in 2010-2011 and still has it running? How long did it last?
Kennydee posts on September 09, 2010 14:52
Kennydee, post: 749588
Call up Onkyo at
2004 Onkyo USA Corporation • 18 Park Way • Upper Saddle River, New Jersey 07458
Phone: 201-785-2600 • Fax: 201-785-2650
That is their dealer's phone number
Good luck.
Or I should have written:
That is their phone number for dealers. Yeah, that sounds better.
Kennydee posts on September 09, 2010 14:49
sunil, post: 749547
I own a company that sells home theather and ive been trying to contact
the guys from Integra but either the company is out of business or the phones stated on their web site are wrong.Can anyone help me with this matter?
Call up Onkyo at
2004 Onkyo USA Corporation • 18 Park Way • Upper Saddle River, New Jersey 07458
Phone: 201-785-2600 • Fax: 201-785-2650
That is their dealer's phone number
Good luck.
PearlcorderS701 posts on September 09, 2010 14:47
AcuDefTechGuy, post: 709594
Why can't they make a "real" amp with 200wpc?
I TOTALLY agree, AcuDef! I would definitely save my cash up for something like that to power my RTi12s……
Post Reply