Denon up for Sale - Best Buy and Kenwood Bidding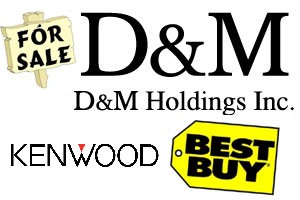 Denon for Sale
This has been a month of topsy turvy business decisions. Earlier this week we heard that Blockbuster is considering the purchase of ailing Circuit City. Before that, Apple leapfrogged both Amazon.com and Wal-Mart to become the #1 music retailer. But now, a recent flurry of domestic and Japanese market activity has all that topped.

Denon is for sale for around $700 million.

Well, D&M Holdings to be exact - and that means Denon, Marantz, Snell, McIntosh, Boston Acoustics, Escient and more... It's not just "maybe" up for sale - 49% of the shares are being offered up for sale by their owner, RJH International. But wait - 49% doesn't make a majority. It does when Phillips Electronics, who owns another 12%, says that it will also offer to put its stock up for sale to the winning bidder as well.

D&M Holdings' stock has sored in the recent wave of bids from the likes of Harman International (maker of the JBL, Infinity and Harman Kardon brands), Bain Capital (who owns Kenwood)...
Wait a second, did we just say Kenwood?

The implications of this sale are pretty staggering. If Bain Capital wins, Kenwood, long out of the home AV market, would have access to some of the most cutting edge technology on the market today. Can you imagine Denon receiver being controlled by Kenwood? Who knows, they might just put their AV market out of business and move them into car audio... nah.

Continuing on the list we have Japanese fund Advantage Partners LLP, U.S. brokerage house Merrill Lynch & Co., and consumer electronics giant Best Buy Co.
If Best Buy wins, you can almost hear the moaning from the audio elite crowd as they realize that they may have to start recommending Denon products which are only sold through the big box chain stores. We very much doubt the store would re-brand any of the D&M companies under the Best Buy or Insignia logos, however it could change the way Denon and McIntosh may be perceived by the high-end audio community.

As Best Buy is D&M's biggest customer, it makes good financial sense for the consumer electronics retailer. The implications for the types of equipment that will be offered in their Magnolia shops would increase in number as well as quality. McIntosh has a near fanatical following, though being able to roll down to your local Best Buy to check out the latest tube amps is probably going to be met with mixed emotions.

If Harman International had stayed in the bidding (they dropped out last week), the consolidation of two of the biggest manufacturers of consumer electronics (or at least as relates to home theater electronics) would have created a near monopoly. Yamaha, Pioneer, and others would have been dwarfed in comparison. With the fate of so many of the top brands of audio gear on the line, it's no wonder that the AV crowd is watching this one closely.

Those interested in foreign markets and such will note that shares in D&M (natively quoted in Yen, but converted here for perspective) dropped from ~$5.46 to ~$2.50 between November 2007 and February 2008. With the recent interest and buyout talks, it has since rallied to ~$3.91.
Recent Forum Posts:
lbundle posts on May 01, 2008 19:57
Any update?

It's almost 10 days now. Has there been any update on the sale?
tomd51 posts on April 22, 2008 12:10
Clint DeBoer, post: 402507
I don't see any press release that claims that - do you have a link? In any case, a press release may deny it, but it likely has nothing to do with whether or not a 49% shareholder wants to sell its shares (which seems to be the case).
I think what the previous poster was referring to is the last two press release entries on Denon's site
here
. It doesn't necessary tell you anything, except that "recent press reports concerning the potential sale of D&M shares is not based on any information provided by the company.", which is ambiguous at best… -TD
bandphan posts on April 22, 2008 07:52
Dave Moritz, post: 403809
And even if Best Buy was to buy D&M Holdings I do not think anyone would ever see a McIntosh product in a Best Buy store. There are to many people that shop at Best Buy that just want the cheapest thing they can buy. And I do not see any of them seeing the very expensive McIntosh brand and saying to themselves, "dam I have to own that!" The sad fact is that Best Buy could theoretically force McIntosh to make cheap flashy junk for there stores. That is something that McIntosh is not about and something they have never done in there history. I also do not wish to see Denon dragged down to the level of Kenwood. If that was to happen I would avoid Denon and Marantz if ether company Best Buy or Kenwood got there hands on D&M and caused product quality to suffer. I would end up running to Onkyo and buying there home theater oven. Makes me wish I was filthy frakkin rich so I could buy D&M and keep them from being potentially flushed down the toilet.
Magnolia already sells mcintosh, and i dont believe best buy can pull the deal off. Best Buy has attempted to enter into higher end and custom installation, but seem to be failing at both. Ive gone into their Magnolia store on numerous occasions only to be completely ignored. Unless their level of training goes up and they exit from inside the "best buy stores" into free standing locations, the consumer they are going after will look else where. As for kenwood owning the group, it could be a viable purchase, and i wouldnt look for dumbing down among any of the bidders. If it does go to a majority ownership you could see divisions sold or restructured to stand on their own.
stratman posts on April 22, 2008 07:35
Or Tata Motors from India buying Jaguar.
croseiv posts on April 21, 2008 21:45
The thought of Kenwood buying Denon just blows my mind. That's like Hyundai buying Rolls Royce….
Post Reply