Canton GLE Series Speakers - Still No Review on the Horizon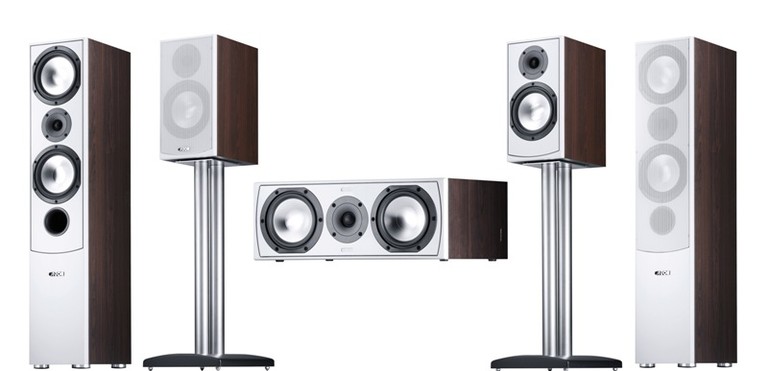 Canton Tweaks GLE Series
Summary
Executive Overview

Canton redesigned its GLE series of loudspeakers for stereo and multichannel audio. There are six models, each of which borrow technology from the company's high-end lines - but at reasonable price points. The series consists of two floorstanding models, two compact speakers, a horizontal center-channel and a low-depth on-wall speaker. Also introduced in the line is the company's new 'mocca' bicolor finish option that combines a simulated cabinet veneer of African wenge wood and a gloss white baffle. It's a beautiful finished look and one that would look good in any contemporary setting.
The most significant advance in the GLE speakers is in the new iteration of the line's soft dome tweeter. As in previous GLE speakers, the tweeter employs a fabric dome - however, it now benefits from a completely revised structure. A finer silk fabric has been substituted, which is more resistant to partial oscillations and which allows for an extended bandwidth at the high end. Additionally, the driver geometry, magnet system and front plate have been redesigned using lessons learned from the research and development programs of the company's upper-end Vento, Reference, Karat and Ergo speaker lines.
The drivers used for midrange and bass reproduction throughout the line are constructed of the same aluminum cone material used for the high-end drivers in the company's upper product range. The baskets are constructed of glass-bead reinforced polycarbonate, which exhibits superior damping properties when compared to the conventional soft plastics or steel sheet baskets generally used in speakers at these price points. Canton claims that these new drivers have significantly greater power handling, higher sensitivity, and improved accuracy throughout the bass and lower midrange frequencies than those used in comparably-priced speakers.
Canton is now making use of high-end computer simulation and computer modeling - which they now use extensively in their higher-end speakers. The result is that they are now applying a gently curved front baffle in place of the conventional flat front plate. Benefits of this design are improvements in frequency response linearity, increased bandwidth, and 3 decibel increase in driver efficiency within the distortion-critical crossover frequency range.
The Line-Up
The GLE 490 floorstanding speaker is the largest model in the series. It features a three-way bass reflex design, employing a pair of 8-inch woofers, a single 7-inch midrange, and 1-inch silk dome tweeter. It has a suggested retail price of $1,399 per pair.
The GLE 470 floorstander employs a sophisticated 2-1/2 way design that uses a pair of 7-inch cones for deep bass reproduction, but routes midrange frequencies to only the top cone to provide improved off-axis dispersion. It has a suggested retail price of $1,099 per pair.
The magnetically shielded GLE 455 Center can be used as either a horizontal center channel, or for front or rear channels in a home theater. It features two 6-1/4-inch aluminum woofers and a 2-1/2 way crossover similar to the GLE 470, giving it outstanding bass response and off-axis dispersion. It has a suggested retail price of $499 each.
The two-way GLE 430 employs a 7-inch woofer and 1-inch tweeter in a front-ported cabinet suitable for mounting on a shelf, or on the optional LS 600 stand. It has a suggested retail price of $649 per pair.
The two-way GLE 420 compact speaker features a 6-1/4-inch woofer and rear port, and can also be mounted on a shelf or on the LS 600 stand. It has a suggested retail price of $549 per pair.
The GLE 410 loudspeaker features the same driver complement as the GLE 420, but in a sealed box cabinet that is a mere 3-1/2-inches deep, making it ideal for on-wall mounting. It has a suggested retail price of $529 per pair.
All of the GLE models are available in the line's exclusive bicolor finishes: Beech cabinet with a silver lacquer front baffle, cherry cabinet with a titanium front panel, walnut cabinet with silver front baffle, and new Mocca (wenge cabinet with a gloss white lacquer baffle). Additionally, each model is also available in single-color black ash, or silver lacquer finishes.
For more product information visit www.cantonusa.com.

Unless otherwise indicated, this is a preview article for the featured product. A formal review may or may not follow in the future.
majorloser posts on January 07, 2009 19:54
Call me when the Reference Series or the Vento's show up.
Post Reply
Confused about what AV Gear to buy or how to set it up? Join our Exclusive Audioholics E-Book Membership Program!