Polk Audio I-Sonic Entertainment System 2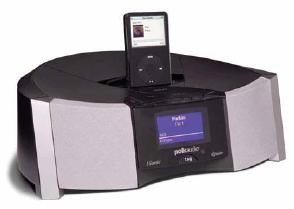 Polk Audio I-Sonic Entertainment System 2
Summary
Product Name:

I-Sonic Entertainment System 2

Manufacturer:

Polk Audio

Review Date:

January 07, 2008 00:05

MSRP: $499
First Impression:

Pretty Cool
Executive Overview
Polk Audio showed off their I-Sonic Entertainment System 2 (ES2) today as CES. The second generation I-Sonic builds on the success of the original tabletop model by offering an iPod dock for new media enthusiasts who use their players as portable audio/video servers, and who are ready to take advantage of the extensive palette of free, crystal clear programming offered by HD Radio.
Tagging for HD Radio, giving consumers the power to "bookmark" a song heard on the radio. The iTunes Tag button on the ISonic ES2's front panel and remote control allows consumers to tag songs broadcast by HD Radio stations. The I-Sonic ES2 stores information about the tagged songs in its memory and transfers the tags to an iPod when docked. When the consumer connects the iPod to his/her computer, iTunes automatically presents the songs in a new tagged play-list for the consumer to preview, buy, and download. iTunes Tagging is compatible with iPod Classic, recent 30GB and 60GB iPod models, and iPod Nano.
The I-Sonic ES2 features the same acoustic technologies that made the original I-Sonic the subject of myriad accolades and awards. Four-speaker I-Sonic technology projects stereo sound into a room with the impact of a component system, producing a sonic image that remains accurate, even when listening off axis. Patented PowerPort bass venting technology produces deep, textured low frequencies that remain clean and rich. Unique to the ES2 is an iPod dock as well as a second generation HD Radio tuner. Like traditional AM and FM stations, HD Radio programming is free, but that is where the similarity ends. HD Radio reception allows stations to broadcast up to three FM stations on a single digital frequency, with all three "multicasts" offering CD-like quality audio. A variety of data services with text-based information -- artist name, weather alerts, school closings, traffic alerts, etc. -- can be scrolled across the receiver display. As of Q4 2007, there are more than 1,500 HD Radio stations in the U.S.
The I-Sonic ES2 accepts almost all iPod models with dock connectors in its top-mounted dock hidden beneath a sliding door. S-Video and composite video outputs allow the user to connect a television or video monitor to the IES2 for viewing video content stored on a video iPod.
The I-Sonic ES2 also includes a full function alarm clock, a headphone jack for private listening, 24 radio presets and a wireless remote control. Front-panel controls allow the unit to operate should the remote be lost or disabled. An auxiliary input allows hook up of any stereo audio device such as a portable CD player.
The I-Sonic ES2, which measures 14.5" W x 9" D x 4.75" H, will be available in March 2008 at a suggested retail price of $499. For more information, please visit www.polkaudio.com.

Unless otherwise indicated, this is a preview article for the featured product. A formal review may or may not follow in the future.
Confused about what AV Gear to buy or how to set it up? Join our Exclusive Audioholics E-Book Membership Program!