Yamaha RX-V1065 Receiver Preview
Yamaha RX-V1065 Receiver
Summary
Advanced Features
New SCENE buttons (BD/DVD, TV, CD and Radio) - quick and simple to use
YPAO sound optimization for automatic speaker setup
HD Radio™ Receiver
XM ready with XM HD Surround powered by Neural Surround
SIRIUS Satellite Radio ready
USB port for portable audio players and flash drives (MSC)
iPod compatibility via optional YDS-11 Universal Dock
Bluetooth (A2DP) compatibility with optional Yamaha Bluetooth® Wireless Audio Receiver YBA-10
New GUI on-screen display with album art
Dialogue Lift
iPod song titles displayed in English and Western European languages on the front panel and on-screen display
HDMI CEC functionality, HDMI standby through functionality
Initial Volume Setting and Maximum Volume Setting
Preset remote unit
High Picture Quality
Analog video upscaling to full HD 1080p with TBC
1080p-compatible HDMI (4 in/1 out)
Supports Deep Color (30/36 bit), x.v.Color, 120Hz/24Hz Refresh Rates and Auto Lip-Sync compensation

High Sound Quality
7-channel 735W powerful surround sound (105W x 7)
Decoders for HD audio formats: Dolby TrueHD and DTS-HD Master Audio; Dolby Digital Plus and DTS-HD High Resolution Audio
Digital ToP-ART and High Current Amplification with discrete amp configuration
Pure Direct
Burr-Brown 192 kHz/24-bit DACs for all channels
Intelligent Assignable amplifiers for bi-amp or Surround Back <-> Front Presence or Zone 2 connection

Surround Realism
CINEMA DSP 3D (17 DSP programs) with Adaptive DSP Level
Adaptive DRC (Dynamic Range Control)
Compressed Music Enhancer
SILENT CINEMA and Virtual CINEMA DSP
Audio Delay for adjusting Lip-Sync (0-240ms)

Versatile Zone Control
Zone 2 on/off and control on front panel
Remote input/output
Programmable +12V trigger output
Executive Overview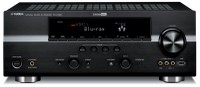 Yamaha has been on the warpath lately with new releases coming nearly every week. The RX-V1065 is one of the newer receivers out of the AV giant and is retailing for just under a grand. This is the price point that generally attracts people that have about $500 to spend but will push it because they love the hobby so much. All you need to do is convince them that the extra expenditure is worth it. How do you do that? Features. The question is, does the RX-V1065 have enough of what you want?
The Yamaha RX-V1065 has a lot of what has made Yamaha famous including a ton of DSP modes (17 with adaptive DSP level), compressed music enhancer, and 100+ watts per channel (measured 20Hz-20kHz). Yamaha has support for all the high definition audio formats including Dolby TrueHD and DTS HD Master Audio. HDMI upconversion is, of course, available as is upscaling to 1080p with TBC (Time Based Correction). TBC just ensures that you don't have any lip-syncing issues. Digital to analogue conversion is handled by Burr-Brown 192 kHz / 24 bit DACs on all channels. You'd expect to see 7.1 analogue inputs and 7.2 analogue outputs and you'd not be disappointed. You're getting four HDMI inputs and one output, two component inputs and one output, and a slew of composite inputs. Digital audio inputs are limited to two each of coaxial and TOSLink.
Features that we've come to expect are there including YPAO (Yamaha's Parametric Room Acoustic Optimizer), zone 2 support, and HD Radio capability. If you have an iPod, XM or Sirius satellite radio, or a Blue-tooth device, you can buy an add-on to integrate it with the RX-V1065. There is an IR in and out port plus a single 12 volt trigger. At this price point, we'd really expect two. All in all, a fairly good feature set.
Or is it?
The Yamaha RX-V1065 seems to be the successor to last years RX-V863. Both have the same MSRP, both have similar feature sets, and both seem to be targeting the same consumer. So what are the differences? Well, with the RX-V1065, you are getting an extra HDMI input, a front USB port (over no USB connectivity at all), and a new Graphic User Interface (GUI - more on that in a moment). What you are losing, however, is a component video input, three TOSLink inputs (including one on the front of the unit), all the S-Video inputs (some might not care but if your legacy gear only has composite and S-Video, you might wish for the better S-Video connection), SRS (Circle Surround 2) decoding, and 1.7 pounds.
RX-V1065                                     RX-V863
Once again, even though the Yamaha is claiming the same wattage in their newer receiver, they are somehow managing to reduce the weight. While we don't think weight is the most important factor in receiver quality, it usually indicates the size of the power supply. Smaller power supply equates to less power and less headroom. While the RX-V1065 is still spec'ed at 20Hz to 20kHz (rather than 1kHz as we sometimes see), it's unlikely that all those missing inputs add up to nearly two pounds worth of weight.
One other factor that buyers should consider is the loss of component video upconversion with the RX-V1065. While those with HDMI capable displays need not worry, anyone that is using an older display and is thinking of upgrading their receiver first needs to be aware that upconversion only works with HDMI. While everything is converted to HDMI, the rest is pass through. So if you have a number of older devices (or a game system like an early generation XBox 360 or PS2), you'll have to connection each video connection type. For example, you may have a legacy VCR with composite out, an XBox with component and a cable box with component. From the receiver, you'd need to connect component video cables for the cable and XBox and a composite cable for the VCR. You'd have to switch inputs on the TV to view the different sources.

What Yamaha is really excited about is their new GUI. This new GUI includes an on-screen component that is is touted to be easier to use than Yamaha's earlier offerings. We were hoping to see something like they have included with the new neoHD products that basically turns the receiver into a universal remote setup but that's not the case. The few pictures that Yamaha has released basically shows the GUI using an icon rather than text based interface with the ability to show album art and information. As the receiver is not networkable, this can only be from a connection with an iPod or via USB (or perhaps the HD or Satellite radio services though that is not specified). Half of those require additional purchases of add-ons or for users to manage their music beforehand. There is also mention of iPod track information being available on-screen as well as displayed on the front of the receiver. No mention of whether this includes CD meta-tags or not.
Conclusion
There is no doubt that the Yamaha RX-V1065 is packed full of features. The problem is that the features on the most part aren't all that new. Over the previous Yamaha offerings you are gaining a brand new GUI which may help simplify user interaction (something that is probably a selling point for your family more than for you), some album art/information display, and an HDMI input. You are losing quite a bit which you may or may not care about. If you've already got a modern HDMI-capable display, then the RX-V1065 may be the perfect receiver for you, just make sure you read the fine print.
Learn more about the Yamaha RX-V1065.

Unless otherwise indicated, this is a preview article for the featured product. A formal review may or may not follow in the future.
Confused about what AV Gear to buy or how to set it up? Join our Exclusive Audioholics E-Book Membership Program!
Recent Forum Posts:
Lordoftherings posts on July 22, 2009 20:43
eddie, post: 600289
I noticed that the price for this is the same as the Marantz 6003 and personally, I think I would go in that direction rather than in this one.
+1 I 100% agree with you.
Lordoftherings posts on July 22, 2009 20:41
Biggiesized, post: 600244
I believe the expression is "dead as a doornail."
LOL. Still sounds pretty dead to me anyway.
croseiv posts on July 22, 2009 17:38
eddie, post: 600289
I noticed that the price for this is the same as the Marantz 6003 and personally, I think I would go in that direction rather than in this one.
Me too! I have also been looking at the 6003.
eddie posts on July 22, 2009 15:19
I noticed that the price for this is the same as the Marantz 6003 and personally, I think I would go in that direction rather than in this one.
Pyrrho posts on July 22, 2009 13:15
croseiv, post: 600003
Boy this sure generated alot of discussion..
As noted in the article, Yamaha releases something new all the time, so it is hard to get excited about a new model. One of the interesting things is the loss of so many features, like the S-Video inputs. I have seen people posting at this site that they want manufacturers to get rid of such things to save money, but the simple fact is, such features do not make much difference in cost. Once you have composite and component video inputs, and conversion to HDMI, you may as well have an S-video input also, as it is not going to have to do much different from what it has to have in it anyway.
The next time I buy a receiver, I will look at Yamaha to see what they are offering at the time, though I think they are making their lineup less desirable than in the past. I would rather have the RX-V863 than the new RX-V1065. Given that USB seems to be in everything these days (my BD player has one, and so does the last DVD player I purchased), that does not matter much; the extra HDMI input on the RX-V1065 is a good thing, but given that one can buy an HDMI switch box for not too much, and given what is given up, I really think the RX-V1065 is a worse value than the RX-V863 was. But I do not expect to need anything new any time soon; I have the Yamaha RX-V2700, which, although it does not have the newest decoders, does have the ability to accept multichannel PCM via HDMI, so I am currently enjoying the new formats decoded in my BD player. I do not need a new receiver, and do not think I will for a very long time.
Post Reply