Vizio VHT215 Home Theater Sound Bar w/Wireless Sub Preview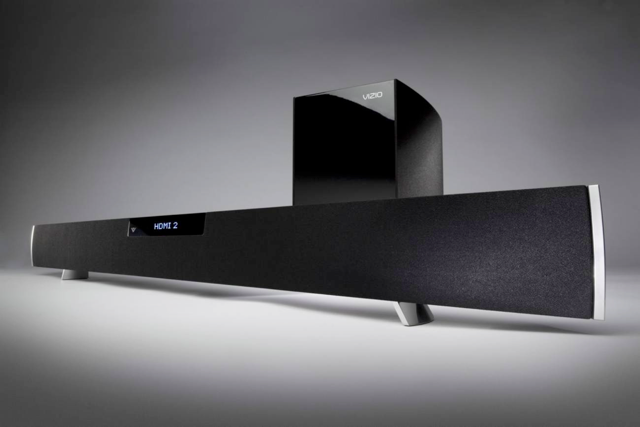 Vizio VHT215 Home Theater Sound Bar w/Wireless Sub
Summary
| | |
| --- | --- |
| Sound Bar Speakers - Left and Right: | Left and Right channels; 2 - 2.75" Mid-range Drivers; 1 - .75" Tweeter |
| Subwoofer Speakers: | 1 - 6.5" Long-throw high-excursion |
| Subwoofer Wireless Range: | Up to 60 feet - Clear line of sight |
| Sound Pressure Level (SPL, 1M): | 90 dB |
| Frequency Response - Sound Bar: | 150Hz - 20KHz |
| Frequency Response - Subwoofer: | 30Hz - 150Hz |
| Display Screen: | Yes |
| Sound Technology: | Dolby Digital, SRS TruSurround HD, SRS WOW and SRS TruVolume |
| Sound Bar Buttons: | Power, Input, Volume -, Volume + |
| Remote: | Home Theater slide-out remote |
| Sound Bar Buttons: | Power, Input, Volume -, Volume + |
| Power Input: | External power pack with 6' power cable for Sound Bar, Integrated power supply on subwoofer with 6' power cable |
| Supplied Cables: | 3.5mm to RCA L/R and 3.5mm to 3.5mm; 1.5mm in length each |
| Table - Stand Option: | Table - stand feet included |
| Wall-Mount Option: | Wall-mount brackets included (wall mount screws not supplied) |
Connections
HDMI In:
2
HDMI Out:
1
Digital Audio Optical (S/PDIF):
1
Digital Audio Coaxial
1
Analog Audio Stereo (3.5mm):
1
Executive Overview
It almost doesn't make sense these days to put out a sound or surround bar without a wireless sub. They are just everywhere, so if you are trying to compete, you'd better step up. Vizio, a company that has made huge inroads into the public consciousnesses through their budget offerings located in big box stores, has done just that. Their new VHT215 Home Theater Sound Bar with Wireless Subwoofer has all the features, paired with the low price, that has made the company successful.
The VHT215 features an ultra slim sound bar suitable for displays 40" or larger (if you are wall-mounting it). The VHT215 features a custom wall bracket or integrated feet for table or shelf mounting. Inside of the bar are, essentially, a pair of speakers, each featuring two 2.75" mid-range drivers and a single .75" tweeter. This basically gives you a stereo pair of speakers just like you have in your TV - except better.
One of the confusing things about the Vizio VHT215 is the name. Bars (in the home theater sense) come in two flavors - sound and surround. A sound bar (which is what the VHT215 is purported to be) simply gives you increased fidelity over the internal speakers of your display. A surround bar seeks to give you a surround sound experience from a single speaker. Even though the VHT215 is labeled a sound bar, it includes a number of SRS technologies including SRS TruSurround HD. SRS TruSurround HD takes the output from two speakers and creates a surround experience. While buyers may be surprised to find this feature in a sound bar, it does beg the question: Why they didn't list it?
What they also didn't list was basic information like the size and weight. How could a consumer know if it will match the size of their new flat panel display without those basic measurements? Add to that the lack of an accuracy range on the frequency response, driver cone material, and other basics, it is clear that Vizio expects you to buy this from a display in a store.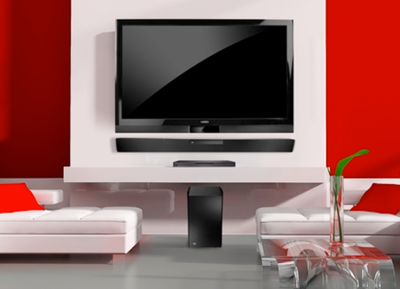 The Vizio VHT215 includes two HDMI 1.4a inputs and one output (capable of passing 3D and Audio Return Channel information). This also a single optical, coaxial, and analogue (in the form of a 3.5mm port) included. Since the subwoofer is wireless, there are no other outputs. The subwoofer (which probably could be more accurately described as a bass module) connects via a 2.4GHz connection and boast a 60 foot range as long as there is a clear line of sight. This means you're really looking at something closer to 30 feet in room. The subwoofer has a single 6.5" driver and promises 30Hz output. With the size of the driver, our first question is "at what volume?" In fact, the whole frequency response specifications are a little too clean with the sound bar rated down to 150Hz and the sub only rated up to the same number - neither with any sort of accuracy range.
But that doesn't really matter. What matters is that this, admittedly wide to match your big TV, sound bar (which is really a surround bar) and wireless subwoofer (which is really a bass module) sells for $320 MSRP (which means you'll likely find it for less in store). No matter than the buyer just spent multiples of that on their display - they don't want to spend much on speakers. Which is why they'll sell a ton of these.
Conclusion
Price, location, and buzzwords - that's what sells sound bars. Performance is of little note when a consumer is looking to pack one more thing in his or her cart with that brand new, huge display. With a MSRP of $320 and a retail price sure to be less, the Vizio VHT215 Sound Bar has everything this type of consumer is looking for. Wireless subwoofer? Check. 3D? Check. Glossy and high-tech looking? Check. On sale? Probably, check. While the specifications on this bar are so slim that they don't even list the size, that doesn't matter. Performance doesn't enter into the picture when making an impulse buy. While the VHT215 might be a top performer, it will be impossible to tell without a hands-on review. With a product as well-leveraged as this one, we're sure Vizio has another hit on their hands.
For more information, please visit www.vizio.com.

Unless otherwise indicated, this is a preview article for the featured product. A formal review may or may not follow in the future.
Confused about what AV Gear to buy or how to set it up? Join our Exclusive Audioholics E-Book Membership Program!