Behringer iNuke BOOM Junior Preview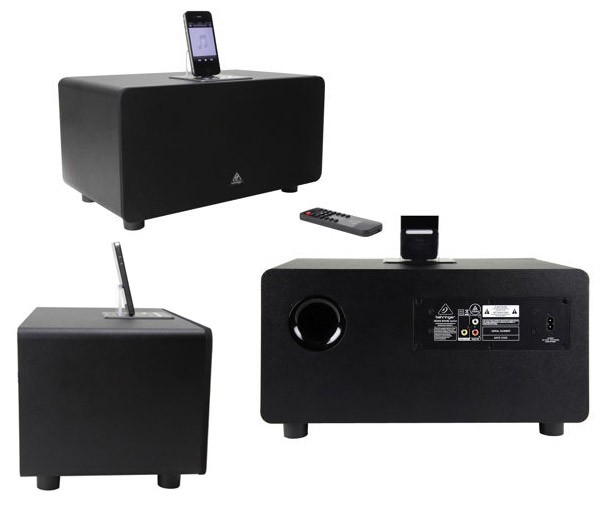 Behringer iNuke BOOM Junior
Summary
Indicators: Standby LED indicator, Line-In LED indicator, Aux LED indicator, iPod LED indicator
Connectivity: iPod dock, Line In, Aux In (stereo RCA connectors), Video Out (video)
iPhone / iPod / iPad compatibility: iPhone 4 / 4S / 3GS / 3G, iPod Touch / Nano / Classic (5th Generation), iPad 1 / 2* / The New iPad*
Batteries (remote control): 1 x CR2025 (included)
Speakers: tweeter (2 x 1"), midrange speaker (2 x 3"), woofer (1 x 5.25")
Power consumption: max. 50 W
Power requirement: 110-240 V AC, 50/60 Hz
Weight: 10.6 lbs. (4.8 kg)
Dimensions (H x W x D): 8.7 x 16.5 x 9.8" (220 x 420 x 250 mm)
Executive Overview
Last year, Behringer released their iNuke BOOM. A four foot by eight foot, 10,000 watt iPod dock, it was obviously meant to get consumers, and the media's, attention. It worked. At $30,000, we were all talking about the monolithic black box with the iPod on top that was almost too small to see. A fun publicity stunt that we never really expected to see outside of a show floor (like at CES).
Behringer had different ideas.
The iNuke BOOM Junior is a manageable-sized version of the original. At 16.5" wide (versus 8 feet) ad 8.7" tall (versus 4 feet), it certainly will fit in your room better (it's a 1:23 scale model of the original). The price, at a penny under $180, is also a lot friendlier. It is on sale exclusively through Costco's website (at $40 less than the MSRP). For the month of October, Behringer is giving away an iNuke BOOM Junior every weekday. You just need to "like" it on Facebook (link) to be eligible.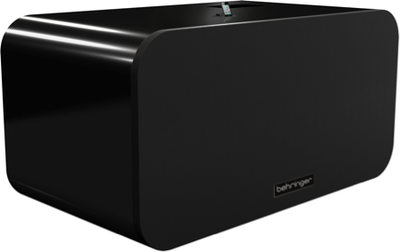 Original iNuke BOOM
New iNuke BOOM Junior
The iNuke BOOM Junior features a three-way design with two, 1" tweeters, dual 3" midranges, and a 5.25" woofer (they call it a subwoofer). It is rear ported, weighs in a just over 10.5 pounds, and has stereo RCA inputs and a composite video output in the back and a 3.5mm inputs on top. The top iDock is compatible with iPods, iPhones, and iPads including the iPhone 4 / 4S / 3GS / 3G, iPod Touch / Nano / Classic (5th Generation), iPad 1 / 2 / The New iPad. An included remote can be used to control the iNuke BOOM Junior or you can use the top mounted controls.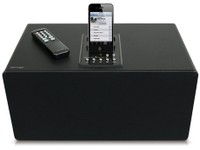 The composite video output allows the iNuke to stream the video from your iDevice up to your display - a nice solution for students. The top-mounted 3.5mm input allows those with non-iOS phones/devices to use the dock with a cable (though video streaming would be lost). 
One of the really impressive features of the original iNuke BOOM was it's power. Sporting 10,000 watts, the monolithic size and simplistic shape melded together to form a cohesive statement - I'm loud, I don't have to look cute. But when you shrink the iNuke down to it's Junior size, it lost a lot of that statement. Sporting only 50 watts, the rectangular shape now seems out of place and a little boring. 
The iNuke BOOM Junior is really aimed at a specific segment of consumers. From the press release: "If you make a little room for the iNuke BOOM Junior in your home it will pay you back with stunning sound clarity and enough bass to throw a party; or get thrown out of your apartment." If that doesn't describe you, then you should look elsewhere for your docking need.
Conclusion

The Behringer iNuke BOOM Junior takes everything that was in the original, furniture-sized, iNuke BOOM dock and makes it smaller. Behringer has included dual tweeters, dual midranges, and a woofer to make sure you are still blown away by how loud it is. When the original has 10,000 watts, those interested in the smaller, more affordable version are going to be worried about volume. At $180, the iNuke BOOM Junior has enough features to be competitive though it's volume is obviously the selling point. While we remain skeptical, we're curious about how it actually sounds. Now that it doesn't cost more than our car, we might actually get a chance to find out.
For more information, please visit www.behringer.com.

Unless otherwise indicated, this is a preview article for the featured product. A formal review may or may not follow in the future.