Denon RCD-N7 Receiver/Dock/Streaming Thing Preview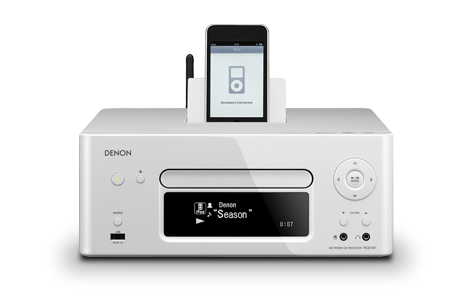 No, we don't know what to call it
Summary
Compact 65-watt/ch (4-ohms, 1KHz) AM/FM/CD receiver

Built in iPod dock and networking capability.

Made for iPod and iPhone with digital audio transmission.
Internet radio and network audio streaming via Ethernet and Wi-Fi. Online support of Napster, Pandora and Rhapsody (Service subscription may apply)
Supports Apple AirPlay allowing streaming of music files directly from iTunes music libraries located on Mac, PC, iPod Touch and iPhone.
Allows playback of music files stored on PC or NAS when networked connected.

Front mounted USB input for playback of WMA and MP3 music files.
96kHz/24-bit audio format capability.
Hard button remote control included. Supports "Denon remote App" for operation control by iPod and iPhone.

Dimensions: 11.8 x 11.1 x 4.4 inches
Weight: 9.7 pounds

Executive Overview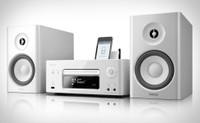 There are niches in the audio market that are dying to be filled. When iPods came out and became popular, it was docks. We needed them. We needed a way to play our music while charging our iPods. Now they are everywhere. But that doesn't mean they've been perfected or that they are the end-all be-all of the niche. Manufacturers are constantly trying to come out with new and interesting ways to access your MP3 player. We've seen docks on everything from TVs to toilet paper dispensers. This is obviously an evolving market.
Denon has been on the forefront of the home theater market for a while. They've been introducing us to new technology usually before we know it is even coming. Denon's new RCD-N7 receiver is probably the strangest thing we've seen out of their camp in a while. At first blush, it looks like an all-in-one boombox-like solution for your office. Except the speakers are optional. It has a CD player and an iPod dock on top which might seem normal until you see the antenna peeking out the back. So what is it?
Well, it's a receiver, basically, but so much more. Designed with the office in mind, this unit does it all without hamstringing you for the future. Yes it has a tuner, CD player, and iPod dock. But it also has the ability to connect wirelessly to your network and stream Internet radio, Napster, Pandora and Rhapsody. On top of that, the Denon RCD-N7 is Apple Airplay compatible which allows it to stream music files directly from iTunes music libraries located on your Mac, PC, iPod Touch, iPad, and iPhone.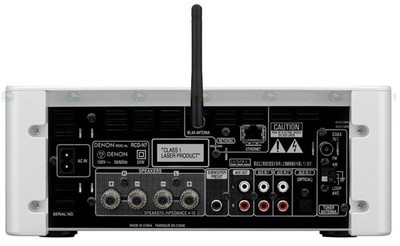 Taking a look at the back of the unit, you'll notice an Ethernet port for a hardwired connection (rather than using the wireless one). The unit is obviously designed with audio in mind as there are no video connections. There are two sets of high quality 5-way binding posts for connecting up a pair of speakers (the not-included Denon SC-N7 speakers will run you an extra $200). The unit brags 65 watts into 4ohm at 1kHz which is perhaps the most generous rating we've seen out of the AV giant. For 8 ohm speakers you're looking at a best of maybe 30 watts at full range (rather than 1kHz). Still, very respectable for such a small unit and way more than the 10 watts you'd probably be looking at with something similar. There are a two sets of RCA inputs for connecting up other devices plus a digital optical input. There are preamp outputs for connecting a separate amplifier and a dedicated subwoofer output. The power cord is detachable. There is a front mounted USB port for accessing WMA and MP3 files.
The RCD-N7 is networked in the truest sense. It can stream content not only from predetermined services but also off of PC or NAS drives when networked connected. Since it is networked, Denon's free remote control app for iPod/iPhone will work letting you set aside the included remote. The RCD-N7 has 96kHz/24-bit audio format capability for all your high end audio needs. 
Of course, for the $599 price tag, you could look at a true receiver. But most won't have all the features of the Denon RCD-N7 nor will it be 11.8 x 11.1 x 4.4 inches and only 9.7 pounds. This is a compact solution for a very specific situation. Plus, it isn't black. That alone sets it apart from other receiver offerings.
Conclusion
If this is an office solution, it is the most advanced one we've ever seen. Apple Airplay support, streaming from networked computers/drives, access to Internet radio, Napster, Pandora and Rhapsody makes the RCD-N7 truly networked. With high quality five-way binding posts, pre-outs for a sub and external amp, and 65 watts per channel, it promises something more than your usual office solution. While you could get most of what the RCD-N7 for less, you'd have a hard time getting it all for that price. And you wouldn't get it in such a small box.
For more information, please visit www.usa.denon.com.

Unless otherwise indicated, this is a preview article for the featured product. A formal review may or may not follow in the future.
bikemig posts on August 09, 2011 11:37
xtensha posts on March 08, 2011 21:57
Seems to be digital

According to the Australian distributor the iPod dock is digital.

I can't post a direct link as I am a new poster but you can find the info at audioproducts . com .au

Quote:
"Built in iPod dock with digitally transmitted play function for iPhone or iPod"
Seth=L posts on March 07, 2011 10:45
Does Denon state whether the iPod dock is digital or analog? I'm assuming it's analog since digital docks tend to come in at over $1000.
Post Reply
Confused about what AV Gear to buy or how to set it up? Join our Exclusive Audioholics E-Book Membership Program!