Boston Acoustics SoundWare XS 5.1 Surround Speaker System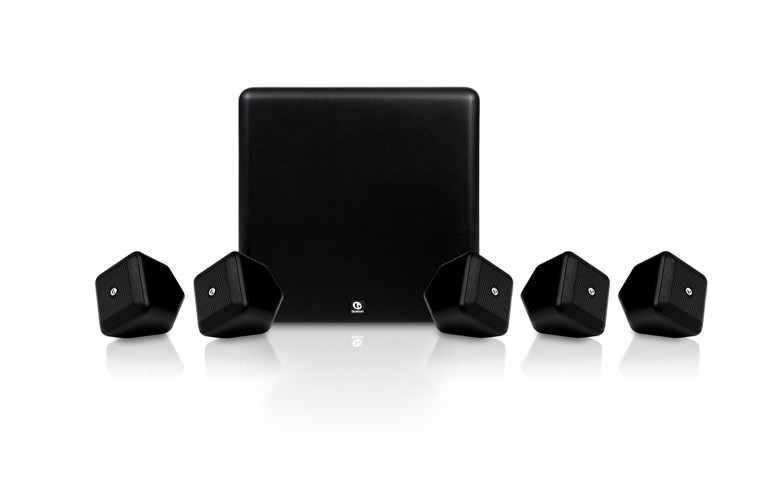 BA SoundWare XS 5.1 Surround Speaker System
Summary
5.1 Home Theater Speaker System
Ultra-compact SoundWare XS satellites
8" vented subwoofer with 100-watt amp
BassTrac® circuitry for deep, powerful bass without distortion
Satellites feature 1/2" dome tweeter and 2-1/2" mid-bass driver
Satellite sits or mounts at any angle
Omni-directional mounting brackets included
MagnaGuard magnetic shielding
Available in Black and White
Executive Overview
In this economy, everyone is looking for a deal. There are also people that are that looking for big sound out of small speakers. While the first is relatively easy to find, the second is pretty much impossible. That being said, manufacturers are still trying. Boston Acoustics is taking their stab at it with their new SoundWare XS 5.1 Surround Speaker System. Available in black and white, the speaker system is designed to be shelf, wall or corner mounted. At just about a 4" cube, the system should have little problem blending into the background.
The SoundWare XS 5.1 system consists of five satellite speakers an a sub. The speakers are a true two-way design with a 2½-inch woofer and a ½-inch dome tweeter most likely in a coaxial design. The subwoofer is about 13 by 12 by 14 inches and sports an 8" woofer. The satellites are spec'ed down to 150Hz with the subwoofer meeting it and going as low as 50Hz. While this won't provide the sort of bone crushing bass that an Audioholic demands, it should be more than enough for neophytes. For those that are really concerned with matching your room, the XS speakers have a "paint-ready" surface.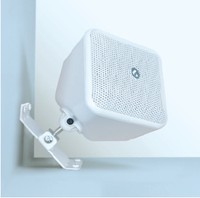 The interesting part of the SoundWare XS satellite speakers is their shape. Boston calls them "polyhedron" though you'll probably call them cubes. The back of the speaker is a bit pointed which allows for some interesting placement options. I was at Boston Acoustics a few years ago and saw speakers like these in action. The shape allows them to be set on a table without any sort of stand. In fact, you can somewhat aim them based on what side you sit them on. The SoundWare XS speakers have a spring type binding post. On top of flush mounting options, there are swivel wall and corner brackets. While the wall brackets aren't exactly something new, the corner ones are. Because of the shape of the speaker, you can shove them way in the corner unlike other traditionally shaped speakers. You can even place them in the top corner where the walls meet the ceiling with little gap. According to Boston, you can mount them as close as 1cm from any flat surface. The swivel mounts can be adjusted up to 20 degrees on each side and down 40 degrees.

The subwoofer is probably one of the less interesting aspects of the SoundWare XS speaker package. Boston has already started offering wireless subs and one of those seems like it would be a perfect fit for a system like this. Most likely, this would be cost prohibitive, though, which is why I suspect they went with a wired model. The sub is ported and sports a graphite injected polymer woofer. The sub is larger than the standard "bass module" that you'll find with many satellite systems. While this may be a bit of a shock for first time buyers, the small size of the satellites should offset any detractions. The larger cabinet will allow the XS sub to provide more bass than those bass modules ever could. The sub has a 100 watt amp with 250 watt peak. Crossover control consists of a variable 50-180Hz knob. There is a 0/180 phase switch and a volume knob as well. There is only an RCA input designed to be used in conjunction with a receiver/processor and no line level inputs. Boston included an on/off/mute function where "Mute" amounts to an auto-on scheme where the sub kicks in when it receives a signal.

Conclusion
While it is hard for hardcore Audioholics to get excited about sat/sub systems, the fact remains that they are a popular choice for first-timers. The XS system ups the bar by giving users a lot more options than they would have any right to expect at a sub $500 price point. A small speaker with a decent sized sub, tons of placement options with a speaker that can be painted, and a price point that most first-timers can swallow should make the Boston Acoustics SoundWare XS 5.1 system a contender on a heavily contested market.

For more information, please visit www.bostonacoustics.com.


Unless otherwise indicated, this is a preview article for the featured product. A formal review may or may not follow in the future.
Confused about what AV Gear to buy or how to set it up? Join our Exclusive Audioholics E-Book Membership Program!
Recent Forum Posts:
gliz posts on July 02, 2009 08:34
bostons version ov boom and sizzle?
ouc posts on June 30, 2009 12:43
I wonder if they are going after the Bose customer.
Post Reply