Sanus DFV49 AV Stand Review
Sanus DFV49 AV Stand Review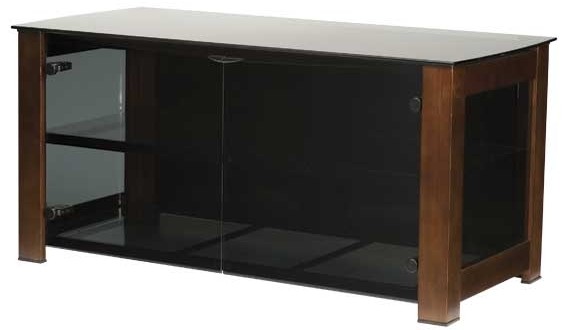 Sanus DFV49 AV Stand
<!-- /* Style Definitions */ p.MsoNormal, li.MsoNormal, div.MsoNormal {mso-style-parent:""; margin:0in; margin-bottom:.0001pt; mso-pagination:widow-orphan; mso-hyphenate:none; font-size:10.0pt; font-family:"Times New Roman"; mso-fareast-font-family:"Times New Roman"; mso-fareast-language:AR-SA;} @page Section1 {size:8.5in 11.0in; margin:1.0in 1.25in 1.0in 1.25in; mso-header-margin:.5in; mso-footer-margin:.5in; mso-paper-source:0;} div.Section1 {page:Section1;} -->
Product Dimensions (W/H/D): 48.25" x 22.75" x 22"
Top Shelf (w/d): 48.25" x 22"
Top Shelf Capacity: 150 lb
Middle Shelf (w/d): 43.5" x 17.75"
Middle Shelf Capacity: 70 lb
Bottom Shelf (w/d): 43.5" x 17.75"
Bottom Shelf Capacity: 70 lb
Pros
Great aesthetics
Good fit and finish
Versatile rear panel system
Cons
No center channel provision
Hinge bracket a bit weak
Assembly directions vague
Shelves not deep enough for some gear and termination types
Introduction
The Sanus DVF49 AV Stand is definitely a very nice piece of AV furniture. While it doesn't allow the unlimited access or center channel provision some of the hardcore enthusiasts would like, for many people it has everything they need. The smoked glass of the DVF49 gives your gear the look of floating in your room. The top shelf is rated at 150 lbs which is more than enough for most flat panel displays and the 70 lb rating of the two interior shelves should hold all but the most outrageous amplifier.

Confused about what AV Gear to buy or how to set it up? Join our Exclusive Audioholics E-Book Membership Program!
Recent Forum Posts:
cwall99 posts on September 29, 2009 11:31
allargon, post: 626821
Is this aimed at the 42"-47" LCD crowd?
I would imagine a little bit larger display than that seeing as the 42 to 47-inch measurement you're talking about is measured diagonally. A 48-inch width might accommodate up to a 55-inch display. But I'm just guessing. My geometry isn't what it used to be.
cwall99 posts on September 29, 2009 11:29
That's funny Matt. I have a Sanus rack in a tower configuration so my AVR, Oppo disk player, and turntable are up out of my daughter's way (she's almost two and a half, very tall for her age, fearless, and completely convinced that the world is her oyster).

So far, the Sanus tower-style rack keeps her out of the gear, but it's the media that drives me to distraction. We have a pretty good child-proof lock on the media cabinet, but it's full now, and we need to get another one. Unfortunately, we're still accumulating media, so there's definitely overflow, and my daughter is convinced that CDs and DVDs need to be carried by syrupy hands.
allargon posts on September 22, 2009 12:16
48" width is a little small for most great rooms. However, this will do for the average mid-America apartment or coastal starter house. It's too big for a NYC apartment and way too small for the average TX family room (displays > 55"). The 22" depth is enough for newer (but not older) rear projection units.

Is this aimed at the 42"-47" LCD crowd?
Matt34 posts on September 22, 2009 11:47
Looks like a nice piece but I've learn over the past couple months I need something with lockable doors to put my equipment in. My daughter thinks my blu-ray player's hinged slot cover and all the lights on my receiver are the best things EVAR!!
Post Reply