Rotel RMB-1085 Power Amplifier Review
Rotel RMB-1085 Power Amplifier Review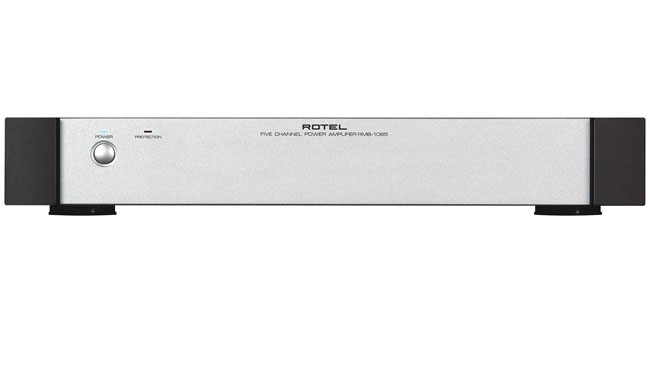 Rotel RMB-1085
Power Configuration: 5 x 100 watts
Watts/Channel: all channels driven, with 20kHz filter, 8 ohm load, 20Hz to 20kHz, <0.2% THD: 100 watts 4 ohm load, 1kHz, <1% THD: 180 watts
Peak Output Current: 11 amps
Total Harmonic Distortion At rated power, 20Hz-20kHz: < 0.2%, At one-half rated power, 20Hz-20kHz: < 0.03%, At 1 watt per channel, 20Hz-20kHz: < 0.03%, Intermodulation Distortion at rated power, 60Hz:7 kHz, 4:1: < 0.03%
Damping Factor 8 ohms: 200
Amplifier Gain: 27.2dB
Input Sensitivity/Impedance: 1.25V/8.2 kohms
Frequency Response ±3dB: 10Hz–40kHz
Signal to Noise Ratio IHF A network: 105dB
Power Requirements: 110-240 volts
Power Consumption: 250 watts
Idling Power Consumption: 30 watts
Standby Power Consumption: 6 watts
Dimensions (W x H x D) 432 x 72 x 382 mm, 17 1/8 x 2 3/4 x 15 1/8 in
Front Panel Height (for rack mount): 60mm
Weight (net): 5.4 kg, 11.9 lb.
Pros
Easy setup
Clean power
Small size
Light power consumption
Cons
Back panel could be better organized
Expensive
Rotel RMB-1085 Introduction
There are few names that are both as well known and associated with high-end as Rotel. They have a reputation for quality and power and great aesthetics. We haven't done a Rotel review around here in quite some time so we were all excited (and lined up) when they expressed an interest in having their new Class D RMB-1085 amp reviewed. Somehow, through a combination of luck, bribery, and begging, I got the review sample, shipped overnight no less.

Confused about what AV Gear to buy or how to set it up? Join our Exclusive Audioholics E-Book Membership Program!
Recent Forum Posts:
nickt1 posts on September 23, 2013 04:24
Forget the home theatre tag

Just upgraded to a RMB1085 from a audiolab 8000p running with audiolab 8000q pre amplifier.Fast, detailed and smooth ,neutral sounding with ample power for a large room with multi speaker setup. It may not look it but this is an audiophile grade amp.
Don't know about the ice though as the amp runs warm like any other conventional amp would.
Tom Andry posts on June 16, 2008 13:09
I personally don't have the equipment to measure amps. Usually, we'd try to send it down to Gene's but he's been busy with other amp and receiver measurements. I understand there there are some issues with measuring Class D amps that may put it on the it on the "we'll try but don't hold your breath" list.
jcPanny posts on June 13, 2008 11:02
Rotel Review

Tom,
Nice review. Any chance of getting some power and distortion measurements on the Rotel amp. As you point out in your article, linearity and low distortion have been a chanlange for calss D amps in the past.
Haoleb posts on June 13, 2008 04:22
Reading that and seeing those pictures of the unit definetly just kicked Rotel down a couple notches in my book. For that price the build quality seems to be lacking. If i am spending over a grand on a single component I expect something nicer than stamped chassis. I'll be the first to admit I am not a huge fan of SMPS or these newer amplifier technologies, Its not exactly eye candy under the hood
mike c posts on June 12, 2008 23:02
nice to see Rotel back on the reviews.

these new Rotels have lower-model ice modules as compared to the ice modules on my 1077 (which I'm using for 2 channel listening, til i get a center channel) which is why these new ones are cheaper.
Post Reply